15 Mar 2020
Does your pet have a favourite playlist?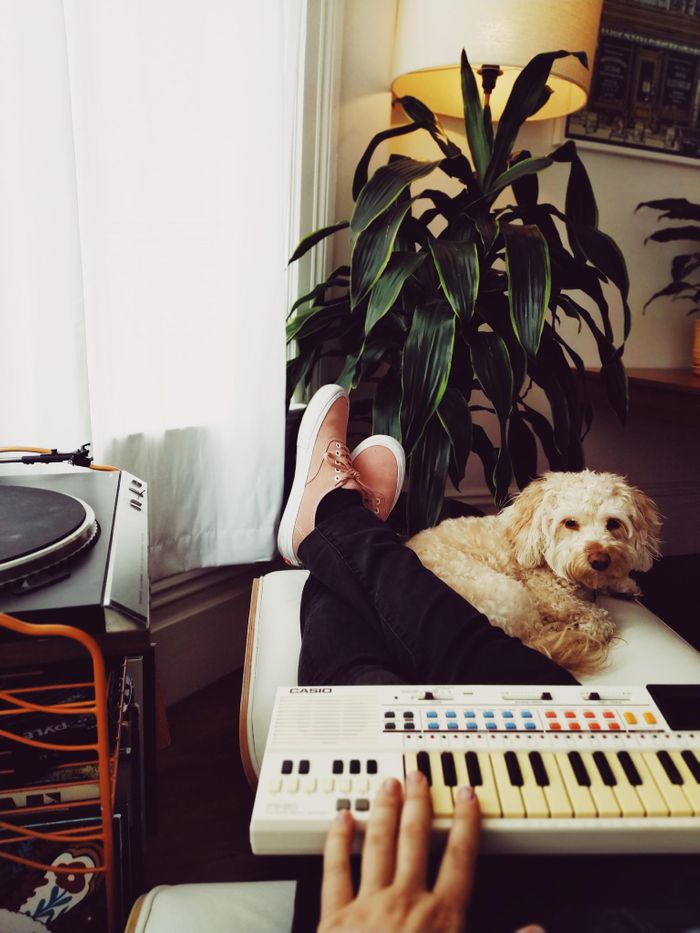 Don't kid yourself that the humanisation of pets trend begins and ends with some tasty, organic pet food.
The pampered pets of today are savvy consumers of all the finer things in life. And it looks like that includes the arts, specifically music, too!
Pets like a boogie on the dancefloor too
Well, their owners certainly do.
Earlier this year, Spotify released the findings of a study they'd undertaken into just how deep the love vibes go between pets and their two-legged companions, i.e. humans.
It's impossible to dispute the emotional attachment that can exist between us and our beloved animals, and it's only natural that we want to return some of the pure happiness our pets give us back to them.
Spotify's findings show that many of us do that with music. While no data exists for British pet parents, it's a fair bet that us Brits are not far behind the 71% of US pet owners who play music for their fur babies.
Pet playlists are the language of love
A few other fascinating facts emerged from the Spotify study too:
8 in 10 pet parents believe that their pets enjoy music
Classical and soft rock are the preferred genres for our pets
69% of owners sing to their pet
57% of owners dance with their pet
Nearly 1 in 5 owners name their pet after a famous musician or band. The most popular names are:

Bob Marley
Elvis
Freddie Mercury
Bowie
Ozzy

Pet owners believe that music can help their pets:

Destress
Feel happy
Help them socialise

84% of pet owners surveyed say that their pets "complete their life"
55% believe that their pets like the same music they do
53% of pet owners globally indicated that, in a pinch, they'd choose their pets over their partner if they had to
The emotional wellbeing of pets
While the survey is a playful piece of content Spotify used to launch their pet playlists for cats, dogs, hamsters, iguanas or birds, it does show how humans are concerned about more than just the physical needs of their pets.
It's no secret that there are countless benefits to humans in having a pet. From the routine of a daily walk to the companionship that another living creature can bring, humans have reported an increase in their own emotional well-being thanks to pet ownership in multiple studies.
Now, thanks to the humanisation of pets trend, humans are, in turn, starting to pay attention to the emotional well-being of their pets. That's not to say that humans haven't cared before, but it's in recent years that we see household budgets begin to be allocated towards the emotional wellbeing of the furrier members of the family.
Thanks to Spotify's recent PR campaign, we know that some of the money might go on a playlist subscription. But it's by far the most mainstream purchase.
Dog cafes are starting to dot the British high street, and come complete with their own canine menus. Socialisation is an essential part of keeping a pet happy and adjusted, and thanks to these cafes, pets can enjoy an outing with other people and other pets.
Pet owners are also looking at how CBD products could help them reduce the anxiety and stress their pets may feel. While the UK is not a developed market in the same way that the USA is when it comes to CBD pet products, pet owners interested in exploring what CBD can do for their fur baby are guided by government advice available online. "As there are currently no CBD products authorised in the UK for veterinary use, a veterinary surgeon may prescribe a legally obtained human CBD product under the provisions of the prescribing cascade."
Of course, it's a leap to go from a playlist to a CBD product, but it's clear that pet parents have their fur children's best interests at heart. And are willing to spend on their pets to prove it.