24 Feb 2021
Meet the Pawexpo pack: Sniffe & Likkit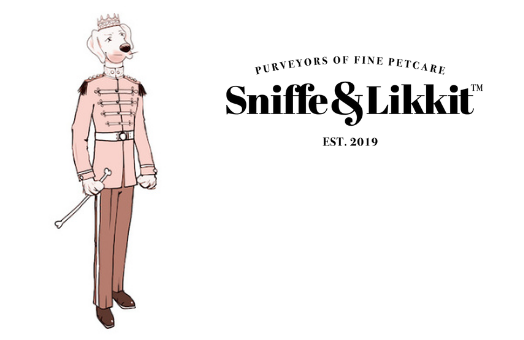 As we head into a new year, we've been having a catch up with some of our favourite Pawexpo brands. New to the line-up is boutique brand Sniffe & Likkit. Here to tell the "tail" is chief human, Lee Sargent.
Tell us a bit more about the Sniffe and Likkit story
It all started in New York City. I was working in the beauty industry for a big global retailer and I also fostered a rescue dog… an adorable American Pit Bull who had been abandoned in the Bronx - a real 'tough guy'. Suddenly thrust into buying unfamiliar product categories for the first time – from chew toys, to shampoo, to booties (this was New York) – I noticed the selection of products wasn't great. Even in a city famed for shopping convenience and love of dogs, the options were cheap-and-synthetic, or else too expensive. So began the 'itch' that must be 'scratched'… finding out more about pet ownership and habits and researching the alternatives.
What inspired you to move from beauty over to pets?
Becoming dog lovers whilst working our 'day jobs' in beauty, we came to realise how over-served humans are when it comes to smelling, looking and feeling good... and how the selection for dogs is not really up to scratch. Our research in 2019 uncovered unmet needs for great grooming, gifting and treats that are effective, affordable and fun. We saw there was a need to apply knowledge from skincare and the principles of good product development - starting with the needs of your end user - and taking away the synthetics and 'nasties' that are still lingering in some products. We know these things have been a concern to humans for a long time, so it's only natural that owners would start to demand similar for their four-legged friends.
Do you see any similarities between the two industries?
The beauty industry is very developed and constantly innovating. Right now, they are poles apart but we hope that with more people taking our approach, we can significantly upgrade the quality of not just what goes 'in' a dog (as many of the food and treats companies already have), but what goes 'on' your dog as well. We also see big potential for gifting... both people buying for their own dogs, or others buying for the dog-owners in their life.
Your branding and illustrations are really distinctive – how did you come up with the concept?
It came about quite quickly, actually! We wanted to be fun and raise a smile - because that's how people think about their pets. They are companions that bring enormous joy, although you'd be forgiven for thinking they were 'problems' to be 'solved' when you look at a lot of the brands in the pet care industry. The name came from thinking about some funny names shops come up with to be distinctive and memorable. We then thought quintessentially British, a bit like a 'Fortnum & Mason'. For pack design, the brief was: 'good enough to put on the bathroom shelf, not kept under the kitchen sink'. We were lucky that our designer happened to be old friends with Grange Calveley, creator of 'Roobard & Custard' the animated TV series from the 70s. And then it all fell into place.
Do you have pets yourself? Are they good Sniffe & Likkit ambassadors?
Hehehe, yes of course! I am a foster dad for Battersea Dogs & Cats Home, having graduated with prior experience of similar roles in New York. We recruited lots of dogs to try out the (completely safe!) prototypes of our products and fragrances to make sure we covered all sizes, types, colour, skin/fur condition. We were particularly keen to see if the aromatherapy we built into our formulas helped dogs who don't like to be bathed or groomed - good news, it definitely did with some great early user feedback. At the moment, we are 'dogless' as the adoption shelters have emptied during the pandemic - but we hope to be fostering again soon!
Sustainability and using organic ingredients are key features for you – why is this? Do you think sustainability is important in the pet industry?
It's part of our philoso-woofy to be as natural and sustainable as possible - whilst still delivering a consistently safe, efficacious, quality product. Inventing new formulas and choosing packaging today, it's possible to build these requirements in from the start. Our customers - who see their dog as one of the family - will be as concerned about what they buy for the dog as they do for themselves. We see the pet industry preferring synthetic ingredients, unnecessarily. We're aiming for a sensible balance and have applied the standards we're familiar with from the beauty industry (which are more stringent than pet). There are well-known 'nasties' that can be excluded from a product by rigorously checking it for safety, compatibility and efficacy. Products that don't work, or deteriorate after opening - no matter how organic or sustainably created they may be - are just likely to get thrown away, which is the ultimate waste in our eyes.
What is your "Sniffe" and why is it important to your products?
The 'Sniff-ology' in our products refers to the aromatherapy that we built into our 100% natural essential oils. We worked with specialists, and some very picky pets, to select a unique blend to be calming and soothing to dogs, and really attractive to humans. We put all our understanding and capability from fine fragrance into creating the signature scent for Sniffe & Likkit - we call it Woodland Wonderfur, and it's getting great reviews. Woody and grassy aromas are known as a 'fugere' in the fragrance business and its a style that's very much on-trend amongst the big perfume houses at the moment.
How has the pandemic affected business? Has it been challenging for you or have you seen any new opportunities?
Our launch was planned for Summer 2020, with consumer and trade shows to introduce ourselves. By Easter it was clear that we would have to delay and we were terribly disappointed to see so many events cancel and postpone. However, we like to think that we've been made a little more resilient as a result and even more agile than most start-ups.. We've been flexible, adapting plans and focused on 'the big things'. Like many, we brought forward our online business sales plan and accelerated social media as the main communications channel.
Discover more about Sniffe & Likkit here.
Want to join the Pawexpo pack? Register your interest in our September show here.
---
If you enjoyed this article you might also like: