09 Jun 2020
Top 5 features to include in your pet shop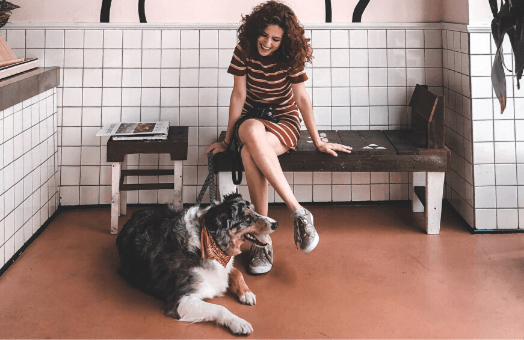 With high streets getting ready to get back up and running on 15th June, it's likely that you'll start to see a few more customers coming through your doors again in the next few weeks. But how can you ensure your shop is not only a necessary stop but an exciting experience for your customers? We've pulled together a list of some of the top features for pet shops that will keep your customers coming back for more…
#1 Pet pampering services
Go from pet shop to pet spa with grooming services. That way, instead of popping in for pet food, your customers will have time to browse the shop and may even make more purchases. For today's time poor humans, it's also a good way for them to get two jobs done at once!
#2 Create pooch-friendly payment points
Many people bring their dogs with them to the pet shop, so you want to make your retail experience as easy as possible for both human and canine visitors. When it comes to payment points, consider adding a hitching post for owners to tie up their dogs whilst they pay, to avoid having their hands full. Make sure you also have plenty of space around the checkout area and consider putting out a bowl of water as well to keep canine customers refreshed.
#3 Run in-store classes and activities
Help customers to care for their pets properly by running in-store classes and activities. These could range from puppy training to cat grooming, for example. Encourage your customers to bring their pets along for a fun interactive event! You could also consider creating your own booklets about pet care for customers to take home with them, either after the events or as part of your point of sale marketing.
#4 Meet the animals
Along the same vein, if you sell live pets in your shop, why not try a "petting zoo" type event? Invite customers to bring their children along to meet the animals and learn a bit more about them. This might even bring some brand-new pet owners into the community!
Of course, the animals' wellbeing should always be the number one priority, so make sure you only allow small numbers of people to these kinds of events, supervise handling of the animals and stop the event if the animals are distressed.
#5 Streamline your in-store experience
As we've said, many consumers are time-poor, so when they're shopping, they want as quick and as easy an experience as possible. Really clear signage and plenty of space will allow them (and their pets) to browse easily and find the products that they're looking for. Signs like "Toys that Last" or "Organic Pet Food" will easily signpost shoppers to what they're after and may even pique their interest in things they hadn't thought about before. Pay attention to the things you're asked for most and make sure that they're clearly marked so that customers know exactly where to find the things they want.
Stay tuned with all things Pawexpo for more of the top tips on the pet and animal industry. Follow us on social media for all the latest updates!