09 Oct 2020
Virtual Petindex – Helping Your Business Thrive in These Challenging Times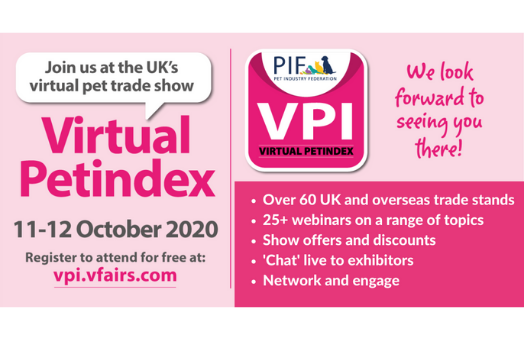 If you're looking for new pet products and networking opportunities for your business, as well as the opportunity to access show discounts and high quality webinars – all for free - then look no further than Virtual Petindex - the UK's virtual pet trade show.
Opening its virtual doors on Sunday 11 and Monday 12 October, Virtual Petindex provides a fantastic opportunity in these uncertain times to access some of the benefits that traditional trade shows without having to travel anywhere, pay for any hotel accommodation or risk virus transmission.
Being virtual means that you 'attend' the event by logging in from your laptop or mobile device on the show's two live days, without having to download anything.
When you log in, you will move through the site (as you would in a real trade show) from the entrance foyer to the exhibition hall to select exhibitors you want to visit; or the auditorium to view any of the webinars which will be taking place. Exhibitors will be online throughout the show, and on-hand to talk through any products they have, and you will be able to download and take away items in a 'virtual bag'.
What can you expect from Virtual Petindex?
Over 60 pet trade exhibitors from the UK and overseas

Six New Product Stands with over 20 pet innovative products new to our market

Show offers and discounts
A virtual show bag to gather information you want to browse in your own time
Access to the site for 14 days after show has ended
Access high-quality learning
Virtual Petindex provides one of the strongest line-ups for pet business related webinars you are ever likely to see in the UK. We have secured well over 20 webinars with fantastic, relevant content from speakers who are experts in their field, delivering original content for Virtual Petindex visitors.
Some are delivered live, and can only been see at the scheduled time; and some can be viewed on demand once they have been released.
Some of the speakers whose webinars you will be able to see include:
Paul Allen, Woof Gang Bakery - Diversifying your business
Doug & Carole McHugh - How to improve your customer service
Bob Phibbs, The Retail Doc - How not to have a lump of coal in your store over Christmas
John Cullen, Bulldog Marketing & Sales, Inc - Marketing & selling pet products to the US market
Where can you find more information about the event?
We have a dedicated Virtual Petindex website where you can see all the exhibitors, view details about the webinars and register to visit the show.
You can also read all about the event in our Show Guide: https://online.flippingbook.com/view/1007106/
Register to attend for free
Virtual Petindex will provide you with a fantastic and much-needed opportunity grow your business, helping it to thrive now and into the future – and what's more, registration and attendance at the show are FREE! You've nothing to lose and everything to gain.
To join us, simply click here to register.
We look forward to seeing you there!