26 Jun 2023
The best results start with the best Westland feeds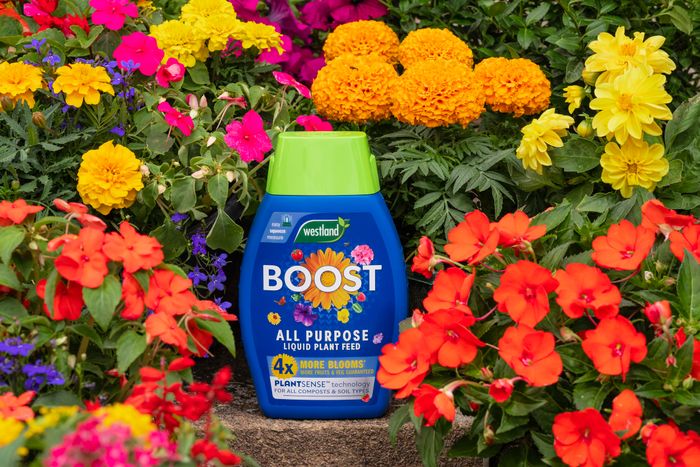 Only 32% of consumers feed their plants* yet feeding has never been more important with using peat free composts to ensure that plants are at their very best throughout the season. Because plants thrive in the open and free-flowing structures of our peat free composts, the surface can dry out a little quicker, but still moist under the surface. All reduced peat and peat free composts therefore benefit from more regular levels of feeding.
So from helping to prepare gardener's soil or giving consumers 4x more blooms**, to the best tomato food on the market; Westland feeds are packed full of goodness to guarantee their best ever season.
Boost – Join the feeding revolution
After another successful year, Boost All Purpose Plant Food is continuing to take the plant feeds world by storm. As the fastest growing plant food in the market†, Boost is set to return to TVs for a third year in 2024 to encourage consumers to get their best ever blooms using Boost. With Boost in your can, you can!
Back on TV with it's distinctive advert and can-can music, it is re-energising the plant feed category with a full communication package worth over £1.5m. With 4x more blooms** and more fruits and veg guaranteed, this revolutionary product uses PlantSense™ technology, the perfect blend of micro and macronutrients, and a game-changing water management system. It's the only all purpose plant food designed for peat-free composts, which require bespoke feeding and watering.
Boost also makes application faster and more effective by absorbing quicker while avoiding run-off. Because there's less water waste, the product is better for the environment too. Now is the time to join the feeding revolution!!
*gfk and Census 2021
**bedding plants vs unfed
†GfK Panel Market, Total Garden Market, Non-Straights by Brand, January – December 2022 vs. 2021
Big Tom Super Tomato Food
For gardeners seeking bigger, tastier tomatoes, there is no need to search any further than Big Tom. This exceptional product is enhanced with PlantSense™ technology, making it effortless to apply while ensuring superior nutrient delivery and optimised photosynthesis. Moreover, Big Tom has been specifically developed for peat-free planters, which demand increased feeding and watering.
Featuring a groundbreaking water management system that minimises surface run-off, watering becomes easier and faster with Big Tom. This system also enables seaweed to reach the roots more efficiently, promoting healthy growth. Big Tom provides optimised nutrients for tastier tomatoes, movement of calcium to avoid blossom end rot, potassium for more tomatoes, and H20 movement to avoid the fruit splitting. This comprehensive nutrient package creates the optimal conditions for achieving the finest tomatoes. Nitrogen facilitates robust leaf growth, while iron and magnesium contribute to lusher, greener plants. By promoting larger leaf growth, Big Tom allows for a greater surface area to capture sunlight. Tomato growers will quickly witness the benefits of this remarkable product.
Pair the Big Tom feed with the corresponding planter for an even more impressive outcome! The Westland Big Tom Peat Free Tomato Planter is specifically engineered to complement the Big Tom feed, offering exceptional results. This planter features a nutrient-rich compost that stimulates robust root growth and sustains the overall health of tomato plants. Packed with carefully balanced nutrients to promote vigorous root development, creating the optimal environment for tomatoes to flourish. The deeper fill of the planter allows for ample root development, resulting in a generous harvest of exceptionally delicious tomatoes.
Additionally, infused with beneficial seaweed, it not only enhances the quality of the crop but also promotes abundant fruiting. Feed with Big Tom when the first fruits begin to swell to ensure a generous harvest. Engineered with advanced moisture retention technology and a calcium-rich composition, this planter effectively reduces the risk of blossom end rot. Furthermore, it actively nourishes tomato plants for an extended period of up to six weeks, ensuring their vitality and productivity.
The Nation's favourite range of straights
Discover our diverse Westland straights, including Fish, Blood and Bone, Chicken Manure Pellets, Growmore, and Bone Meal. Among them, Fish Blood and Bone stands out as an exceptional all-purpose feed suitable for flowers, fruit, trees, shrubs, and vegetables. It boasts a 5-week nutrient release package, ensuring sustained feeding for longer periods. With its convenient ready-to-use formulation, it provides hassle-free application.
Introducing our new 8kg refill bag, perfect for replenishing our 8kg buckets. Say goodbye to unnecessary waste; there's no need to discard the tubs—simply reuse and recycle them. We are committed to promoting sustainability, and this refill bag contributes to an impressive 83% reduction in plastic usage. Choose our environmentally friendly option and join us in driving towards a greener future.
Find out more at www.gardenhealth.com
ENDS
For further information contact Natalie Searle nsearle@westland.com or Laura Mallinder lmallinder@westland.com