23 Jun 2022
Capi Europe GLEE 2022 Press Release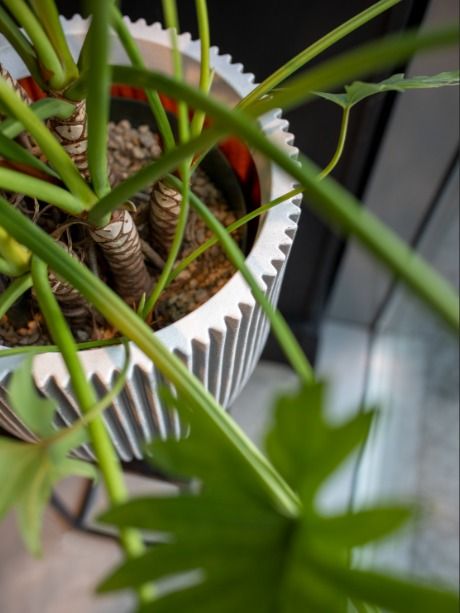 Capi Europe – Grow a greener life
The Capi-Europe story begins in 1997. Over the past 25 years, the pots and planters from this Brabant-based company have undergone an enormous development. Capi is now known for its tasteful lightweight pot and planter collection, the highlight of which is the Made in Holland collection, produced entirely in the Netherlands. Production in the Netherlands is completely CO2 neutral. Grow a greener life has become more than a mission statement. It stands for a way of life in which we clean up our own mess, take care of the earth and leave a cleaner planet for our children. And because sustainability can also be beautiful, every Capi product is an asset to your interior.
Taking care of the planet and each other is in our roots. We reshore much of our production and adopt a technique that cuts our energy consumption by 80%. We make our offices and ways of working sustainable and efficient. Our 100% recyclable planters are designed to protect the plants they hold and are produced durably to grow with you. With our special rain barrel and biodiversity collection we inform our customers about the need to help nature and enable them to contribute to it. And this is just the beginning! 'Grow a greener life' is more than words in a corporate mission statement. It is how we start cleaning up after ourselves by introducing a collection made from 100% waste including fishing nets. It is how our operations and products in the Netherlands got certified as CO2 Neutral. It is how we offset the emissions that remain and strive to reduce those emissions even further in the future. It is how we hope to empower our customers to embrace a greener lifestyle. But most of all, it is how we want to inspire you to do the same. So we can work towards a sustainable future for ourselves, but mostly for next generations. Because when all is said and done, that is the only way we can keep our promise to you.
New collection Capi Europe 2023
This year Capi Europe's new items have focus on sustainability and a lot of colour.
New items have been added that show this focus on functional en sustainable design.
Products that will help you to grow a greener life.
New and fresh beige – 100% waste
The 100% waste collection, is as the name suggest, made from 100% waste. They include old fishing nets, used cork, and recycled Capi planters. After the introduction of last years dark grey a light beige will be added to the collection. By expanding this collection Capi expands the good cause and creates even more responsible choices for the consumer. The material from both of these colours is certified recycled material. Will you help clean our oceans?
New texture – Groove
A new texture in the Made in Holland collection is called 'Groove'. This textures is inspired by the vertical grooves in rocks and mountains that arise from natural changes occurring over the years. A process in nature that was the inspiration for the solid lines of this texture. Just like the rest of the Made in Holland collection these planters have the signature orange inside and are CO2 neutral produced.
It's not just about designing sustainable products, but also about proving it. Besides the stunning design the new planters from the Made in Holland collection are also provided with CO2 neutral and PEFC certificates. To show these planters also have a high quality and a long lifespan Capi extended the warranty of the Made in Holland collection to lifetime warranty. This way we make sure we can take our responsibility together.
Capi for biodiversity
To help maintain a water friendly garden the expansion of the rain barrel collection was to be expected. The new model can hold up to 400L of water, but is still a small and elegant model to have in your garden. Design combined with water solutions to help biodiversity in every garden. Besides that the wide collection of birdhouses and insect hotels are now made from 100% waste. This way you are able to upgrade your garden to attract more birds and bees by adding sustainable products made from 100% recycled materials. That is win-win on both sides.
Arc XXL for indoor and outdoor
If you are looking for real eyecatchers the lightweight Arc collection can be a solution. Models up to 177cm you cannot miss. Perfect for big projects, store entrances or a signature piece at home. These planters are easy in use because of the light weight. 100% watertight and therefore suitable for indoor. If you would like to use this collection outdoors you can easily drill some drainage holes in it and create a nice outdoor corner. Because these planters are really easy to clean they are suitable for all weather conditions. Indoor, outdoor, big or small, these planters fit in every project.
Colour up the indoor places
Looking for some colour? A lot of colour will be added in the indoor sections. 4 new indoor watering cans take place in this years new collection. Functional design in trendy colours to water your plants and brighten up your home. The indoor pots come with new models, but also with some new and remarkable colours. Pick some neutral colours or go nuts with the bright ones.