09 Mar 2022
Carbon Gold launches TWO new Biochar products to revitalise Houseplants and breathe life into Compost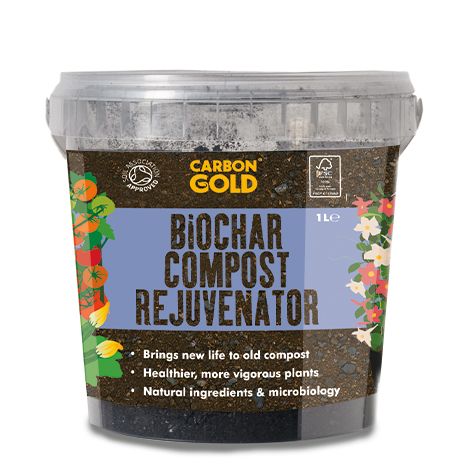 This spring sees the addition of two new products to Carbon Gold's range of enriched biochar products.
PRESS RELEASE
Carbon Gold launches TWO new Biochar products to revitalise Houseplants and breathe life into Compost
Wednesday 9th March 2022 - Founded by Craig Sams (the entrepreneur behind Green & Black's Chocolate and Whole Earth Foods), Carbon Gold has harnessed commercial markets with their award-winning range of Biochar-based, peat-free planting aids, designed for professional greenkeepers, crop growers, tree care specialists, home growers, gardeners and allotmenteers alike.
This Spring sees the expansion of Carbon Gold's range of enriched biochar-based composts and soil additives to include two new lines - Biochar Houseplant Booster and Biochar Compost Rejuvenator.
Following the growing trend for nurturing houseplants, Biochar Houseplant Booster has been designed to support healthier growth in indoor plants. Due to its extraordinary water-holding capacity, Biochar will help prevent houseplants from drying out and support a healthy soil microbiome and better airflow through the houseplant soil; this ensures resilient root development and better drainage – delivering a plant that will flourish and thrive in indoor conditions.
Biochar Compost Rejuvenator has been created to breathe new life into old, 'spent' compost and promote healthier, more vigorous plants by optimising fertility. A combination of nutrients, minerals, fertiliser, and a healthy soil microbiome rejuvenates compost often exhausted after a productive growing season. Biochar Compost Rejuvenator uses natural ingredients and microbiology to enable gardeners to revitalise their existing compost and use it again rather than purchasing fresh year after year.
"We are delighted to bring these products to market; Biochar itself sequesters (locks) carbon into the soil, reducing the CO² levels that would otherwise be released into our atmosphere", comments Mike Hartshorn, Managing Director of Carbon Gold.
"The last couple of years have seen a surge in demand for houseplants: the new bloom economy, which has led to the development of our Biochar Houseplant Booster. Our Biochar Compost Rejuvenator will also see gardeners revitalise 'spent' growing media with this new addition to the range, recycling what Compost they already have, with proven results".
Carbon Gold's biochar products are FSC-certified, and Soil Association approved for organic growing and favoured by legions of gardeners across the country.
Carbon Gold will be exhibiting at the Garden Press Event (stand A107A). For more information about Carbon Gold, visit https://www.carbongold.com/ @carbongold
Ends
For media enquiries: jennifer@carbongold.com
Samples available on request
Editor's Notes: About Carbon Gold
Carbon Gold was founded by Craig Sams, (creator of Green & Blacks Chocolate, and Whole Earth Foods) as an organic, peat-free planting aid.
Following a few years of incredible results from third-party scientific trials looking into enriched Biochar's effect on plant health, Carbon Gold's natural organic biochar products were quickly adopted by the commercial crop growing, tree care and sports turf sectors.
Now its award-winning range has extended to home growers, gardeners and allotmenteers across the nation, improving soil health, plant health and human health.
Biochar is a high-carbon form of charcoal produced by "baking" organic matter at high temperatures and without oxygen, a process called "pyrolysis".
Because of its carbon purity, it doesn't degrade, so introducing it into your soil can bring a physical and permanent change. Biochar improves structure, aeration, water-holding capacity, and nutrient retention whilst also encouraging a resilient soil microbiome that supports healthy plant growth. It also increases the sequestration capacity in the ground and is a refuge for beneficial microbiology, such as mycorrhizal fungi, trace minerals, and healthy bacteria, added to improve plant health.
Carbon Gold's award-winning Biochar products are FSC certified, and Soil Association approved for organic growing - – helping the planet, one garden at a time!