14 Jun 2022
Crescent Garden and UBQ introduce a container gardening breakthrough.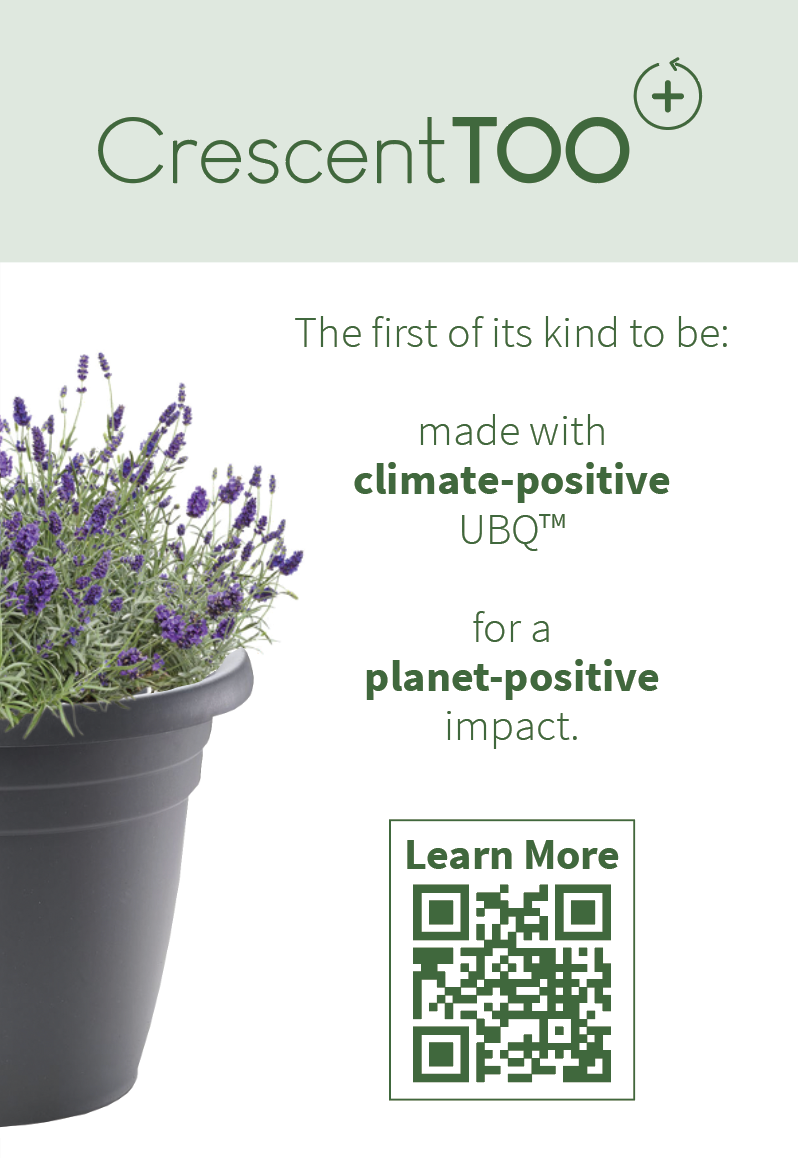 Presenting Crescent Too O+ – the circular/positive plant container made with climate-positive UBQ™, for greater sustainability from both plant and planter.
COLOGNE, 14 June 2022 – Container gardening leader and innovator Crescent Garden, in collaboration with advanced material manufacturer UBQ Materials, have announced the launch of the new Crescent Too O+ (read as 'O plus' or 'circular positive') range of planters, engineered to contain UBQ's pioneering bio-based thermoplastic, which is upcycled entirely from unsorted household waste for a sustainable, climate-positive carbon footprint.
The new planters – available across the best-selling Emma line of Crescent Too planters, and Crescent Garden's innovative self-watering TruDrop Flex container inserts – go beyond competitors' approaches to recycled content and future recyclability by bringing a new kind of recycled material to the market.
Circular O: made with UBQ™, a 100% upcycled (recycling that transforms into higher value material) material made from unsorted household and organic waste, giving it new life in a valuable product that is also recyclable.
Positive +: the UBQ conversion process results in a climate-positive material that diverts refuse – including organic garden trimmings and clippings – from landfills, preventing greenhouse gas emissions, for a planet-positive effect.
Crescent Too O+ is the first and only solution of its kind in commercial or consumer horticulture – for gardeners considering the total environmental picture.
A material revolution from UBQ: climate positive, bio-based, 100% upcycled and recyclable
Already in use in as a substitute to conventional plastic by Mercedes-Benz (VISION EQXX sustainable concept car), McDonald's (McTrays), PepsiCo (displays and shipping pallets), and other leading manufacturers, UBQ™ is a USDA BioPreferred Certified Product, made entirely from landfill-destined waste, including all organics such as food leftovers, grass clippings and plant cuttings. The diversion of this waste from landfills prevents harmful greenhouse gas emissions for an outcome that is climate positive, not just neutral. The material itself is continuously recyclable, which further enhances the circularity of products made with the material.
In seeking a game-changing sustainability solution in container materials, Crescent Garden President Harry Tchira set out three development challenges:
"Our plant containers have always been designed for long-term durability and 100% recyclability. But we wanted to go much further.
First, we wanted to use recycled material that was also re-recyclable through multiple product cycles. Many don't, leaving you with a 'recycled' planter that isn't truly recyclable. 'One and done' recycled isn't an appropriate sustainability standard for a naturally organic sector like ours.
Second, could we bring this innovation to a variety of high-volume planters we offer and not just niche products: from starter pots and grab-and-go containers to our self-watering inserts. We learned that indoor plant variety and growing more edibles both have higher sustainability effects, so we wanted this for everyone, every day.
Most importantly, we're in the plant business, which is of course naturally good for the planet. We wanted to enhance the already-positive impact of plants with more sustainable planters, made with climate-positive material. UBQ™ was the perfect choice for us."
Bringing Circular and Positive benefits down to the individual plant + planter
Working with UBQ Materials, the Crescent Garden team developed prototypes adding climate-positive UBQ™ into the material mix, seeking to create containers with a more planet-positive potential with similar quality and value. The Emma line and TruDrop container inserts are respectively high-volume and innovation leaders in the Crescent Garden portfolio, making the benefits of incorporating UBQ™ bigger and more visible.
Made in Italy, Emma lightweight and durable planters and TruDrop Flex self-watering inserts offer classic styling at great value, perfect for everyday interior and exterior use: grab and go starter pots, attractive and durable containers, and inserts that can go weeks without watering, saving water and fertilizer.
Together, planter and plant work together to reduce and offset emissions for a better, healthier environment.
A Circular | Positive effect
Carbon reduction from plants + Climate-positive UBQ™ material = Improved planet-positive impact
The result is a solution that completely changes the recycling and sustainability conversation in container gardening. Simply claiming a fraction of recycled material, carbon neutrality, or sustainable energy in your production is no longer enough. With partner UBQ Materials, the Crescent Garden Company has transformed sustainability in home & garden containers towards a new paradigm: climate-positive material, plant-positive containers, and planet-positive impact, for sustainability that circles back season after season.
The Crescent Too O+ planters will be launched at GAFA in Cologne, Germany, which is taking place from June 19 to June 21, and will be showcasing the UBQ products in its booth, Hall 10.1; Stand #F050 G051.
Crescent Too O+ plant containers, like all Crescent Garden products, are available directly on crescentgarden.com, and will be carried the same retail outlets as the rest of the Crescent Garden range. Customers may order now and expect broad availability by Spring 2023.
About UBQ Materials
UBQ Materials is a climate tech developer of advanced materials that converts unsorted landfill-destined waste – including organics like food waste, cardboard and paper together with mixed plastics – into UBQ™, a sustainable alternative to oil-based resins and other conventional raw materials. The climate-positive and bio-based thermoplastic can be used in thousands of applications and is incorporated seamlessly into standard manufacturing processes, both on its own and as an additive.
A certified B Corp, UBQ Materials empowers industries to offset the carbon footprint of their end products and preserve finite resources without compromising on material performance or profitability. This gives manufacturers a commercially viable way to operate more sustainably and transition to a truly circular economy. Learn more by visiting www.ubqmaterials.com
About Crescent Garden
Crescent Garden is one of the premier container gardening providers and an innovation pioneer in premium design, self-watering solutions, and sustainable materials. The Miami-based company was founded in 1999 by Paula Douer and Harry Tchira, with a vision to make gardening more accessible and relevant to everyone while pushing industry standards for what's possible. The Crescent Garden, Crescent Too, and TruDrop brands are trusted worldwide by contractors, plant experts, independent garden centers and nurseries, and home gardeners.
The company has integrated sustainability into its core business through a circular, continuous approach 'From Plant to Planet' across operational and product lifecycles: in materials, design and manufacturing, distribution, and customer experience. More information is available at crescentgarden.com.
For further details, please contact
Paula Douer
Crescent Garden Company
+1 305 477 0024
pdouer@crescentgarden.com
Nicole Kaufman Grubner
UBQ Materials
+1 929 588 2011
nicole.grubner@finnpartners.com