07 Sep 2020
Evergreen Garden Care - Peat Free Launch Press Release 2020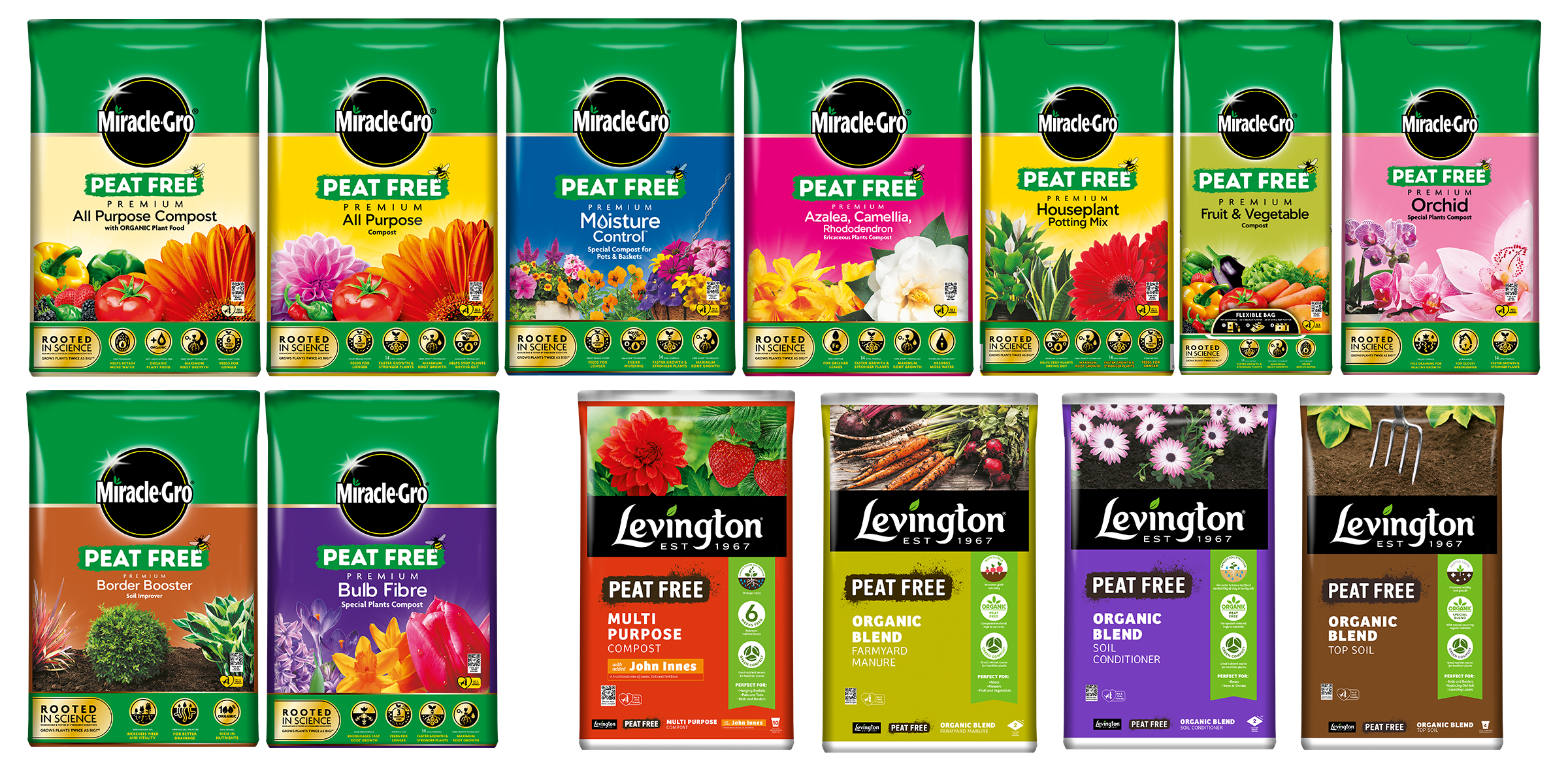 To meet the demand for peat-free growing media options, the UK's leading garden care company, Evergreen Garden Care (www.lovethegarden.com) is delighted to announce the launch of the best performing and widest range of Peat-Free growing media. As consumers move to peat free alternatives, Evergreen Garden Care has made this transition as simple as possible, offering alternatives in brands they recognise across all their growing needs. With this thinking in mind, Miracle-Gro and Levington are offering a premium range spanning All-Purpose, All-Purpose with John Innes, Moisture Control, special plants including Azalea, Camellia and Rhododendron, Fruit and Veg planter, in-door houseplants and more peat free alternatives.
Data has shown that while consumers have the intention of purchasing sustainable and environmentally friendly choices, at the point of sale the choice is often made to purchase products that they perceive to be more effective. The new peat free range delivers quality results, without the compromise, with SKUs to satisfy the special needs of every plant type. Expertly formulated at Levington research centre, the range is created with patented technology, Fibre Smart, which is wood fibre infused with organic nitrogen. By doing so, the nitrogen is fully absorbed by the plants, rather than being absorbed into the wood fibre, allowing the plant to grow to its best potential.
Miracle-Gro and Levington Peat Free is packaged in 100% recyclable materials. Evergreen Garden Care is actively working on improving the responsible sourcing profile of its compost mixes year on year and has increased the recycled plastic content in the peat free compost bags to 60%. These efforts have the ultimate aim of reducing waste and allowing gardens to flourish in the most sustainable way possible.
The launch of this range is a continuation of Evergreen Garden Care's ongoing focus on sustainability. Over the past 30 years, the company has restored and donated more than 3,000 hectares of peatland in Somerset, Yorkshire and Lancashire. In partnership with nature experts and conservation bodies, Evergreen Garden Care has been responsibly restoring peatlands ensuring best practice in terms of land management and restoration. The overall aim is to guarantee that wildlife can continue to thrive in these environments.
Mark Portman, Managing Director at Evergreen Garden Care commented: "At Evergreen Garden Care, we have been on a journey of reducing our use of peat year on year and have always taken our responsibility to care for the peatlands seriously. The launch of a full range of peat free compost is the next step in that journey. It is important that the we, as a business, and the industry as a whole helps move gardeners to peat free solutions that meet all of their gardening needs. This is what we are doing with our launch; the same two leading brands, the same portfolio, the same high quality, but now available in Peat Free."
"There is an increased demand for peat free both from our consumer and customer base. It has been an exceptional year for growing media and due to limited availability sometimes shoppers had to compromise on what they really wanted to buy. Prior to the pandemic we saw more people move towards peat free through GfK industry data and from our customers, who reported the interest in their mix of sales. This rangewill satisfy this demand, providing the solution for the needs of every plant."
The range includes the following:
Miracle-Gro Peat Free Premium All-Purpose Compost: available in 20L (RRP: £4.99) and 40L (RRP: £5.99)
Miracle-Gro Premium Peat Free All-Purpose Compost with Organic Plant Food: available in 40L (RRP: £6.49)
Miracle-Gro Peat Free Premium Azalea, Camelia, Rhododendron Ericaceous Plants Compost: available in 40L (RRP: £6.99)
Miracle-Gro Peat Free Premium Bulb Fibre Special Plants Compost: available in 10L (RRP £3.99) and 20L (RRP: £5.99)
Miracle-Gro Peat Free Premium Moisture Control Special Compost for Pots and Baskets: available in 40L (RRP: £6.99)
Miracle-Gro Peat Free Premium Orchid Special Plants Compost: available in 6L (RRP: £3.99)
Miracle-Gro Peat Free Premium Houseplant Potting Mix: available in 10L (RRP: £4.49)
Miracle-Gro Peat Free Premium Border Booster Soil Improver: available in 40L (RRP: 5.99)
Miracle-Gro Peat Free Premium Fruit & Vegetable Compost (RRP: 5.99)
Levington Peat Free Multi-Purpose Compost with added John Innes: available in 50L (RRP: £6.99)
Levington Peat Free Organic Blend Topsoil: available in 20L (RRP: 4.99)
Levington Peat Free Organic Blend Soil Conditioner: available in 50L (RRP: 6.49)
Levington Peat Free Organic Blend Farmyard Manure: available in 50L (RRP: £5.99)
To find out more, visit www.evergreentrade.co.uk
Issued on behalf of Evergreen Garden Care by Wild Card
For more information, contact Josie Hustler / Emma Videan
T: 0207 257 6470
E: evergreengarden@wildcard.co.uk