28 Jun 2022
Haloo launches in the UK market its new range of premium and stylish outdoor heating, cooking and lighting ranges at Glee 2022.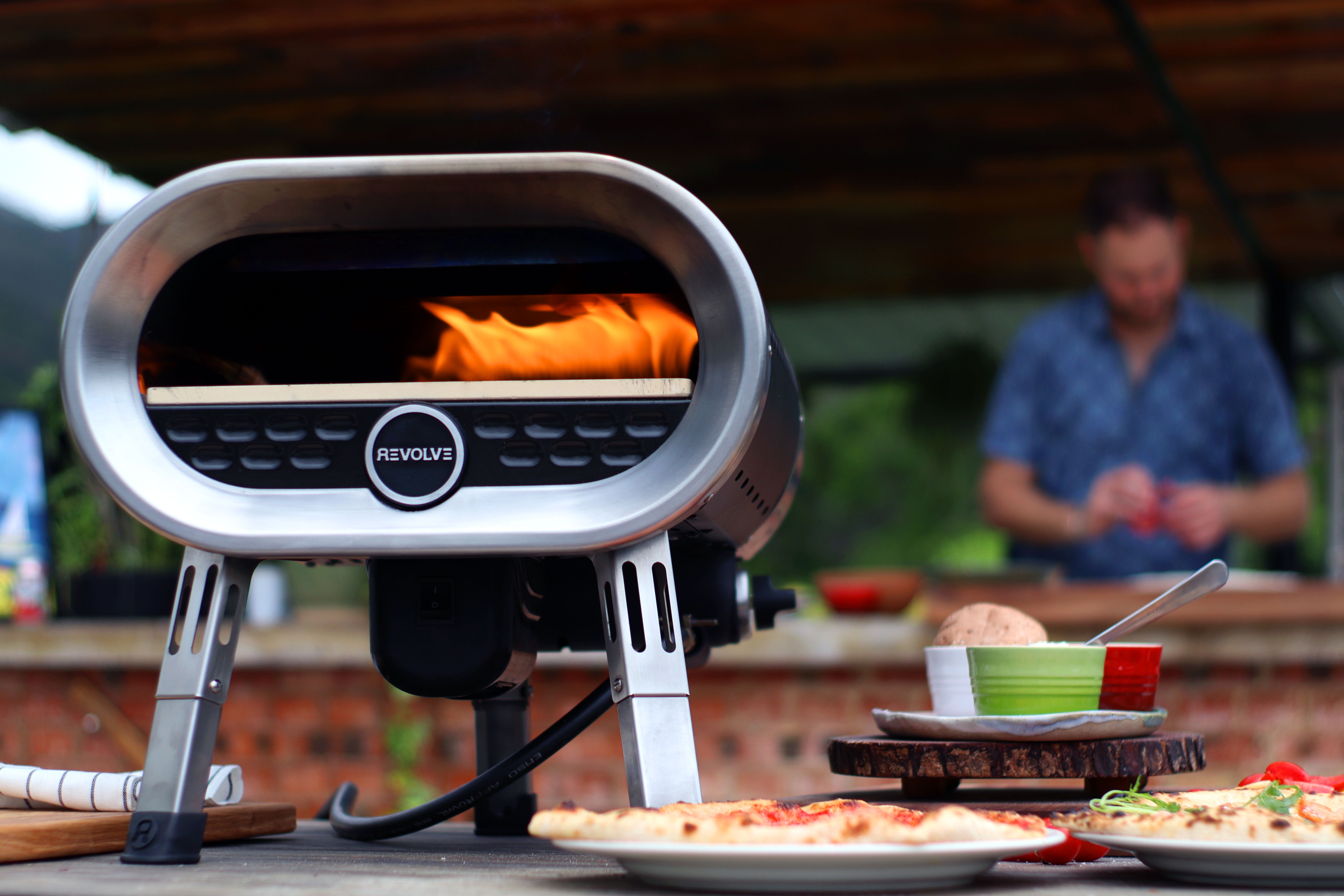 London, 28th June 2022: Global outdoor heating, cooking and lighting expert, Haloo, is pleased to announce the UK launch of a brand new range of premium, incredibly stylish outdoor heating, cooking and lighting ranges at GLEE 2022 from the 28th to the 30th June. The Haloo product range has already proved to be extremely popular in numerous other territories including the US, Canada, Australia and Japan and is stocked by global retailers such as Costco and Sam's Club. From the Revolve pizza oven, Ballo gas and wood firepits, LED solar flame lanterns, or the Apollo or the Alpine cooking pits, Haloo has a solution for every consumer with an extensive choice of contemporary and traditional designs to enhance and compliment any outdoor setting.
The Revolve Pizza Oven:
The new Revolve Pizza Oven makes cooking pizza really enjoyable, easy and sociable. This innovative rotating pizza stone cooks perfect pizza every time and with its eye-catching, stylish design, high quality materials and attention to detail, Revolve is set to be the most sought after, and best value pizza oven. Besides delicious thin-crust pizza, Revolve can cook a chef's full repertoire of grilled dishes ranging from meat and vegetables to any seafood of choice.
The biggest problem with pizza ovens currently on the market, is achieving consistent and uniform cooking results. The pizzas end up too easily charred on one side, undercooked on the other. The compact size of these ovens makes it a real challenge to control the cooking time and result, leading to frustrations for the users, including the more experienced weekend pizzaiolos. Revolve features a smoothly turning pizza stone, giving full control for the optimal cooking time and consistent results every time.
Revolve also features a durable double-walled construction, with calcium silicate insulation for ideal heat retention. The rolling flame is guided by carefully placed flame guides that distribute the heat evenly throughout the cooking surface. It is constructed from cold-rolled carbon steel with stainless steel inner walls, front plate and legs and a ceramic cordierite cooking stone.
The Revolve pizza oven can be powder coated in a variety of beautiful colours which currently include green, black and red. A weatherproof cover and a pizza peel are included with any purchase.
The Ballo Fire Pit Range:
Feel the real warmth of the Ballo firepit range, delivering roaring flames and cosy heat for all to enjoy. The wood burning Ballo uses micro gasification to burn off any unwanted smoke whilst the gas burning Ballo always burns clean with propane gas delivering the ambience of a fire without real smoke. With designs available to enhance any home environment, be that ultra-modern or a more classical look, Ballo has a design to suit all tastes. Ballo's universal design and high quality materials feel at home on any patio or backyard.
The fire bowls of the Ballo Wood range are all designed with engineered double air intake which helps to reduce smoke, avoiding the all too common smarting eyes associated with most firepits. It also features durable cast aluminium feet. A soft cover is included to help keep dirt and water out and protects against harmful UV-rays.
The Ballo gas range is incredibly easy to use. It can be connected to the gas source instantly and then disconnected and tucked away when not in use. It has electronic ignition, and an adjustable flame so can be easily controlled to emit as much heat as required.
The Ballo Gas range also comes in super durable and premium Corten Steel and Stainless Steel. Both materials will last a lifetime, being constructed from luxurious, hand-crafted, seamless mirror polish 304 stainless steel or 4mm thick Corten Steel.
Outdoor illumination and other outdoor heating and cooking products
Haloo will also be showcasing at GLEE a range of outdoor illumination products to create an atmospheric ambience in any garden or on any patio. This includes the Sunna range of solar flame lanterns with over 300 LEDs to create a realistic, moving flame. Or, select the optional candle or solid flame modes for a different lighting effect.
For those looking to share the warmth and connection that a real fire provides—as well as cooking over a wood fire—visitors to the show can also view the Apollo and Alpine range as examples of Haloo's extensive collection of wood burning cooking and fire pits. Grill food with the innovative swing out die cast grill or just enjoy the heat and welcoming ambience that a real fire provides.
Haloo also offer a range of AC outdoor heaters in decorative, lantern shapes, which can be used as tabletop or floor standing heaters to add warmth to chilly late summer or fall evenings.
About Haloo:
Haloo's mission is to bringing quality and innovation into homes all over the world. At Haloo we believe in building new traditions and making memories and therefore it has always been our ambition to capture and celebrate what it means to spend time with friends and family. Our products are built to last and become part of the stories you tell and the memories you'll make.
For more information on the Haloo range visit HalooBrands.com.
Please contact sara.wingrove@nononsensepr.co.uk if you have any queries or require additionnal information.