16 Jun 2022
HJ Hall's return to GLEE with festive, fun, and functional new socks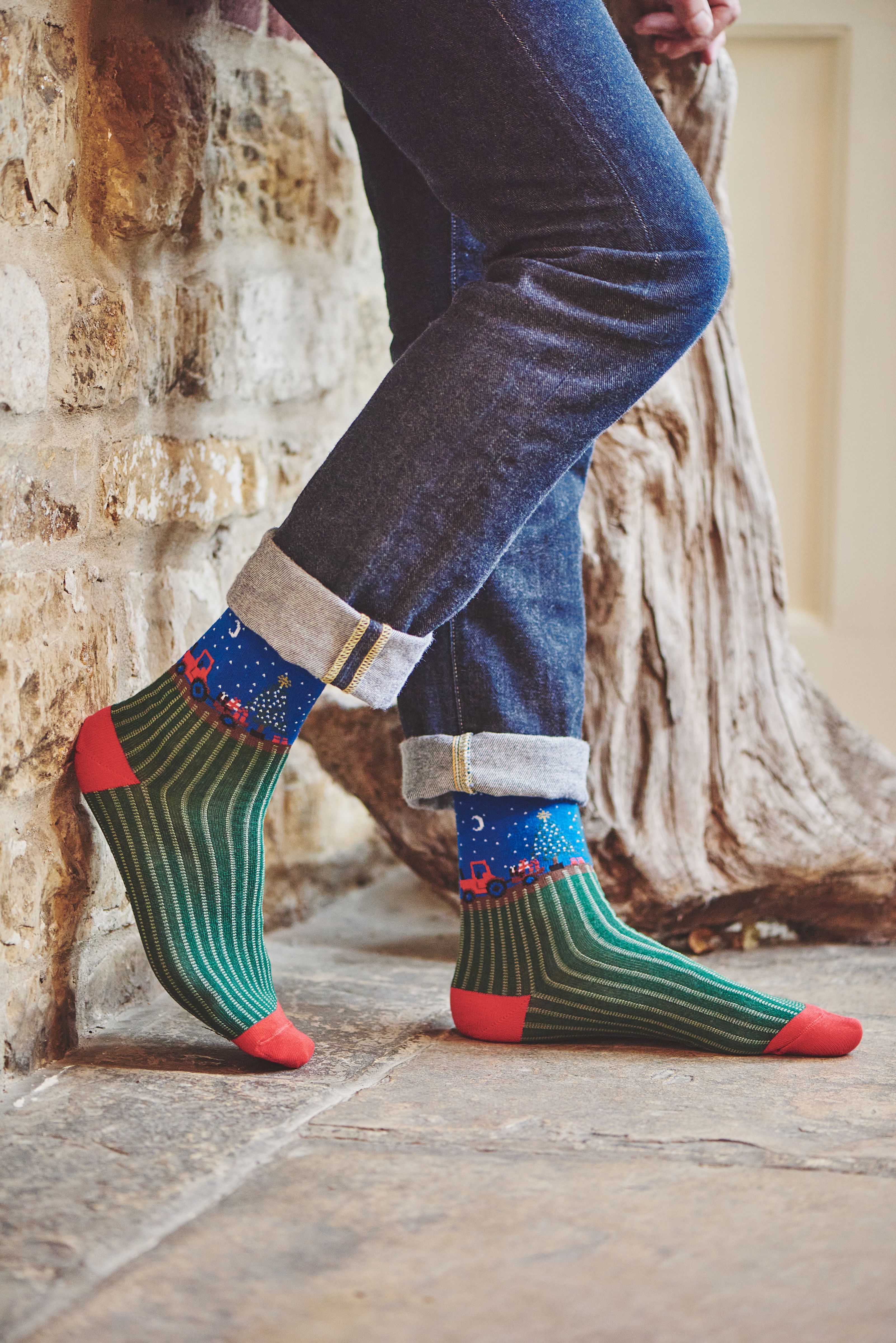 HJ Hall is thrilled to announce its return to this year's Glee Trade Show at NEC Birmingham; a momentous year for the brand celebrating its 140th anniversary.
HJ Hall will unveil its new stand POS which now fits up to 160 pairs of the brand's best-selling socks.
New Men's Comfort Top
Visitors will get the chance to view HJ Hall's exceptional new range of Comfort Tops which are essential for the everyday. Whether you are relaxing at home or have an active lifestyle, the socks use soft organic cotton and a mesh knit top to alleviate any circulatory restriction. The soft grip comfort top prevents tightness by giving people the perfect fit which perfectly moulds around the shape of your ankle and lower calf.
These socks come in a range of patterned motifs; from socks with stripes to polka dots, HJ Hall's new range proves comfort does not compromise on style. Using organic cotton makes for a more sustainable sock as the yarn employs non-genetically modified plants, meaning no pesticides have been used in the process.
Christmas gifting options
HJ Hall's gifting options make Christmas shopping for loved ones easy this year. With an unconditional 6-month guarantee, the brand's socks make for a classic gift, even when buying for the person that has 'everything'. A fun range of Christmas motif socks include a dog playfully wrapped in Christmas lights that continues all the way down the sock. When picking an outdoorsy, countryside gift, the HJ34 style depicts a charming Christmas farm scene with a clear starry night and expanse of green fields being ploughed by a bright red tractor.
Elevating the animals' cuteness, festive hats have been added to the design. With an array of farmyard animals, including cows, sheep and turkeys, the new designs make for the perfect stocking filler on Christmas morning.
New additions to the Loungewear collection
Building on the success of its first ever Loungewear collection in 2021, HJ Hall is expanding the range with exciting new colours and there are now five styles to choose from. New to its already adorned Loungewear collection, the Cable Knit Turn Over Top sock fuses flexibility and style, with playful pops of colour to brighten winter afternoons indoors. For maximum comfort, the style includes a fluffy top which can be easily turned down for an ankle length style. Alternatively, wearers can choose to wear them fully turned up to model the aesthetic rib knit and provide exceptional comfort. Made from 7% wool, the sock is insulating to keep the wearer as warm as possible throughout chillier seasons.
The new addition sits alongside HJ Hall's existing range which includes the Non-Slip Feet Warmers, Chunky Knit Wool and Cotton Blend, Turn Over Tops with an indulgent cashmere blend, and the exceptionally soft Two-Pair-Pack Fluffy socks. New colours have been introduced to the latter two styles with the cashmere blend socks offering bold options in Forest green, Ginger, Petrol blue and Plum. Elegant Petrol and Lilac colourways have also been revealed for the Fluffy Two-Pair socks, adding to the existing two options.