HOZELOCK INCREASE PRODUCT OFFERINGS FOR SMALLER GARDENS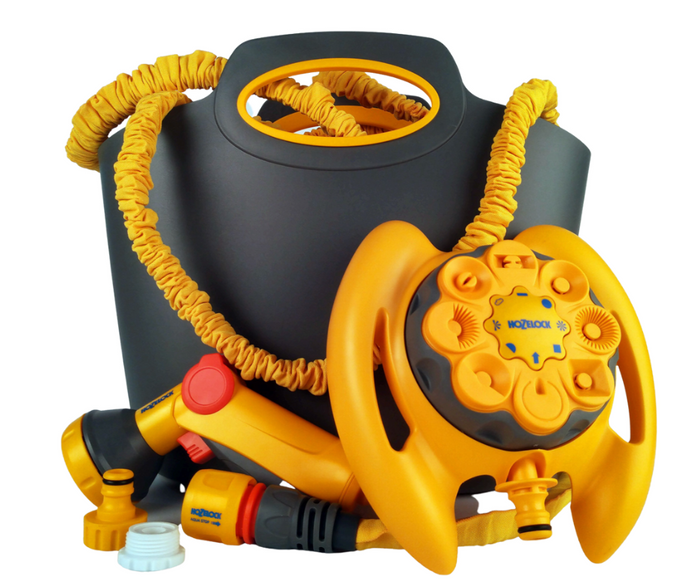 HandyHoze
Following the success of the revolutionary product Superhoze, Hozelock is strengthening their brand position in the alternative hose market by launching a new expanding hose product – HandyHoze.
Made from a woven fabric, which is soft and tactile for the user, HandyHoze will be available in 12.5m and 25m lengths, making it ideal for small to medium sized gardens.
The key product feature is the expandability of the hose, as it will be able to expand up to 3x its length once full of water. Whilst competitors use elastic within their fabric covering the HandyHoze won't, this increases durability of the product as often elastic is the first to break under testing.
The inclusion of a smooth inner tube ensures a consistent and effective water flow, plus anti-leak connectors prevent water waste.
As the pressure of water pumping through the hose is constant, HandyHoze will not kink or twist. Plus, due to the nature of the product and it retracting when not in use, the hose can be put away with ease when compared to traditional PVC hose products and can be stored in a compact way.
Hozelock City
The new Hozelock City bags include all a start-up gardener needs for city life with small outdoor spaces such as balconies, terraces and small gardens.
The versatile and durable bag provided has been inspired to help gardeners with a multitude of tasks such as weeding and pruning through to watering and storage solutions.
The Hozelock City bag includes a 7.5m Superhoze and a Rose Spray gun. There is also the option to pair the Superhoze with a Hozelock indoor tap connector for those who don't have easy and convenient access to an outdoor tap.
Hozelock will also be offering the City Plus bag which features a 15m Superhoze, Rose Spray gun and a Multi Sprinkler, making it an ideal for city gardens with a small lawn