10 Jun 2021
Launch of new Secret Garden Distillery Range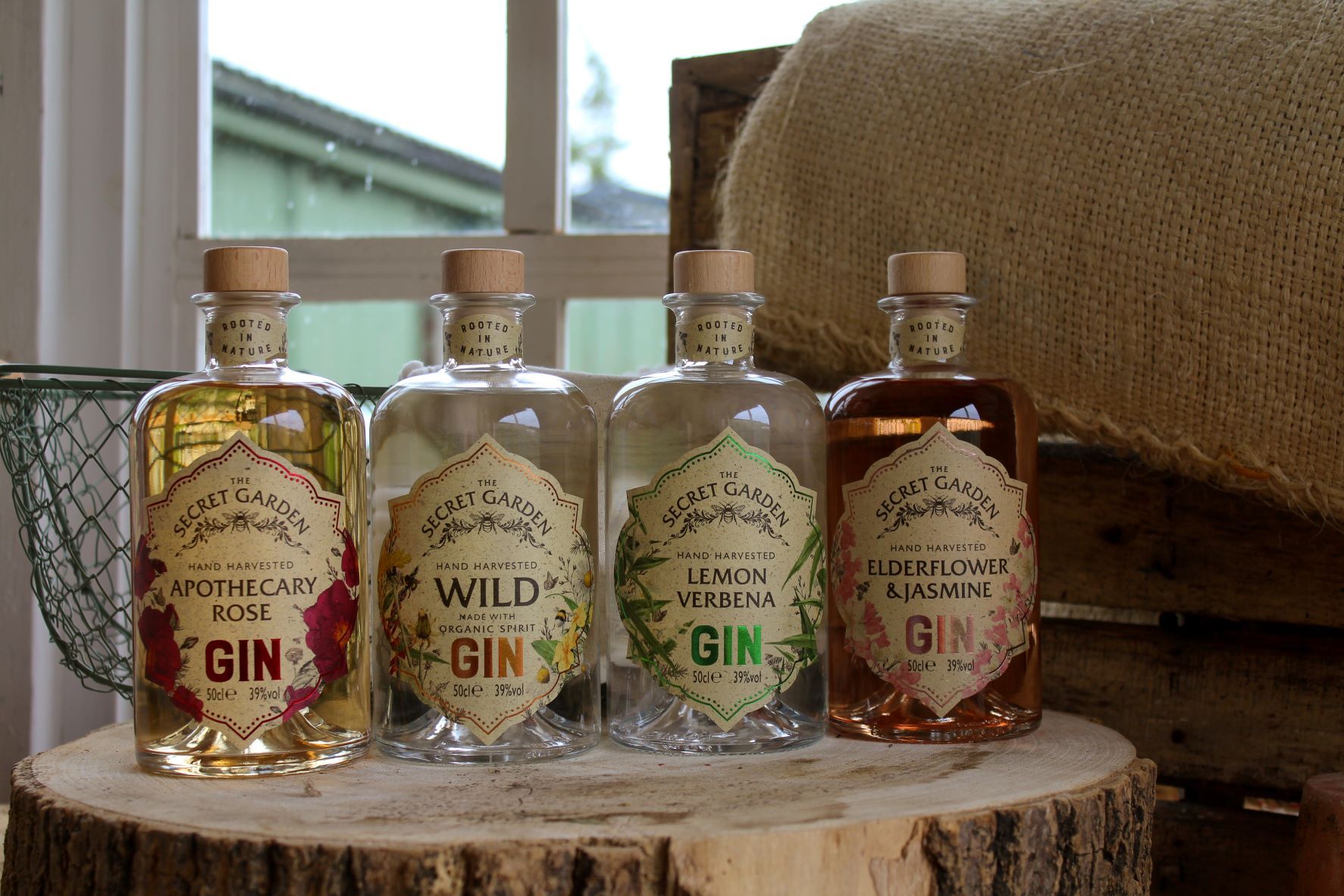 The Secret Garden Distillery Reveals Striking New Look
The Secret Garden Distillery are proud to announce a new look for their premium gin range. The brand's innovative new packaging design showcases their Rooted in Nature brand ethos and their sustainability credentials. This follows the announcement in May 2021 that The Secret Garden had undertaken a successful rebranding as well as announcing a new Managing Director, André de Almeida.
Sustainability and natural production are key values of The Secret Garden Distillery, and this has been reflected in the new packaging design. The labels on the neck, front and back are made from 30% grass, meaning that the paper production process reduces energy consumption by 97%, water consumption by 99% and 20% less CO2 production. Additionally, the corks will move to being made from natural micro-granules, a sustainable, natural source and the security seal is completely biodegradable.
Hamish Martin, the Founder, Herbologist and Head Gardener at Secret Garden Distillery said "Nature is at the heart of everything we do and our aim is to communicate this message to a wider audience. We are truly "Rooted in Nature" and the changes made to our packaging, such as the grass labels, are part of our journey to become even more sustainable."
Managing Director André de Almeida, said. "This is an exciting next step in our journey, creating a pack that clearly reflects our values and communicates our point of difference including our ongoing commitment to improve our sustainability credentials. There are some exciting developments still to come in the next few years and I am looking forward to bring these to fruition."
The Secret Garden Gins are lovingly crafted from botanicals grown and hand harvested at the Distillery's very own Secret Garden, nestled at the foot of the Pentland Hills in Edinburgh. The Garden has over 600 plants and herbs, all of which are carefully tended to by The Secret Garden Team. They use no chemicals whatsoever and use plants to heal plants.
The core range includes two traditional gins; Lemon Verbena and Wild; and two floral gins; Elderflower & Jasmine and Apothecary Rose.
Lemon Verbena is a contemporary style gin that is naturally zesty in fragrance. Hand harvested Lemon Verbena is distilled with The Secret Garden base botanicals of Juniper, Coriander, Angelica Root and Winter Savoury to produce a gin which is blended with fresh Lemon Verbena water distillates to create this refreshing award-winning gin.
Wild is a London Dry gin with a naturally herbaceous fragrance. Wild plants are our passion, and we encourage them to grow freely at The Secret Garden. These hand harvested indigenous wild botanicals are distilled with organic spirit and The Secret Garden base botanicals to create this unique and flavoursome gin.
Elderflower & Jasmine is a naturally flavoured gin that is floral in fragrance with hints of sweetness. Hand harvested Elderflower and Jasmine are distilled separately and blended together with our base gin spirit. Naturally dried rose and dark violet petals are then infused to impart their beautiful natural colour and intensify the flavour, creating this exotic floral gin.
Apothecary Rose is a naturally flavoured gin, made from the oldest Rose known to human kind. The Secret Garden grows over 2,500 Apothecary Roses which only flower for one day during the Summer Solstice. These hand harvested Apothecary Rose petals are distilled and blended with our base gin spirit. Naturally dried rose petals are then infused to impart their beautiful natural colour and intensify the flavour, creating this delicately floral award-winning gin.
All Secret Garden Gins are made with no added sugars, artificial colourings, flavourings or additives. Just nature distilled. The plants are the stars of the show, and the labels are adorned with eye-catching illustrations of the botanicals used to craft these delicious gins.
In 2014, Hamish fulfilled his life-long dream to own a piece of unspoiled land hidden in the Scottish countryside. Located on 7.5 acres of sacred space and only a stone's throw from the charming city of Edinburgh, the secluded gardens flow freely in the shadows of the Pentland Hills, establishing the brand as a secret garden.
The beautiful new look premium gin bottles are now available for purchase. Made with 100% natural ingredients, these superb gins are excellent for cocktails such as the classic Negroni, Ginn Fizz or in a simple Gin and Tonic.
The Secret Garden Gins are available online through secretgardendistillery.co.uk and select UK retailers.