27 Jun 2023
NatureHarmony Homes: A Symphony of Shelter for Backyard Wildlife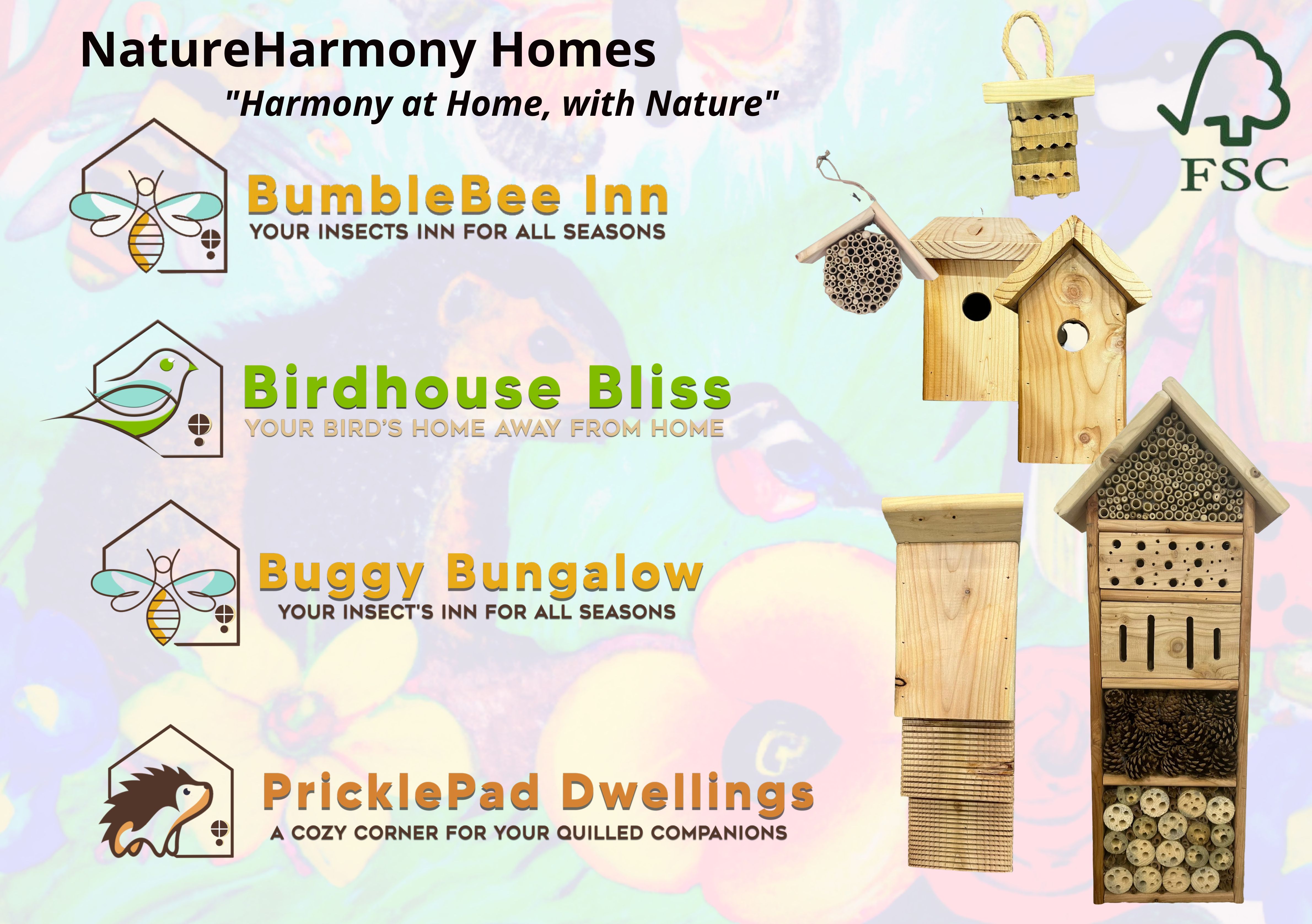 Discover the symphony of shelter with NatureHarmony Homes! Inviting you into a world where your backyard transforms into a haven for birds, hedgehogs, bugs, and dormice. Embrace biodiversity with our unique, sustainable, and aesthetically pleasing wildlife homes. Explore our range and create your own vibrant ecosystem right at home.
NatureHarmony Homes, a brand committed to fostering biodiversity, is delighted to announce the launch of its product line, offering unique, eco-friendly homes for various creatures.
Birdhouse Bliss — Each birdhouse is a masterpiece that resembles miniature houses or cabins. They provide not only a safe and comfortable space for the birds but also a charming aesthetic for bird box owners. Made from eco-friendly and durable materials, these bird boxes can withstand various weather conditions.
PricklePad Dwellings — Meticulously designed for our prickly friends, these hedgehog houses replicate their natural habitats. Mimicking small log piles or burrows, they offer hedgehogs a cozy, warm, and safe refuge that seamlessly integrates into your garden. Made from sustainable and durable materials, these dwellings are built to resist varying weather conditions, fostering a more biodiverse ecosystem right in your backyard.
BuggyBungalow — Crafted to resemble a miniature skyscraper, our bug hotels feature an array of nooks and crannies filled with various natural materials, catering to different insect species. Each BuggyBungalow stands as a garden feature that encourages ecological education, while serving as a functional habitat for bugs. Made from eco-friendly and robust materials, these structures offer year-round sanctuary to your garden's tiniest inhabitants.
DormyDen Dwellings — These special houses, modelled after natural tree hollows, provide a safe, secluded, and comfortable nesting spot for dormice. Made with sustainable and durable materials, they are resilient against weather changes while maintaining a cozy internal environment. Supporting the preservation of these endangered species, DormyDen Dwellings add a charming touch to any woodland or garden.
NatureHarmony Homes' mission is to encourage biodiversity in everyday spaces, from backyards and gardens to parks. By providing safe, comfortable, and aesthetically pleasing homes for various creatures, we hope to contribute to healthier local ecosystems.
"NatureHarmony Homes' mission is to encourage biodiversity in everyday spaces like backyards, gardens, and parks," says Jag Johal, designer of the range. "By creating habitats for these creatures, we not only give them a home, but we also contribute to the local ecosystem's health."
The new product range stands out for its innovative, eco-friendly design that blends into any outdoor setting. Each product is made from durable and sustainable materials, ensuring longevity and minimal impact on the environment. Plus, a portion of the profits from each sale will be donated to wildlife conservation organisations.
NatureHarmony Homes' products are now available for purchase on their official website and in select retail stores.
"We believe every creature, big or small, deserves a safe haven," adds Jag "With NatureHarmony Homes, consumers can create a nature-friendly space in their own backyards while contributing to a more diverse and vibrant ecosystem."
By choosing NatureHarmony Homes, you choose to make a difference. Let's build a better world for all creatures, one home at a time.
About NatureHarmony Homes:
NatureHarmony Homes is a Timber World Company committed to promoting biodiversity and fostering a harmonious relationship between humans and nature. With a focus on sustainability, respect, innovation, and empathy, the brand offers a diverse range of products, each designed to provide safe, comfortable habitats for various creatures.
Get Our Top Shed Seller Cheat Sheet? https://bit.ly/3NHk0FJ
Media Contact:
Baggy Tiwana PR, Timber World Email: info@flatpacksheds.co.uk Phone: 07971 241120