28 Jun 2022
New improved Kneelo® from Burgon & Ball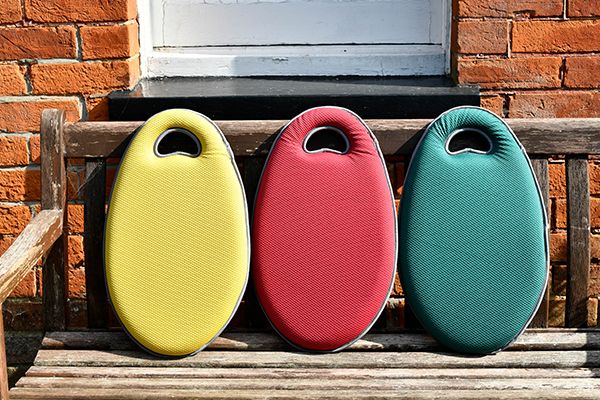 At GLEE this year, retailers will be able to discover a major update to Burgon & Ball's top-selling Kneelo® garden kneelers and knee pads. The original memory foam garden kneeler, Kneelo is the name which introduced this revolutionary category to the market back in 2010.
The innovative Kneelo design was created by applying 21st-century foam technology to the everyday garden kneeler to make it the most comfortable and luxurious it could be. This inspired idea has made it consistently a best seller ever since.
Kneelo's classic design has now been re-imagined. New construction has been developed and applied across the Kneelo ranges of kneelers and knee pads. With these design changes delivering the ultimate in comfort, Kneelo is set to work harder than ever for retailers.
The design changes include:
Construction
New Kneelo has an improved foam construction inside, making it more comfortable and luxurious than ever.
Colour
Three unique colours join the popular range, creating an attractive and eye-catching display in store. Sangria (soft red), Wheatsheaf (pale yellow ochre) and Evergreen (the distinctive Burgon & Ball dark green) extend the Kneelo palette in a softer, more contemporary direction.
Pattern
A new textured crosshatch design on the cover of the new colour options gives Kneelo a unique and distinctive look.
Branding
The new Kneelo features strong Burgon & Ball branding, with printed logos added to the reverse of both kneeler and knee pads.
These design changes help to differentiate the unique Kneelo unique proposition - helping shoppers to seek out and ask for it by name.
Designed to retail at £16.99, new Kneelo is a higher-value, higher-margin, market-leading kneeler, popular for self-purchase and also a thoughtful gardening gift. The new, improved Kneelo has the quality, the aspirational appeal, and the reassurance of a brand leader that gardeners look for. It's set to win a new generation of loyal gardening devotees as the success story continues.
Make a note to visit Burgon & Ball on stand 6E30-F31 to see the full range of exciting products on offer from this respected name in gardening.