28 Jun 2022
Indoor gardening is flourishing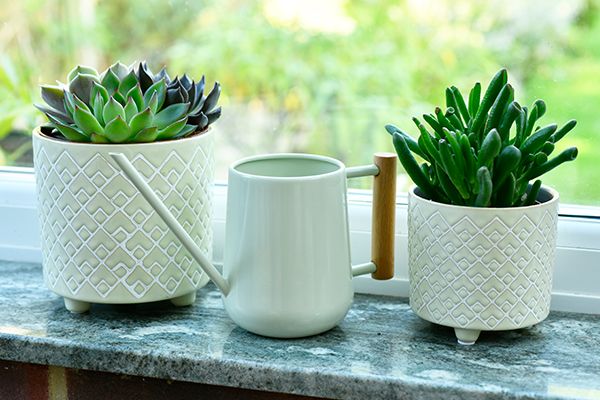 At GLEE this year Burgon & Ball adds fresh flair to its indoor gardening offering. The Burgon & Ball stand even features a dedicated 'Houseplant Zone' to showcase stylish options for indoor watering and indoor pots.
Cleverly mixing and matching colours and styles to complement existing top-selling designs, the latest products refresh Burgon & Ball's successful range for the flourishing houseplant trend.
Top of the pots
Burgon & Ball's range of indoor pots is frequently refreshed, with new designs regularly added to complement emerging trends in home interiors. The company invests in trend forecast reports to identify upcoming interiors colours and trends. These insights are then skilfully and stylishly translated into new indoor pot designs, created to complement today's homes.
The latest additions to the Burgon & Ball range are the Bilbao and the Provence indoor pots. Bilbao is strikingly contemporary, picking up on the trend for bold geometrics. It's available in a choice of two up-to-the-moment colours, Heritage Blue and Pale Jade. In contrast, Provence is available is a go-anywhere soft grey and its botanical pattern reflects the trends for bringing the outdoors into the home, and for all things artisanal.
Mister Right
Burgon & Ball also now offers houseplant misters, bringing its hallmark affordable quality and design flair to this category. An essential accessory for the houseplant fan, many misters rely on plastic pump components. However, Burgon & Ball's design features a pump with metal moving parts for sturdiness and long life. The result is a high-quality mister which delivers a fine uniform spray, with no irritating drips or splatters.
The misters are available in three colours: classic stainless steel, Stone or Charcoal grey. The powder-coated options match the colour choices in Burgon & Ball's top-selling indoor watering can, offering a great gift pairing and an upselling opportunity for retailers.
A splash of colour
There are now four colour options in Burgon & Ball's top-selling indoor watering can. Just 14cm high, these stylish beech-handled little cans have been a sales phenomenon, perfect for mini plants and of course the adored succulents. The latest shades, Pale Jade and Heritage Blue, reflect emerging trends in interiors and also match Burgon & Ball's latest indoor pot design, making an attractive pairing that's perfect for gifting sales. These cans are sure to work hard for retailers.
These latest additions across indoor pots and watering extend and refresh Burgon & Ball's much-loved houseplant care range. They're sure to bring exciting new opportunities to retailers in the season ahead.
Make a note to visit Burgon & Ball on stand 6E30-F31 to see the full range of exciting products on offer from this respected name in gardening.