14 Mar 2022
Pump and feed house plants naturally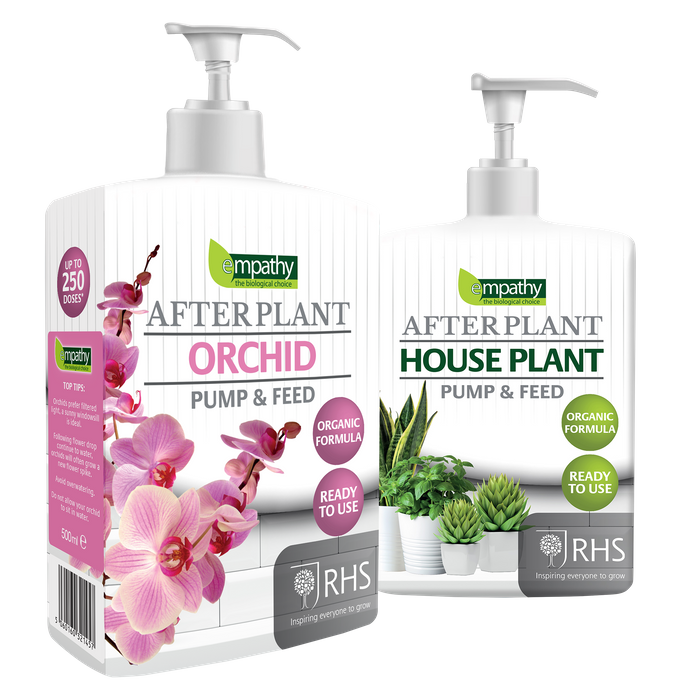 Empathy After Plant Liquid Feed range leaves no plant unfed with the introduction of its houseplant feeds. The RHS endorsed formulas will make caring for indoor plants a breeze.
After Plant House Plant and After Plant Orchid pump & feed contain organic ingredients including seaweed extract and plant derived amino acids. Each is designed to stimulate healthy and vigorous growth for all indoor plants and promote better flowering in orchids.

The ready-to-use pump & feed bottles can be mixed in your watering can or will deliver the perfect 2ml dose which can be added directly to the base of the plant and watered in for a quick, mess-free application. After Plant House Plant will deliver 125 doses and After Plant Orchid provides 250 doses per 500ml bottle.

The formulas are vegan and child and pet friendly when used as directed, each carries the coveted RHS endorsement and is certified for organic use by the Organic Farmers & Growers Association. Each bottle carries Empathy's standout white and green livery and is widely recycled.

Application
After Plant House Plant Pump & Feed: Once per week - number of pumps differs per pot size, details clearly stated on the label.

After Plant Orchid Pump & Feed: Twice per week when in flower.

RRP 500ml £5.99.

Visit rootgrow.co.uk for more information.