22 Jun 2023
Revolutionise Your Home & Garden Business with the Power of Automation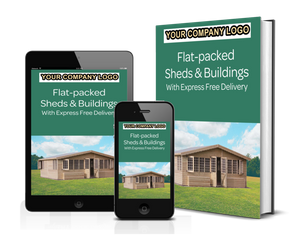 In an era where digital innovation is shaping the future of business, the home & garden sector is ripe for transformation. Imagine a world where your sales run seamlessly, 24/7, without the worry of managing stock, or delivering products - sounds like a dream, doesn't it? Welcome to the reality of the Flat Pack Sheds' Automated Shed Sales System™. This article delves into how this game-changing solution not only streamlines your operations but also turbocharges your profits, taking your home & garden business to new heights.
With the ongoing expansion and transformation of the home & garden industry, businesses need to be agile and forward-thinking. It's in this spirit that we are thrilled to extend an invitation for you to join our distinctive presentation at the Glee: "Unleashing Your Business Capabilities with Flat Pack Sheds' Automated Shed Sales System™".
The Power of Automation
Our Automated Shed Sales System™ is designed to help you generate and close website sales every hour of every day, all year round, without the need for you to hold or purchase any stock. It's an innovative, game-changing solution that's been created with the specific needs of home & garden entrepreneurs in mind.
Offer What Your Customers Want
With our system, you can offer your customers a range of high-demand home & garden items, from garden sheds to summer houses, garden offices, gyms, and even dog kennels. These products have been carefully selected to ensure they're exactly what your customers are looking for, helping you to attract more business and keep your customers coming back for more.
Hassle-Free Inventory Management
One of the biggest challenges for many businesses in our industry is inventory management. With our zero-inventory approach, we take care of everything for you, handling manufacturing, packaging, and shipping directly to your customers. This allows you to focus on what you do best: selling products and growing your business.
Maximise Your Earnings
Our innovative system isn't just about making your life easier - it's also about helping you to increase your profits. With our commissions across the range of products you'll be able to diversify your revenue streams and maximise your earning potential.
Get the Support You Need
When you join the Flat Pack Sheds Partner Program, you're not just getting access to our innovative sales system - you're also joining a supportive community. We provide sales and marketing materials, access to our Partner Login for sales management, and ongoing support to ensure your success.
Join Us at the Trade Show
We're excited to be able to share more about the Automated Shed Sales System™ at the upcoming Glee Exhibition. Our presentation will provide an in-depth look at how the system works, how it can benefit your business, and how you can get started. Don't miss out on this opportunity to revolutionise your business and unlock your true potential.
To find out more, attend our presentation at the trade show, or visit our website at www.flatpacksheds.co.uk. or book a time
https://lp.flatpacksheds.co.uk/partner-program
We look forward to meeting you and helping you take your home & garden business to the next level.
Please see our online brochure here: bit.ly/3Ndw8xC
Get Our Top Shed Seller Cheat Sheet? https://bit.ly/3NHk0FJ