01 Oct 2020
Time to transform the garden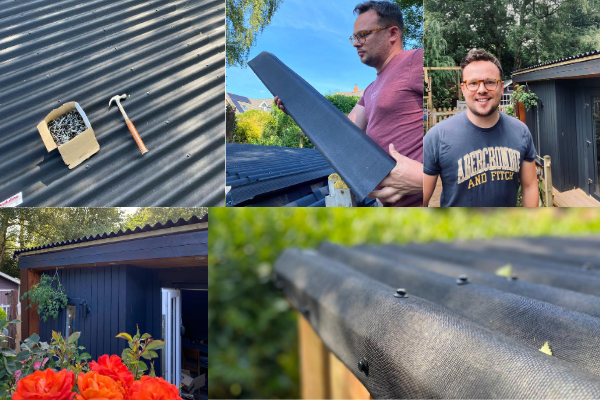 Despite all the uncertainty and 'new normal' routines that have emerged, it is safe to say that 2020 has definitely been the year for embracing gardening and DIY.
Increased time at home, due to lockdown, meant that homeowners took the time to complete jobs previously at the bottom of a to-do list and the continuous good weather, from May through to August, created the perfect environment for people to give their gardens a makeover.
This has created a surge in sales for numerous gardening brands, such as Onduline, a world leader in lightweight materials for roofing, including systems for cladding and waterproofing, underlays and corrugated plastic sheeting..
The lightweight eco-friendly corrugated roofing system, on offer from Onduline, has become a popular choice with homeowners who are looking for an attractive, long-lasting solution for refurbishing their garden sheds, summer houses, children's playhouse and housing for pets.
The ease of product installation and sustainability (the product is made from 50% to 60% of recycled materials) are two of the key selling points for the Onduline roofing system. Another is the breadth of product choice, with ranges being suitable for every shed and outdoor building;
ONDULINE CLASSIC – a 'high performance' lightweight corrugated bitumen roofing system available in a choice of colours and is suitable for both renovation and new constructions, and can be used on either wooden or metal structures
ONDUVILLA TILE STRIP – these tiles give a traditional clay tile look to a roof with the added benefits of being lightweight and easy to install. Available in retail friendly packs of 7 and in a choice of colours, including shaded red and green which gives an aesthetically pleasing look.
ONDULINE EASYLINE – The complete roof system ideal for small to medium sized roof applications and is available in a range of bright colours to give any roof a vibrant finish, whether a garden shed, children's playhouse or garden storage building.
BARDOLINE roof shingles – a simple to install lightweight roof system with guaranteed water tightness and AA fire rating making it suitable for any roof.
Customer benefits aside, from a garden centre's perspective the product is very simple to stock. For example, the EASYLINE sheets, which have a ten-year guarantee come in smaller sizes, which make them easy to transport in a standard sized car and can be available in one standalone branded pallet.
Speaking of the opportunities with garden centres Onduline Managing Director, Paul Duffy, commented; "A growing number of garden centres now promote and offer new garden sheds and garden buildings, but very few offer the materials to renovate them and this is a growing market with lots of potential.
"We want to overcome this barrier and highlight how our product can be regarded as a DIY product which is an essential part of any garden transformation or makeover."
Since the launch of the Onduline sheet in 1944 in France, the Onduline Group today sells in virtually every country worldwide with 7 production plants, 35 subsidiary companies supplying roofing products to over 130 countries.
For more information on Onduline's lightweight and durable roofing solutions for a range of commercial, agricultural and garden buildings, and DIY projects, please visit www.onduline.co.uk.