22 Apr 2022
Vibrant UK Manufacturer of outdoor space paints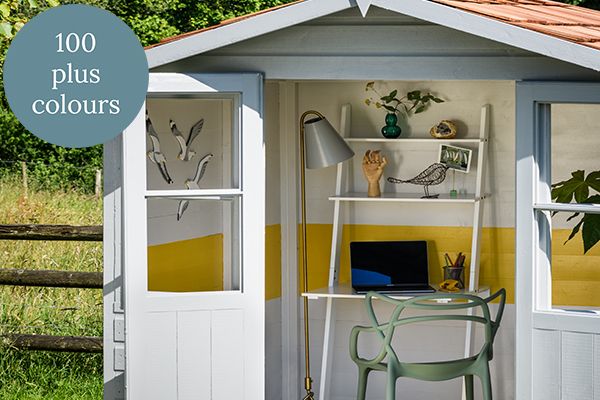 Protek is a vibrant, family run UK manufacturer of quality water-based wood treatments and garden paints with great eco-credentials.
Protek is a vibrant, family run UK manufacturer of quality water-based wood treatments and garden paints with great eco-credentials. The Protek wood stain range caters for all consumer tastes from the traditional to contemporary and includes all budgets.
Made in their Somerset factory, with a strong environmental ethos the treatments developed are plant safe, pet safe and child safe. All packaging used is 100 percent recyclable and the water-based paints are minimal in VOCs. All products have a reputation for being extremely easy to use and have a loyal consumer following.
Protek have cultivated a high demand and are actively seeking suitable stockists. They regularly appear in the leading homes and gardens consumer magazines along with Royal Exterior Superior Wood Finish being the product of choice on hit ITV gardening shows including "Love your Garden" and 'Prue's Great Gardening Plot' starring Prue Leith. Protek worked exclusively with Prue Leith to create a range of colours that were strong and vibrant for her new garden. Over the last year Protek's social media presence has continued to grow which has led to the collaboration and creation of new colours with key influencers Justin @design_at_nineteen and Lucy @Victoria Road Renovation.
From the economy Shed & Fence that's available in traditional wood colours, to Royal Superior that boasts 68 colours (including whites, muted heritage tones and bright standout feature colours), Protek's vast product range appeals to all ends of the market.
The collection also includes Decking Stain, Wood Stain and Protect as well as the hugely popular Stable Coat - and now new to the range Timber Eco Shield, a high-performing wood stain that's available in the new on-trend colour "Weathered Wood". Preparation products have been added to the series using the latest technology and conforming to current legislation, including a low VOC water-based Wood Preserver and an excellent Stain Blocking Primer that complete
the range.
Protek offers stockists a full support pack, attractive POS and brochures, digital lifestyle imagery and full technical backup. Another addition that is proving hugely popular and improves in store sales is the product training seminars. As part of that service, Protek will come to you and tailor the training to your individual store needs.
Dropship and Ecommerce sales are what Protek excel in, especially dealing with residential deliveries. On hand is an experienced team dedicated to delivering quick order fulfilment and customer satisfaction. The company also prides itself on extremely competitive prices that offer excellent profit margins for wholesalers, stockists, and online resellers.
With its comprehensive paint and wood treatment product range, this innovative British company has been transforming gardens for more than 35 years
01749 344697
sales@protekproducts.co.uk
www.protekwoodstain.co.uk