15 Sep 2020
Virucidal disinfectant smoke – Digrain Fumite OPP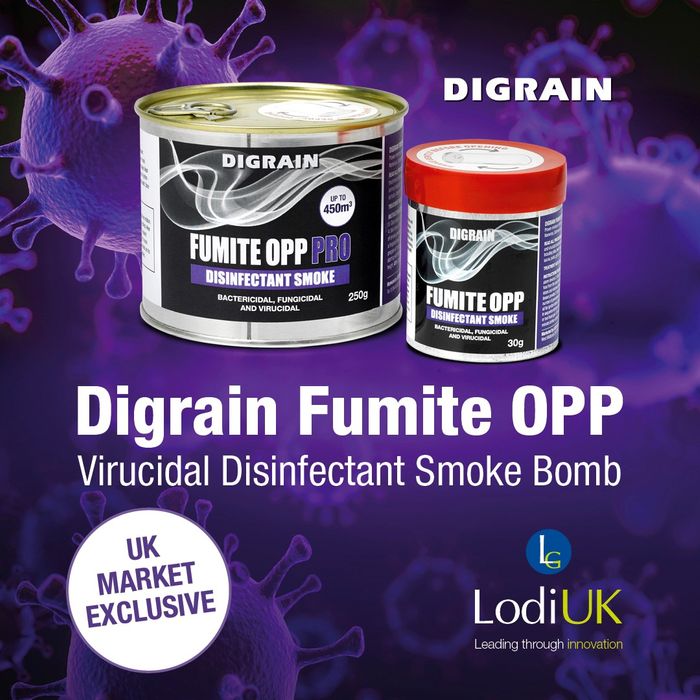 Quick & easy virucidal disinfectant smoke unique to the UK market with 99.9% efficacy.
Key Advantages:
Disinfects surfaces without requiring subsequent rinsing
Quick, easy-to-use application
Pre-dosed tins with a uniform dispersion
Safe for operators with limited exposure
Ideal for a complete disinfectant program
Lower quantities of biocide are required than to spray the same area
Dry disinfectant there is no corrosion risk
The disinfectant smoke bomb by Lodi UK is unique to the market and available in 2 different sizes (30g and 250g) for easy, safe use in schools, gyms, hotels, homes, medical premises, commercial buildings amongst many others.
Commonly known as 2-phenylphenol (or OPP), the active biocide is a weakly acidic, phenolic organic compound which acts specifically on the cell membrane.
Two sizes are available:
30g offering 30-60m3 coverage - ideal for individual rooms in domestic, commercial, and medical premises
250g offering 450m3 coverage - ideal for treating pools, gyms, saunas, hotels, schools, medical premises, municipal buildings, and commercial sites