15 Sep 2020
Vitax brands go from strength-to-strength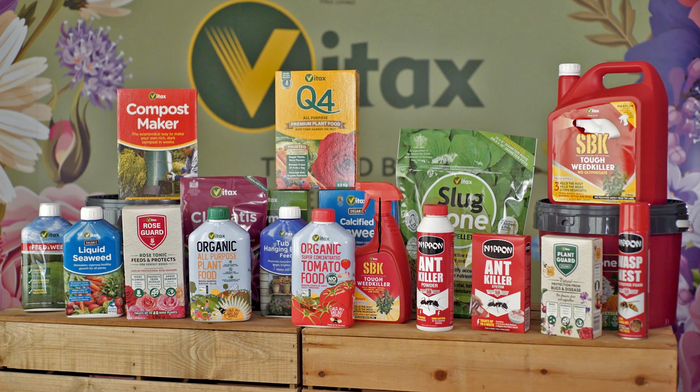 Vitax's brands continue to go from strength-to-strength as gardeners and households look for solutions to best meet their gardening needs.
Gardening and spending time outdoors is on the rise and with it the demand for well-known gardening products.
Vitax currently markets over 140 garden and plant-related products including well-known brands such as Slug Gone, 6x, Vitax Q4, Nippon and SBK Weedkiller.
The company's organic range is proving popular with environmentally-conscious and organic gardeners and 2021 will see the launch of a new range of organic products, including Vitax Organic All Purpose Plant Food and Vitax Organic Tomato Food.
The new range will join organic favourites such as Slug Gone, 6X Natural Plant Feed, Organic Rooting Gel and Organic Plant Guard amongst others.
Vitax's key brands:
Slug Gone: A natural deterrent to repel slugs from plants. 100% natural, the pellets do not contain any harmful chemicals or pesticides. Soil Association approved it is also part of the Campaign for British Wool.
6X: Completely natural, 6X is the perfect combined plant feed and soil conditioner, replenishing lost nutrients and used by both professional and amateur gardeners. One 15kg bag of 6X Natural Plant Feed is equivalent to four, 50 litres bags of farmyard manure. Ideal for all soils, it is perfect for growing flowers, vegetables and fruit. 6X is also available as a pelleted chicken manure.
Vitax Q4: The unique formula of Vitax Q4 all-purpose feed has been trusted by generations of horticulturists, professional and amateur gardeners to enrich the soil with vital plant food and trace elements essential for bigger, brighter blooms, healthier plants and bumper crops. Q4 is part of the Q4 range which includes Q4 Soluble, Q4 Rootmore and Liquid Q4 All Purpose Plant Food.
SBK: The only non-glyphosate weedkiller which will tackle tough woody weeds, it comes in a new, 1-litre ready-to-use spray for 2021. SBK also has SBK Tree Stump Killer in its range.
Nippon: A leading household brand for over 50 years, Nippon leads the way in pest control, tackling crawling and flying pests. From flies and mosquitoes to ants, cockroaches and rodents, Nippon has a solution for most household infestations.
To find out more visit: www.vitax.co.uk or email: info@vitax.co.uk
- Ends –