22 Jun 2023
Woodlodge Launch New Trade Portal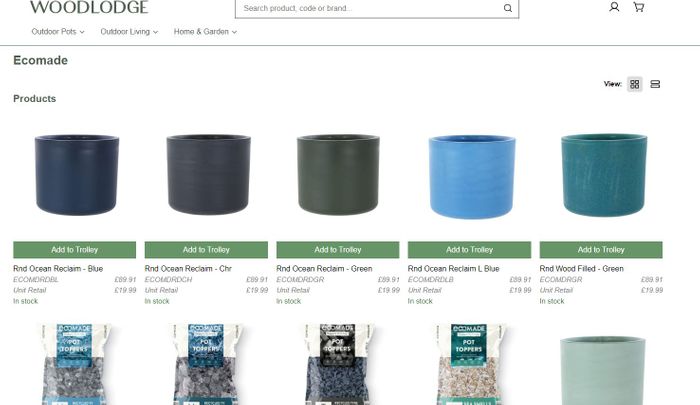 Woodlodge, the UK's leading supplier of garden pots, décor and sundries for over 35 years is proud to announce the launch of its new trade portal, which will allow its trade customers to order direct and access a range of resources designed to help drive sales.
The trade portal can be accessed by visiting https://trade.woodlodge.co.uk Here customers can order from all of Woodlodge's key categories including Outdoor Planters, Honey & Wild, Down to Earth, Root Indoor, Water Studio and Emberwood. The site, which can be accessed via a desktop PC, tablet or smartphone, allows retailers to place orders quicker, check live stock availability levels, source promotional assets and obtain delivery information all from one webpage 24/7.
Garden centre retailers can also download point-of-sale material and trade supplies such as benches, stands and trollies. Product images and useful documents will also be available to download, and customers can access the warehouse clearance page discount offers.
With garden retailers and buyers busier than ever, the goal of the trade portal is to make the ordering process as seamless as possible, even when Woodlodge's offices are closed. The new platform will make working with Woodlodge easier than ever before for many hundreds of stockists throughout the UK.
Michael Wooldridge, Director of Woodlodge said: "We are excited to announce the launch of our new trade portal. Woodlodge is committed to providing our loyal customers with a comprehensive service and the portal will be an invaluable asset in helping them drive sales within key garden ware categories. Woodlodge prides itself on its customer service and the trade portal will allow us to develop an even stronger relationship with our retailers, helping them to effectively communicate the necessary details to their customers. The portal will definitely help our retail partners save time and improve the overall service we offer."
Woodlodge will be showcasing the new Trade Portal in Hall 20 at Glee where the team can talk you through the order process and benefits.
For more information on Woodlodge's new ranges for 2023, please contact your local sales representative or visit www.woodlodge.co.uk.