22 Jun 2023
Woodlodge's most popular outdoor container ranges expand with new additions for 2024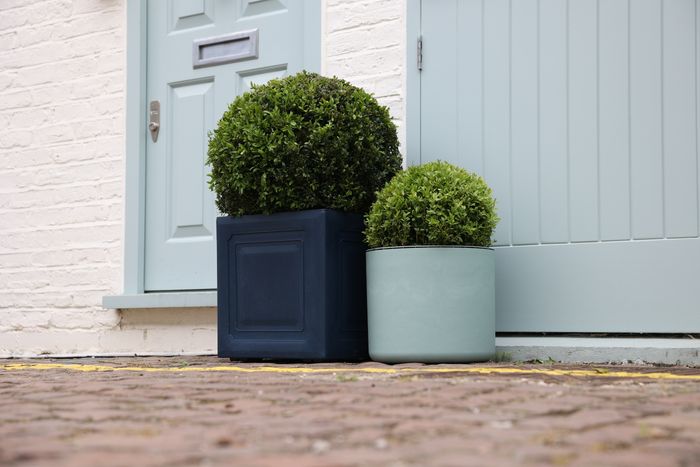 As Woodlodge embarks on its latest visit to Glee, it is delighted to announce some exciting new designs and additions that will join its already successful decorative planter ranges and place them under the buyers' spotlight.
EcoMade extension
With ocean plastic pollution still a pressing environmental concern and a successful launch of EcoMade at last year's Glee, Woodlodge is continuing to manufacture its innovative planter range made from plastic dumped on beaches and in the sea into its new designs.
Making their debut at Glee 2024, the EcoMade squares are available in a traditional panel style and modern, clean-lined square. The new squares are a perfect statement accent to any outdoor space, look stylish and are good for eco-savvy consumers too. Constructed from ocean-reclaimed material including reclaimed fishing nets and ropes, EcoMade's squares deliver an amazingly attractive planter with rolled edges, resulting in a sleek, finished appearance.
When merchandised together with the existing round EcoMade planters, retailers can display the full versatility of this single pot range through colour and shape, and pots in different sizes to create the illusion of height and texture.
New for Heritage Garden
There is no doubt that the Heritage Garden pottery collection, the flagship container range is a winner for both retailers and gardeners in the UK. The latest container gardening trends have seen the Heritage Garden range being one of the most photographed planters on social media and with this in mind, Woodlodge is proud to unveil new designs for its most popular market-leading brand.
New for 2024 is the Heritage Edwin Garden Planter Jars and Bowls in blue and green reactive glazes. With reactive glazed colours popular this year, consumers are gravitating towards interesting shades as they look to harmonise with nature. The jar shape of these new Heritage designs will be perfect for a country cottage-style container, whilst blending seamlessly into the natural environment.
With terracotta landscaping proving popular at this year's Chelsea Flower Show, the look, feel and style of the Mediterranean can be recreated at retailers with the new Heritage Eliza planters will provide warm tones with its ribbed, just-thrown design. The soothing terracotta hues are also apparent with Heritage's newest Audley design, with its handle and cylinder pots looking like they could belong to a larger garden in Tuscany as well as our urban garden.
Additions to Earthenware
Terracotta and natural shades are the latest trend taking over Instagram feeds and Woodlodge has taken these rich, earthy tones and applied them to the latest Earthenware designs to be revealed at Glee. We've been seeing the use of natural materials and artisan products take centre stage as we connect back with nature and the new Earthenware shapes and styles will help retailers tap into this consumer trend in store.
The earthy red colour of fired terracotta, ceramics and pottery is timeless and is one of the trends that will never go out of fashion. Earthenware's latest designs are made from natural and organic materials such as clay and come as beautifully proportioned classical pots or bowls. Planters come with artisan-inspired patterns that have been etched into the terracotta, an aged finish, or glazes in opaque green, gold and black to together decorative elements in the garden,
Retailers can get all fired up over the Earthenware collection which epitomises Greek culture which will complement a whole array of plants whilst slotting in seamlessly on the sales floor and with garden greenery.
Michael Wooldridge, Director of Woodlodge said: "Retailers know better than anyone that consumers are now seeking eco-friendly products that are kind to the environment as well as their pockets. The new EcoMade square planters will help them satisfy that demand whilst the additions to Heritage Garden and Earthenware will only reinforce the existing collections' exclusive design, quality and durability."