21 Feb 2022
Biochar Compost Rejuvenator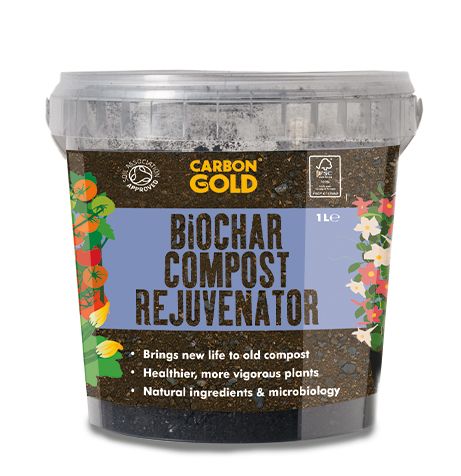 Biochar Compost Rejuvenator has been created to breathe life into 'spent compost'. Optimal fertility is a combination of nutrients and a healthy soil microbiome. Both can be exhausted after a productive growing season.
Biochar is a high-carbon form of charcoal produced by "baking" organic matter at high temperatures and without oxygen, a process called "pyrolysis".
Because of its carbon purity, it doesn't degrade, so introducing it into your soil can bring a physical and permanent change. Biochar improves structure, aeration, water-holding capacity, and nutrient retention whilst also encouraging a resilient soil microbiome, which supports healthy plant growth and increases the sequestration capacity in the ground.
Biochar has a honeycomb structure that holds moisture and acts as a refuge for beneficial microbiology such as mycorrhizal fungi, trace minerals and healthy bacteria, which we add to improve plant health.
Biochar itself also sequesters (locks) carbon into the soil, reducing the CO² levels that would otherwise be released into our atmosphere.
Carbon Gold's biochar products are FSC-certified, and Soil Association approved for organic growing and favoured by growing legions of gardeners across the country.
It's rejuvenating properties revitalise the soil microbiome, add essential nutrients if fertility is reduced, and contain necessary mineral nutrients if they are needed.
Categories
Garden Sundries
Fertilizer
Growing Media
Composts