Carbon Gold
Hall: Halls 8-20 Stand: 6F17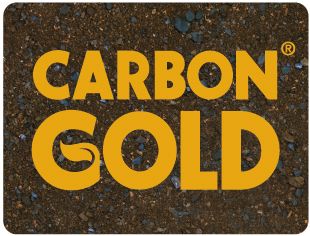 Carbon Gold was founded by Craig Sams, founder of Green & Blacks Chocolate, back in 2007 as an organic, peat free planting aid. With a few years of incredible results from third-party scientific trials looking into our enriched biochar's effect on plant health, our natural organic biochar products were quickly adopted by the commercial crop growing, tree care and sports turf sectors.

The earliest known use of biochar was by the Amazonians in South America over 2000 years ago. Biochar is a high-carbon form of charcoal that is produced by heating organic matter at high temperature and in the absence of oxygen, a process called "pyrolysis". By using Carbon Gold biochar, you can bring a physical and permanent change to your soil. It improves structure, aeration, water-holding capacity, and nutrient retention, and provides a refuge for beneficial microbiology, which we add to improve plant health.
Furthermore, it locks away carbon permanently so that it is both beneficial to all plants, veg and edibles as well as soil health and the environment!
Our range of biochar based products include All Purpose and Seed composts, fertiliser and a selection of soil improvers which are enriched biochar soil or compost additives.
The difference between our products and virtually everything else you will currently find in category is simple - it is the addition of our specially formulated enriched biochar which makes a world of difference; it really is a case of you get what you pay for!
All of the range of Carbon Gold biochar products are 100% artificial chemical and peat-free and are Soil Association Approved for organic growing, although they are commonly used by both conventional as well as organic growers.
As well as being Soil Association Approved, the sustainability of our products is also assured by the FSC® (Forest Stewardship Council), approved for use in Dutch growing systems by the RHP and in biodynamic systems by Demeter.
In short using Carbon Gold biochar is good for your garden and good for our planet!
Address
Bristol,
United Kingdom
Planting trees is becoming an increasingly popular tool in our fight to improve our climate but it can be difficult to make sure your newly planted tree gets off to the best possible start. 

Want to know how to reduce the problems of drought on your garden?

This brief video will tell you everything you need to know about Biochar, what is, what does it do and why should I use it?