12 Oct 2018
Christmas gets personal
Personalised Christmas products including tree baubles and storybooks have reached new levels of Christmas Bestsellers sales domination in garden centres this year.
During week ending Sunday 25th November 2108 all of Top 5 in the GTN Bestsellers Christmas Products chart were personalised Christmas products.
Last year Suki's personalised Snowmen and Angels were the Bestsellers for 12 weeks in the run up to Christmas. This year they have been overtaken in sales by the LED lit Snowmen and Angel personalised tree decorations from History and Heraldry.
Overall personalised Christmas product sales have been growing steadily over the past 4 years, as illustrated by this chart of personalised sales volumes during the busiest week of the year between 2015 and 2018.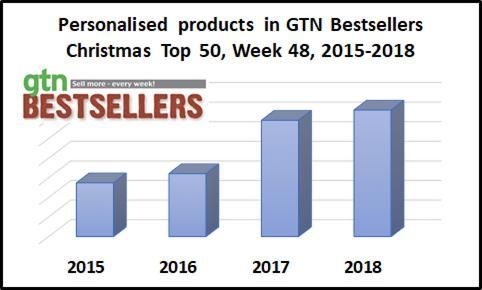 History and Heraldry were the early bestselling personalised movers, several years ago, lines such as their mini fireplaces with named stockings to hang for the family.
Other personalised products in the GTN Christmas Top 50 charts that are proving popular again this this year include story books.  There are two ranges in the Top 10 this year, one from Hometown World that led the way in 2017 and also a Christmas Storybook range from History & Heraldry.
And personalisation of products for sale in garden centres is spreading beyond Christmas.  This years GTN Bestsellers Epos data analysis is seeing more and more ranges go in sale and start selling through including personalised shopping bags, top bloke mugs and garden signs.
How long will it before someone comes up with a range of personalised plant pots or gardening gloves?  Then gardening will be getting personal too!
GTN Bestsellers produces Top 50 sales charts every week from aggregated garden centre Epos data.  To find out more visit http://www.gardentradenews.co.uk