13 Aug 2018
Garden Retail Trend: Play
A garden, for many families, is a place where memories are made. Be it memories of summer BBQ's, birthday parties, or summer days playing a football outside. As we think back, most of us have positive memories of spending time in our, or a friends/family, garden both as children and adults.
Possibly the biggest point that we hear from non-gardeners is that creating that space that functions as a place to build new memories is 'hard work', 'time consuming', and 'complicated'.  The trend we are exploring this year is simple, how do we communicate and make gardens fun again? How can we include the whole family in this activity? Importantly, why is it so beneficial to our children that we do?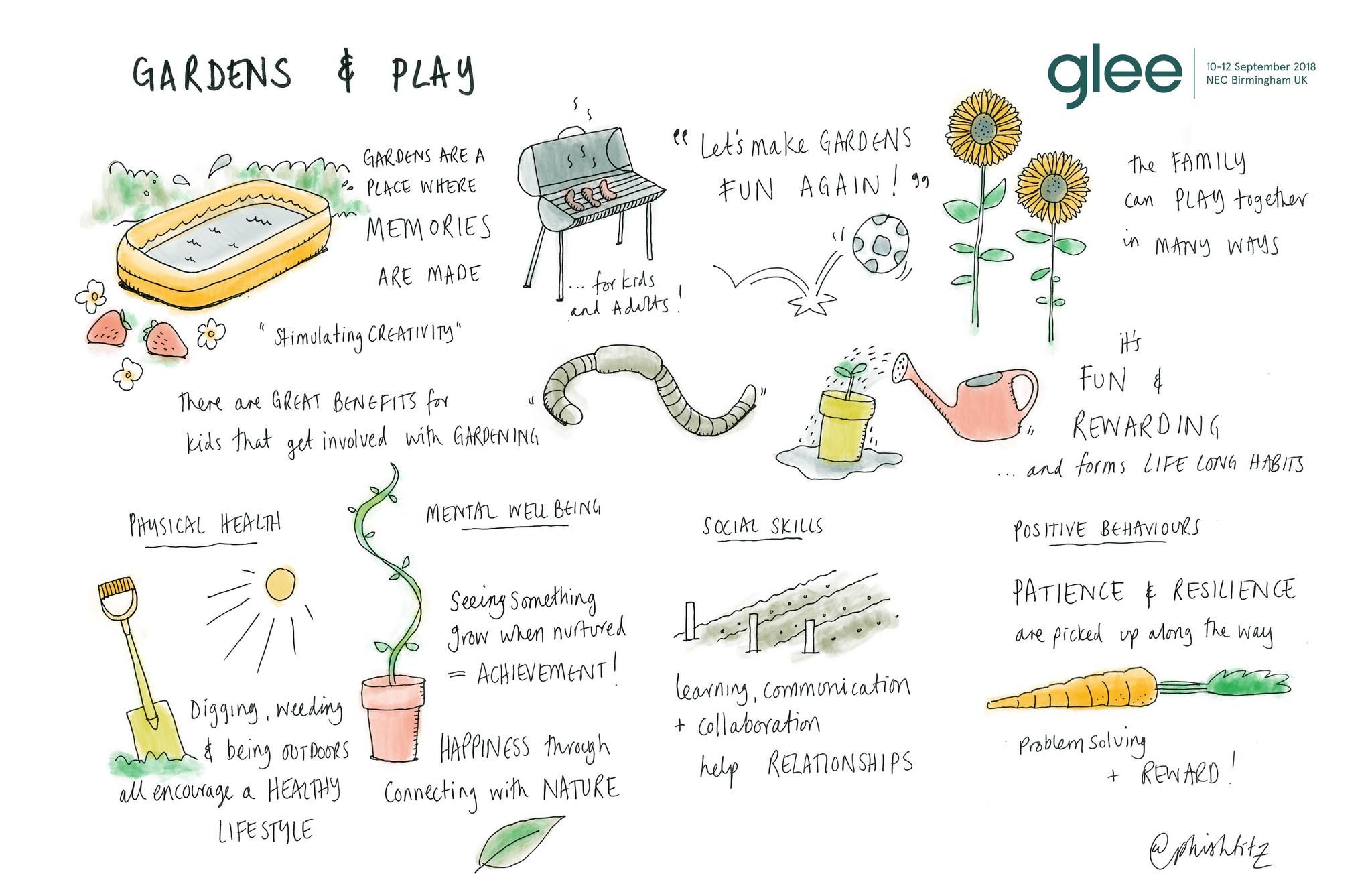 Play and fun is vital for engaging with non-gardeners of any age for one simple reason, that in today's world time is our most precious commodity. Often spending time in the garden is not the way many people want to spend that free time. However, turning gardening from a tick off the to do list, to an activity that can become something that's a fun family activity is something, that we as a garden centre community, need to be involved in communicating to our customer. This is not only as a to engage a younger generation to ensure that we all continue to see footfall in the long term, but also because there as some well researched benefits for children who get involved with gardening at a primary school age.
Perhaps the first hurdle in getting children into the garden is getting them away from screens and technology and outside. However, once outside, and under a watchful eye, gardening can be a fantastic sensory experience for children, from handling dry soil, to sloppy mud and worms, the majority of children love the experience of getting to participate in building something in the garden[1]. That could be simply including them in decisions around what to plant – simple flowers, or vegetables? How to plant it (pots or rows?), keeping the area free from weeds, and watering and maintaining their patch.
Once children get involved with gardening on a regular basis, either with an older family member or as part of a group with their school, it is something that can become an activity that isn't seen as 'hard work' or 'complicated', but ultimately a fun and rewarding activity that forms lifelong habits.
Added to this there are well documented benefits of getting children into a garden, a recent report from the HTA and the national children's gardening week shows that primary school children who participate in school gardening see benefits in their physical health, mental wellbeing, social skills, and behaviour[2].
Physical Heath
Due to the varied activities involved in gardening from digging, to weeding, to just walking around outside, because gardening isn't seen as exercise (low intensity gardening burns around 250 calories an hour) it's an excellent way of encouraging a healthier lifestyle. The knock on effect of this is that through planting vegetables, school gardening has been shown to improve children's intake of vegetables and increases their willingness to try new vegetables. Over all research has shown that gardening can improve children's overall attitudes to diet and physical activity.
Mental Wellbeing
There is numerous research that the simple action of seeing something grow that they have planted and nurtured has a positive effect on their own self esteem and creates a real sense of achievement. Added to this the correlation between happiness and feeling connected to the natural world[3], and the ability of a garden to let children learn patience, resilience and how to problem solve and overcome challenges , which could be as simple as dealing with a big insect, and the positive impact to mind set gardening can have on a young child are clearly evident.
Social Skills
School gardening in particular is wonderful for children who must work as a team, communicate and interact with each other in order to achieve their common goal. As they often work with children of different ages it can increase their overall confidence when communicating with other children[4]. At home it can often foster closer family relationships as they work with family members to decide what to grown how to do it.
Behaviours
Possibly the most important things that gardening can teach any of us is patience, and resilience. The patience to wait for their hard work to come to fruition, after all instant gratification is rarely seen when planning carrots! Added to that overcoming challenges and problem solving when nature happens – be it heavy rains, dry spells or bugs. Gardening can really help children to build a different set of character traits in a way that isn't forced by parents and lets then learn for themselves.
The bottom line is that for children, gardening is already fun, and their enthusiasm is infectious. Parents who use their garden as a play space for their children are able to see the garden as a place where they can learn with their children, whilst creating different memories and seeing their garden as a space where the family can play together in many, many ways.
[2] THE STATE OF PRIMARY SCHOOL GARDENING IN THE UK, HTA, 2018
[3] National Trust (2012), Our Natural Childhood Report
[4] https://www.telegraph.co.uk/gardening/with-children/life-skills-for-children