03 Mar 2020
Glee 2020: Explore the roots of British gardening and help your business bloom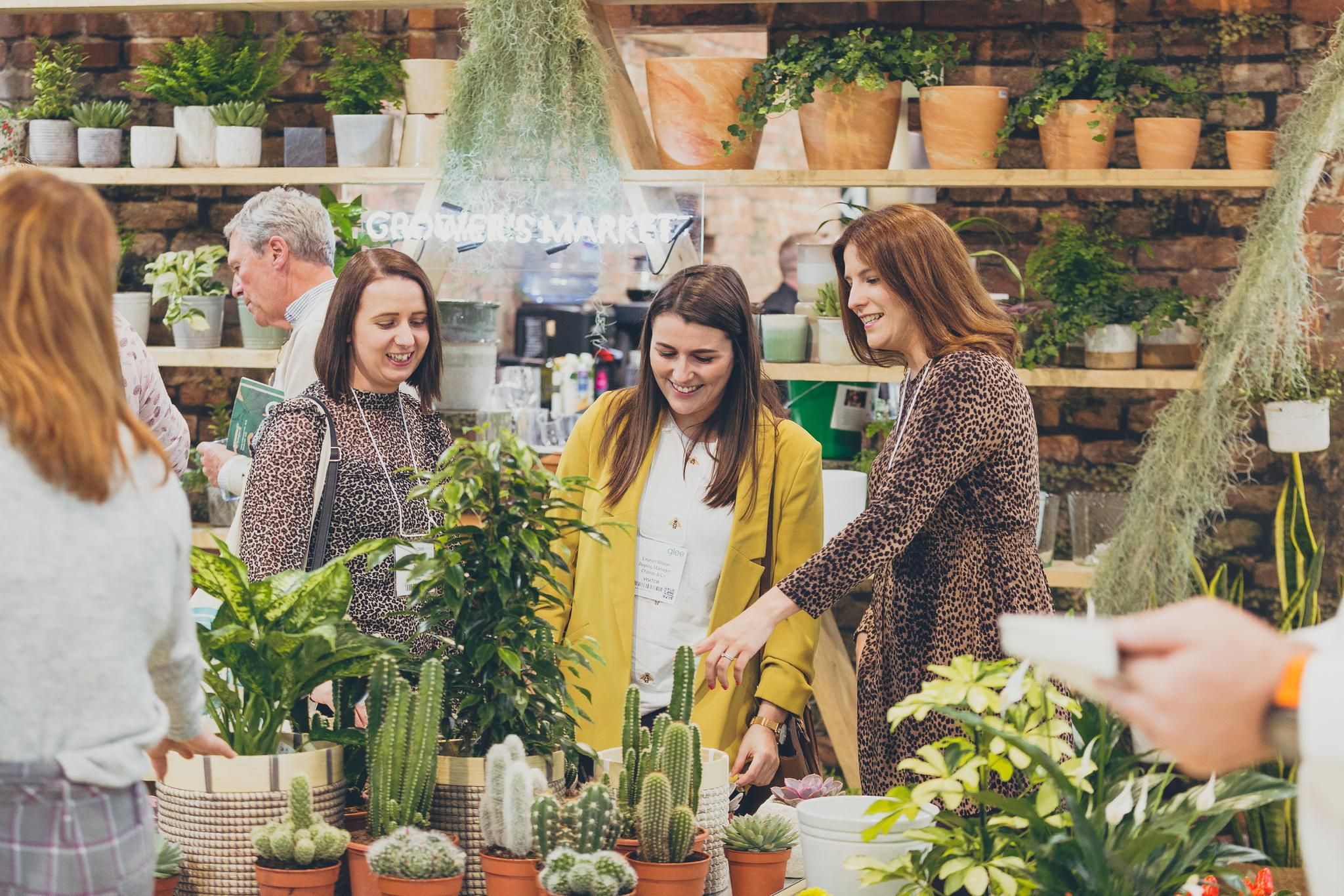 Britain is often considered the home of gardening.  It is one of the most rewarding, entertaining and healthy hobbies in the country with over 50 per cent of British people describing themselves as gardeners.  With the Horticultural Trades Association reporting that over two-thirds of British adults visit a garden centre every year, garden retail in the UK has become a hugely profitable industry as Matthew Mein, Event Director at Glee, the country's largest garden trade exhibition explains:
Oxford Economics estimate that direct expenditure on gardening in the UK is approximately £12.6bn a year, making Britain's favourite past-time an unrivalled sales opportunity for potential international garden product manufacturers. Consumers currently spend roughly £1.7 billion on garden care products, £1.4billion on plants and £1 million on furniture, also £1million is spent on non-garden ranges. In fact, the overall impact of the industry—factoring in the supply chain and garden tourism—is estimated to amount to 1.2 per cent of the UK's GDP.
With the world's most prestigious gardening event RHS Chelsea Flower Show taking place on UK shores, attracting in excess of 150,000 visitors, British gardening is enjoying a major growth spurt. Gardening has become relevant to everyone, whether they be an enthusiast, an allotmenteer, family focused or a houseplant collector, and this can be seen in a re-energised British garden retail market that has a rich heritage and reputation of manufacturing and innovation. 
What's more, UK garden retail is also witnessing a period of growth according to the Horticultural Trades Association's Market Update Report (January 2020). Latest data shows UK garden retail enjoying a 5% year-on-year sales increase, with a majority of product categories reporting growth, most notably houseplants with a 32% year-on-year increase, and seeds and bulbs enjoying a 12% growth. The HTA report attributes much of this growth to the increase in consumer confidence – the highest since 2016 - which aligns with a more stable political and economic outlook.
How British gardeners shop - and how you can be part of it
The UK is home to over 2,300 garden centres which British adults visit year after year to buy home grown plants, tools, machinery, garden décor, furniture, greenhouses, paving and aggregates, garden care products, all proudly made by British brands and manufacturers.  Whether it be a venerable and established company or innovative start up, the UK garden industry is well respected and incomparable to any other.
The British High Street has also contributed to the growth and love of gardening in the country, with names such as Next, Urban Outfitters, Wilko, The Range, as well as B&M enhancing their gardening offering.  British supermarkets have also contributed to a growth in the market, offering plants and garden care products in the same retail space as food and drink.  Smartphone and tablet usage is also affecting the way consumers spend. There has been a sharp increase in the number of consumers shopping online, with 9.4% (approximately £400 million) of garden sales in the UK now made online a year. (source Global Data Retail)
Despite this, garden centres are still seen as a "one stop shop" and a leisure destination, with non-traditional sectors such as gifts, clothing, food and homewares providing an increasing profit opportunity for garden retailers when out of season when core gardening sales might be low.   Garden centres in the UK are constantly diversifying by offering ice rinks, soft play areas and cafes to their businesses which complement what they already offer and suit their existing target audience, as well as encourage new visitors. The combination of a wide product range and expert advice is appealing to customers, as well as aesthetically pleasing merchandising displays that inspire shoppers to buy the look.
With Britain firmly established as a major gardening and innovation hub, Glee is becoming the top choice for international manufacturers that want to be part of this thriving marketplace. In 2019 the exhibition welcomed over exhibitors from over 48 countries, and this number is expected to increase as more brands look to tap into the UK's love of gardening and maximise Glee's captured and engaged retailer audience.
Learn from the British garden industry
Glee is the biggest and most important garden and outdoor living trade event in the UK bringing together over 550 exhibitors and exporters from across eight garden sectors that are looking to build a global reputation and bring their product to international shores. The country's biggest and best gardening brands, some of whom have never exhibited outside of the UK before, will come together to showcase the best garden essentials, new products on the market, as well as exploring and predicting the latest trends that will take the industry by storm.   
International buyers can expect to find not only thousands of garden care and maintenance products on show, but also plants, decor, outdoor living and entertainment, landscaping and design, home, gift and clothing. You will be treated to brands who are synonymous with UK gardening, as well as new brands and concepts from the Glee New Product Showcase.
Glee is the only show that brings together over 7,000 buyers and stakeholders over three days, where they can view the latest products and network with industry experts. In addition, visitors can learn and take away leading knowledge and insight with free to attend Glee seminars with industry leading speakers from the breadth of the UK's gardening and landscape sector.
New for 2020 is the brand new Pawexpo, which will sit within the Glee show.  Designed for pet retailers in mind, Pawexpo will support suppliers and buyers to help them make the most of the sales and revenue opportunities that this dynamic market has to offer, as well enabling access to the latest trend information and cross purchasing opportunities from the wider Glee event.
International visitors will also find the International Buyers Connect sessions a useful resource for meeting and networking with key stakeholders, enabling UK suppliers to have short introductory meetings with selected international buyers. The IBC is run by the Gardenex, the UK's Federation of Garden & Leisure Manufacturers who will be on hand to provide support and advice as well as translation services to international buyers and visitors. 
Matthew concludes: "Gardening is a British national obsession and plays a big part of how the rest of the world sees us. It has changed drastically over the past decade as people change the way they use their gardens, especially in light of recent research which highlights gardening's benefits for both mental and physical wellbeing. As a result of this the UK garden industry has embraced these changes with the freshest innovations and market trends. Glee 2020 is set to be an unrivalled event packed with lots of features not to be missed. With international visitors able to explore the exciting new show features as our VIP guest, they are guaranteed to take away a wealth of innovative and inspirational ideas to help their business grow in the years ahead, whilst manufacturers and suppliers can become part of a thriving retail picture and help build their brand profile amongst a nation of discerning gardeners."
Glee takes place at the Birmingham NEC on 15-17th September 2020.
Find out more
To keep up to date on the latest Glee news visit www.gleebirmingham.com.  To enquire about exhibiting at Glee 2020 call +44 (0)203 3545 9752.
Visit Glee to see first-hand the home of historic gardening and retail best practice
The UK is known as the home of gardening and is rich with best practice retail examples and stunning gardens. Much of the world looks to the UK to see how gardening is developing so why not combine a trip to Glee with a tour of some of these points of inspiration?
Within an hour of Glee, you can visit a wide array of destinations such as 14 garden centres within the British Garden Centre portfolio – now officially the UK's second largest garden centre chain. Or visit ten Dobbies stores, to see how this prestigious garden centre chain – the biggest in the UK - has created an award-winning retail environment. Why not also visit Blue Diamond's 'jewel of the Midlands' at Trentham Home & Garden? In addition, there are dozens of independent stores within easy reach of the NEC, each providing a unique approach to garden retail.
With an hour's drive of the NEC there are also seven stunning RHS or National Trust gardens available to visit. From the Tudor grandeur of Coughton Court, to the largest private collection of trees and shrubs at the 56 acre, Batsford Arboretum, there is so much to see, do and be inspired by.
Getting there
Spring Fair takes place at the National Exhibition Centre (NEC) in Birmingham, and is easily reached by car, rail and air.  If you are arriving by car, follow regional signs to the NEC where visitor car parking is plentiful and free.  All halls are within walking distance, but a free shuttle bus service is also available from car parks to the Halls.  Rail travel is equally convenient with Birmingham International railway station located on the NEC site.  For international visitors Birmingham International Airport (BHX) is linked to the NEC by the free SkyRail, departing every few minutes and taking just 90 seconds.  National Express Coaches run a regular service to and from the NEC covering most UK locations.