08 Sep 2019
Glee looks to a plastic-free future, as garden industry suppliers unveil initiatives to cut waste and grow sustainable businesses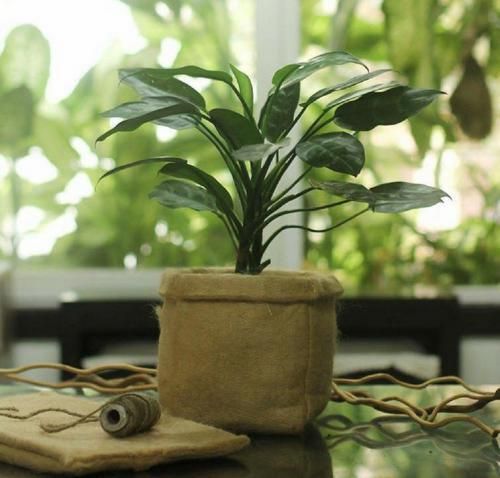 Green gardening is not a fashion or a passing fad – it's here to stay. With sustainable growing championed by the likes of BBC Gardeners' World presenter Monty Don, demand for eco-friendly gardening products is on the up. The top priority for the nation's growing band of environmentally conscious consumers is cutting down on single-use plastics, an issue that was propelled to the top of the agenda when Sir David Attenborough's landmark Blue Planet series highlighted the devastating effect that plastic waste is having on marine wildlife.
In the first of a two-part series, we look at how exhibitors at Glee (10th -12th September, NEC Birmingham) are planning to reduce dependency on single-use plastics, while also examining manufacturers' and suppliers' efforts to boost recycling and lower carbon footprints. Here, we focus on core gardening – suppliers of goods that help consumers to grow, sow and mow – and investigate what they're doing to relieve their burden on the planet.
Garden products giant Evergreen Garden Care says it is "committed to finding new ways to reduce waste" and points out that it has systematically reduced the weight of packaging since 2001 by more than 1,000 tonnes. Recent initiatives include virgin plastic reduction of 800 tonnes via improvements made to its bottles, caps and sprayers. For example, the new Miracle-Gro 1L bottle saved 40 tonnes per year, according to the company.
An Evergreen Garden Care spokeswoman adds: "We have saved 420 tonnes of plastic with the introduction of recycled material in our compost packaging. Paper has reduced by 600 tonnes, with 95% of cartons made from 100% recycled paper fibres. Packaging recycling on sites has increased by 30% in the last 12 months, with all initiatives saving 2,300 tonnes of carbon dioxide in one year."
Eco-friendly supplier Primeur offers a range of garden products all made from recycled rubber tyres that would otherwise be sent for landfill or burnt. With well over 2.5 billion tyres manufactured globally every year, the company says finding ways to repurpose the waste rubber has never been more vital. Primeur won a GIMA award in 2018 for its Recycled Garden Borders, followed by the GIMA Sword of Excellence this year for its Recycled Planter range.
Primeur's Sarah McLafferty said: "We know that recycling waste products has never been more important to our customers and we are already exploring how to expand the range with new innovation. As one of the major importers of doormats to the UK, we are also looking to bring environmentally friendly materials to this category. Our Mighty Mats range already includes mats made with Recycled Rubber and manufactured in a way to reduce pressures on the environment. We are working with our factories to create more recycled and recyclable products."
Neudorff has made a big impact in the UK as demand for organic gardening goods grows. Its accolades include being crowned 'National Champion' at the European Business Awards in the Environmental and Corporate Sustainability category in 2016, while it also won the title of 'Germany's most sustainable company' in 2014.
In recent years Neudorff has focused on helping retailers and their customers to use less single-use plastic by introducing refill options. But Jude Beharall, sales director at Neudorff UK, points out: "Plastic packaging is essential for many of our weed and control products, due to registrational reasons. However, we have taken steps to help customers make reductions. For example, our best-selling Sluggo Slug & Snail Killer range was the first slug killer to be made available in cardboard cartons. We encourage customers to use the 300g and 1 kg cartons wherever possible, thereby significantly reducing the quantity of plastic being added to landfill as a result of gardening activities."
Where plastic currently remains a necessity to deliver an eco-friendly product, suppliers have been taking other steps to reduce their burden on the environment. Equigrow, based in north London, produces and distributes compost, with the range featuring manure-based and straw-based green waste products.
Equigrow Director, Allan Clutterbuck, points out that although compost currently comes in plastic bags, the company is reducing its carbon footprint: "We source all of our horse manure and green waste locally, and deliver to the local area, although bulk loads sometimes go farther afield. Our products are 'green' because they have been recycled from waste. We don't add any chemicals and they are peat-free, contributing to the preservation of peat bogs and fens. We add nothing to our composts, and they decompose through a process of shredding, turning and heat."
Promoting sustainable growing is the goal of Deep Roots, a company that's dedicated to replacing plastic in both gardening and agriculture. Its own roots lie in a small town in western India, when in late 2017, Deep Roots founder, Nikunj Agarwal, saw saplings being nurtured and raised in single-use plastic containers. Nikunj said: "This seemed a huge irony, and since then, Deep Roots has dedicated all its resources to the pursuit of protecting of our ever-degrading environment."
He adds: "DeepRoots brings Jute Grow Pots, the first of its kind for sustainable growing. Jute Grow Pots are organic plant-raising containers made out of natural jute fibre. They're 100% bio-degradable and a great alternative to plastic pots. Not only is our primary raw material from a renewable source, we also run a zero-waste facility while, at the same time, promoting employment among under-privileged in society. We can do business and we can do good!" The company says sizes of Jute Grow Pots can be customised for various growing needs, from starting seeds to transplanting or as an attractive stand-alone planter.
Vegepod, a supplier of self-contained raised garden beds, says it is often asked about the green credentials of its polypropylene plastic, eco-climate covers and containers. A Vegepod spokeswoman says: "Because our containers are durable and designed for optimal plant growth, an individual Vegepod has a minimum 10-year lifespan. Most untreated timbers are lucky to last longer than two years before rotting and breaking down. The impact of such timber production, the repeated timber growing, harvesting and rebuilds would make an interesting study when compared to a one-off plastic container that lasts up to 10 years."
But are Vegepod's containers made from recycled plastic? The company points to an important issue: "Recycled plastic is unable to be certified as 'foodsafe' as it contains many different grades of plastic. Vegepod will not allow such material to be used for organic food growing, despite the appeal of the tagline 'Made from recycled plastic'. However, our eco-covers and containers are completely recyclable and do not end up in landfill."
Vegepod puts forward a strong argument for the use of robust, long-life plastics in gardening. The spokeswoman adds: "When it comes to garden materials, there's nothing more beautiful than timber. Unfortunately, termites agree. Untreated wood also has very little resistance to the elements such as moisture, mould, fungi, heat and pests. This significantly shortens the lifespan of such beds. Corrugated iron beds also eventually rust and breakdown, and can leech harmful elements into the surrounding soils and plants. In our opinion, polypropylene pods are safer, more productive and a more sustainable way to garden. They're durable, long-lasting, affordable, water efficient, and when all is said and done, they're 100% recyclable."
Speaking about the garden trade's increasing focus on environmental awareness, Glee Event Director, Matthew Mein, said: "The garden industry is channelling huge efforts into sustainability initiatives, delivering a new generation of products with truly green credentials. Not only will such initiatives play a role in preserving the planet, but they serve to cater for consumers who are increasingly demanding gardening goods that are free from single-use plastic while still delivering great results. We're really excited about the level of product innovation at Glee 2019, and to see this combined with a focus on eliminating single-use plastic means there will be plenty to whet the appetite of buyers looking for the latest eco-friendly products."