02 Mar 2021
Harnessing gardening's wellbeing properties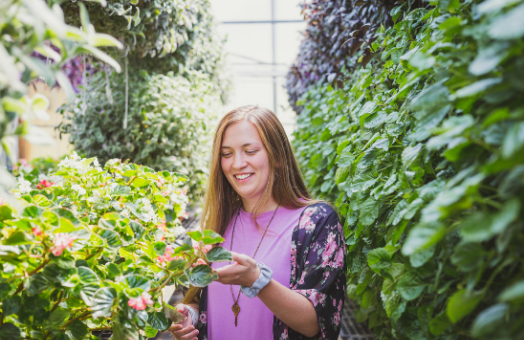 If there's been one thing dominating consumer conversations this year, it's been how to stay healthy and happy during lockdown. 2020 has posed new and unique challenges that have taken their toll on many people's mood and mental health, so it's only natural that there's been an upswing in interest for things that give customers a sense of accomplishment, happiness and/ or general wellbeing in body and mind.
Gardening and wellbeing have long been linked by scientists and gardeners alike, but this year, with more time spent at home than ever before, those links have become more important. With 3 million new customers taking to their gardens, planters and outdoor spaces, understanding the links between a better garden and a better life may well be the key to keeping those customers loyal in the long run.
Weeding out stress, anxiety and depression
Much of the research surrounding the benefits of gardening focuses on mental wellbeing. From reducing feelings of stress to helping to reframe thoughts in patients with clinical depression, the benefits of gardening on mental health have been proven time and again.
A recent survey by gardening charity Thrive found that of 317 participants, 80% reported better mental health as a result of tabletop gardening sessions, with 90% reporting increased confidence and motivation.
But why is gardening such a mood booster? One of the reasons could be linked to neurochemistry. Just like other forms of exercise (which we'll talk about more later), the physical act of gardening has been linked by scientists to the release of serotonin and endorphins, or "happy hormones", causing us to feel happier without even knowing it.
Health in full bloom
The physical benefits of gardening are manifold and go in hand with the benefits to mental health. Alongside the obvious pluses of getting some fresh air, gardening is actually a legitimate form of exercise; in fact, just 30 minutes of gardening could burn the same amount of calories as playing badminton or volleyball or doing yoga, according to a study by Harvard Medical School. Activities such as raking, mowing the grass and digging can all be considered great forms of exercise for building strength as well as providing a heart healthy workout, and researchers from the University of Pennsylvania have even found links between a session in the garden and a better night's sleep.
And of course, we couldn't forget the "farm to table" factor. Another clear health factor is the rise in a grow your own mentality. Veggie patches, herbs and fruit plants all encourage and facilitate a healthier, organic diet.
How you can help customers reap the benefits of gardening:
Community gardening
When it comes to mental health, loneliness is a key cause of anxiety and depression, particularly in the older population. Setting up community gardening spaces and activities in store could be key in helping customers improve their mental health through gardening, as well as driving that all-important footfall. Of course, if customers are unable to travel in right now, you can offer virtual classes via video call to connect people with each other and help them to feel part of a community, even if they are physically alone.
Offer a comprehensive range of seasonal fruit and veg seeds and bedding plants
Enabling your customers to participate in the grow your own trend is a great way to help them access the health benefits that gardening can bring. By empowering customers to grow their produce you'll not only be helping to get them outside more, you'll also be helping them to have a healthy diet that comes with a sense of fulfilment. Make sure your staff know exactly what should be grown, sown and harvested, and when, to ensure that your customers come to you time and again for their veggie patch needs.
Encourage mindfulness in the garden
Some of the key mental health benefits of gardening come from allowing gardeners to "be" in their present environment. Encourage customers to understand their green spaces and the nature within them. Offer extra information about the animals they could look out for, or help them to understand the intricacies of the plants they are buying, for example, enabling them to look out for these things when they're at home.
Understand the environmental power in plants
From pollutant clearers to sound-proofers, garden plants, however big or small can have important properties that can improve the overall environment and wellbeing. Plants like holly and hawthorn are great native plants that can have important air-cleaning properties, whilst dense foliage, like laurel, can be great for absorbing outside noise. Plenty of herbs and scented plants also have aromatherapeutic properties, such as rosemary and lavender, which can help with stress reduction.
With more people than ever embracing their green thumbs, now's the time to harness the power of gardening and boost your opportunities. Make sure you keep up to date with all the latest insights and news right here on the Glee blog. 
---
If you enjoyed this article, you might also like: