How to grow your best ever tomatoes?
The Guardian reported that "the production of UK-grown and marketed tomatoes has fallen from 134,000 tonnes in 1990 to 68,000 tonnes in 2021, and now accounts for just 17% of total UK supply."
According to Reuters news agency, "British shoppers have faced a shortage of tomatoes, cucumbers and peppers in recent weeks after disrupted harvests in north Africa reduced supply, while inflation forced industry buyers to spend more on less from key markets such as Spain."
More consumers in Britain may be inclined to grow their own tomatoes at home given the current situation. Garden retailers can support their customers and give them advice about how to grow their best ever tomatoes at home. Here are a few tips about how to succeed. You're welcome!
If you have any under cover growing space, it is a good idea to use this to grow your tomato plants. With our unpredictable weather conditions, outdoor crops can be more prone to fungal diseases, such as blight. It is possible to grow blight-resistant varieties, so a greenhouse or polytunnel isn't essential, but is a good friend to the tomato grower, and can help you get started earlier in the season than you would with outdoor crops.
Outdoor growers will need to make sure that their tomato seedlings are properly hardened off before planting them out. This is the process of getting the young plants gradually used to the cooler temperatures by putting them outside during the day for increasing amounts of time, until they are able to move outdoors permanently (this will usually take around two weeks).

If you are growing your tomatoes in pots (which you can do, very successfully), ensure the variety you have chosen to grow is suitable for this particular method. Compact cherry types will grow best. Make sure the container is large enough – with each plant requiring approximately 30-40cm of space to grow on properly.

It is important to make sure you implement a regular and consistent watering and feeding regime for your tomato plants. This helps to minimise the chance of issues such as blossom end rot, and skin splitting. These occur when irrigation has been erratic. Start giving your plants a liquid feed once the first flower trusses appear, then do this every week or two. You can help the water get right to the roots of the plant by sinking a pipe or tube down into the ground and pouring water down there, rather than soaking the leaves and the top of the soil.

Pinching out the sideshoots on your tomato plant helps it concentrate its efforts into forming and ripening fruits, rather than just growing more foliage. Your plants will also require support to prevent them from sagging as they become heavy with fruits.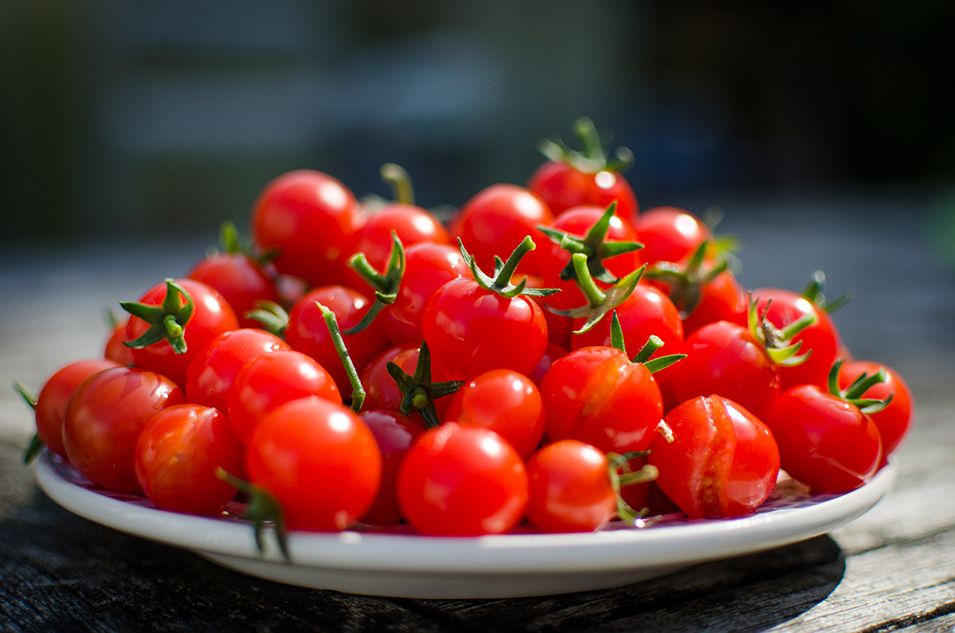 Varieties to try
'Sungold'
This is a small, vibrant orange cherry type with a vigorous growth habit and bundles of extra-sweet fruits

'Gardener's Delight'
A familiar sight on plots and in gardens up and down the country, this heavy-cropper is reliable and grows well outdoors
'San Marzano'
This variety is a real favourite with keen cooks, thanks to its meaty texture and few seeds. It works fantastically in sauces and on pizzas
'Brandywine'
Producing heavy yields for a beefsteak type, this tomato is big and jam-packed with flavour.
'Black Cherry'
Burgundy-coloured, sweet and juicy fruits are produced from this plant – perfect for growing in containers, or in a sunny spot in the garden
Other Digital Content
2024 Garden and Outdoor Living Trends Tune in as TrendBible's Madeleine Ritchie introduces the three outdoor living personas you need to know for 2024, including tips on how multi-faceted, versatile ...

Garden retail stores play an important role in promoting sustainable horticultural practices. The Horticultural Trade Association supports the industry's sustainability efforts through insightful res ...