19 Oct 2020
In the garden with… Dominic and Kieron Tompkin, LAVA-LITE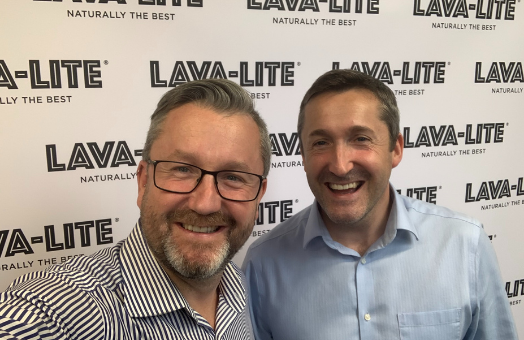 First of all, tell us a little more about LAVA-LITE and the story behind the brand…
The LAVA-LITE brand was created after the drought conditions of 2018. Having initially only placed the product in our garden borders and outdoor pots as decoration, we were both taken by surprise to see that the plants where we had placed the LAVA-LITE had thrived despite days without rain and the relentless sun beating down on them. Whereas it was clearly apparent in both of our gardens that the pots and borders without LAVA-LITE had suffered as a result of the hot dry summer.
What started out purely as garden decoration became something more. We looked into the reasons why LAVA-LITE had worked so well and discovered numerous benefits of this completely natural product; this consequently became the basis of the brand and inspired us to develop the collection.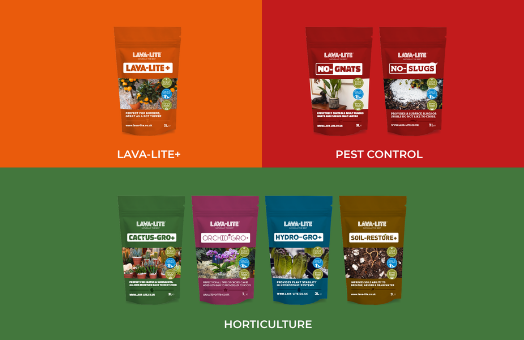 The LAVA-LITE portfolio was built from your first product LAVA-LITE+ - can you tell us more about LAVA-LITE+ and what it does?
Having been the initial starting point for the product range, LAVA-LITE+ is at the heart of the LAVA-LITE brand. It offers countless benefits that we believe will truly change the game of the horticultural world. Firstly it is a highly decorative stone; the light shade provides a beautiful canvas for flowers and shrubs to showcase their true colours and vibrant greens. LAVA-LITE+ also helps with the watering regime thanks to its ability to retain up to 25% moisture and gradually release this back to plants as required, whilst providing a protective layer to the soil or compost of potting media beneath, reducing evaporation.
LAVA-LITE+ boasts the ability to add micro nutrients to the soil, offering your plants an environment that they are truly able to thrive in. This nutrient boost is caused by beneficial bacteria that colonise the vesicles within the stone over time.  Another of the many benefits of LAVA-LITE+ is thermal protection - reflecting sunlight and keeping cooler in summer and offering a warmer layer of protection in the winter due to air pockets within the stone.

LAVA-LITE+ will not degrade so can be used for multiple seasons and is completely natural and eco-friendly so is safe for children, pets and aquatic life. Whether used indoors or outdoors, LAVA-LITE+ will always perform.
Your pest control product, NO-GNATS, was recently shortlisted for a New Product Award at Glee Gathering – congratulations! Can you tell us a bit more about the pest control range?
Pests in the home or garden can sometimes ruin the pleasure of gardening or of bringing nature indoors. We were keen to create a range that offered a solution to this problem without harming the pests that threaten your plants and invade your space.
We developed LAVA-LITE NO GNATS to tackle the problem of fungus gnats in the home and offices.
It was very apparent that other than pesticide and chemicals the only other controls for gnats were sticky surface products, which only treat the problem but do not control it. We worked hard to create a product that stopped the fungus gnat cycle entirely, solving the problem completely rather than just treating it.
LAVA-LITE NO SLUGS was developed because no garden is without hungry slugs or snails and we wanted to create a solution that didn't kill them but prevented them from eating our hostas or lettuce! LAVA-LITE NO SLUGS creates a barrier of protection around your plants that slugs and snails don't like to cross, consequently encouraging them to simply move on.
We take great pride in all our products being 100% natural, eco-friendly and non-toxic, meaning they will not kill predators feeding on them. It was also important to us that the product offered added benefits to the plant it's being placed around, including moisture retention and thermal protection.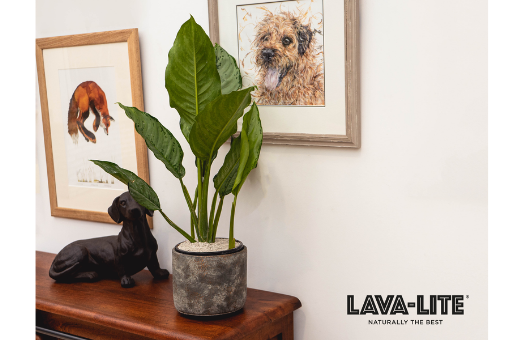 What did being shortlisted for a New Product Award mean for the brand?
As you can imagine we are delighted that we were nominated for a New Product Award and it is such a boost for the profile of the LAVA-LITE Brand to have a panel of expert judges see the concept and the benefits of the NON pesticidal pest control. We hope that this recognition highlights the name LAVA-LITE as an eco-friendly brand which is 'naturally the best'.
Your horticultural range focuses on cacti, orchids and hydroponic plants. Did you identify a gap in the market for products within these plant categories?
We consistently see stunning displays of cacti, succulents and orchids in garden centres and have noticed an obvious gap in the market by the way of potting media and surface dressing to complement and add on to a sale. The LAVA-LITE CACTUS-GRO+ and ORCHID-GRO+ is perfectly suited to merchandise in these areas and offering a handy 1ltr pouch will be an easy sale add on.
Although hydroponics have been around for a while, they are still relatively new to the world of garden centre retail and it is only recently that we have started to see hydroponic kits become quite popular. We identified that hydroponic growing media is not always readily available to buy alongside these soilless gardening set ups and so HYDRO-GRO+ is a natural choice.
And how are CACTUS-GRO+, ORCHID-GRO+ and HYDRO-GRO+ particularly suited to their respective categories?
The homogenous "baseline" for all products in the LAVA-LITE collection is LAVA-LITE itself. The countless benefits outlined by the plus symbol attributed to LAVA-LITE+, can also be found in CACTUS-GRO+ , ORCHID-GRO+ , HYDRO-GRO+ & SOIL-RESTORE+. Each product respectively is expertly graded and perfectly suited to their individual and specialist applications. Fundamentally, all of our products are 100% Natural, 100% Eco-friendly, they will retain and control moisture and are free draining. As well as this, they are completely non-toxic and pH neutral, so whatever feeds are given to cacti, succulents, orchids or directly into the soil, this is completely controlled by the gardener/horticulturalist.
What's next for LAVA-LITE?
We are constantly thinking of new applications for LAVA-LITE and we can honestly say that the 7 products which make up the first collection is really just the tip of the ICEBERG (lettuce)!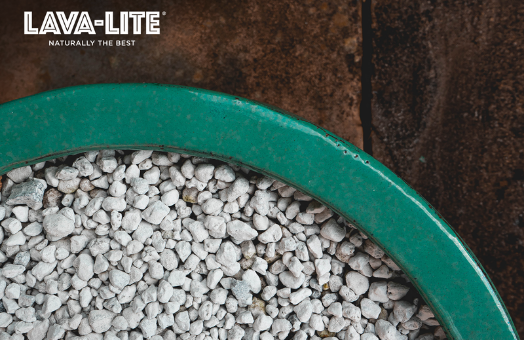 Finally, in the spirit of our Inspired By Kindness campaign, do you have any words of positivity for our readers?
2020 has been a strange and difficult year and it was great to see everyone come together to create a fantastic Glee 2020. It offered us the perfect opportunity to launch our range of new products and it was great to talk to so many wonderful people from the horticultural world. We are very much looking forward to what Glee 2021 will bring.
LAVA-LITE has been developed from the ground up on the fundamental belief that our products are all ecologically sound, they are not harmful and they provide benefits in their application. We want to do our bit to help protect our planet and we know you do too.
LAVA-LITE "Naturally the best"
Find out more about LAVA-LITE, including how to get in touch, over on the Glee Gathering Virtual Showroom. 
If you enjoyed this article, you might also like: