20 Aug 2018
Lamper Berger Paris - 120 years of history
120 years of history
Designed in 1898 to purify the air in hospitals, the little catalytic lamp by pharmacy dispenser, Maurice Berger, quickly became a huge success with the public. Redesigned by famous designers, adopted by major figures from the world of the arts (Coco Chanel, Picasso, Colette and Jean Cocteau), it was then endowed with a perfuming function and gradually became a style icon, appreciated for its elegant lines and its delicate fragrances.
The Lamp Berger, a functional and attractive accessory, which has spanned the years, purifying indoor air and adding an elegant or designer touch to every home.
In view of this popularity, the successors of Maurice Berger decided to continue to embellish the air inside homes, with the development of new rituals, such as candles, scented bouquets, and many other ideas.
As the name "Lampe Berger" no longer reflected the diversity of the brand's creations, it has now adopted the name "Maison Berger Paris", in homage to a unique place of creation and inspiration around a French passion for the arts and home fragrances.
The Maison Berger Paris spirit
The French have something that sets them apart, a certain "je ne sais quoi" which combines refinement and character, prestige and modernity, all of which is part of a lifestyle coveted by the rest of the world.
Since 1898, Maison Berger Paris has cultivated this exclusive spirit. Yesterday, with purifying and perfuming lamps adopted by anyone who was anyone in Paris and working along top designers. Today, with a universe of scented decorative objects which charm the senses with their delicate fragrances, their elegant lines and their soothing aromas.
Giving a Maison Berger Paris creation as a gift is a choice for uniqueness and high quality.
It is a sensory experience which exhales the mild scent of travel, nature or childhood, and opens the doors to interior well-being.
It is the unique imprint of a leading French company.
Their mission: contributing to your well-being

Maison Berger Paris puts its expertise at the service of your well-being, by taking care of home interior air. The products in the collections aim to achieve satisfaction of both the body and mind.
In its different rituals, Maison Berger Paris unfolds the entire scope of its exceptional know-how and implements highly specialised technical solutions.
Lamp Berger, the brand's flagship product, is known for its purifying action (by destroying malodorous molecules), which it combines with intense perfuming quality.
Scented bouquets in the anti-odour collection inhibit bad smells. There again, Maison Berger Paris uses cutting-edge and specialised processes for the benefit of its users.
In keeping with its identity as a fragrance creator, Maison Berger Paris has also created the Aroma range, with aromachological virtues. Rich in unique and exclusive olfactory compositions, the range contains essential oils, which have positive effects on the emotions; the product design is as natural as possible.
With Maison Berger Paris, we explore an irresistible and beneficial olfactory universe, at the cutting edge of technology.
Lamp Berger, a unique ritual

Maison Berger Paris strives to perpetuate and protect its technical expertise. The company has a technical centre in Limoges (France), constantly carries out R&D work and files multiple patents, as it makes its progress.
Thanks to its exclusive patented burner, the unique Lamp Berger purifies and perfumes the home interior like no other system. Catalytic diffusion, which has been perfected over the years, destroys the molecules responsible for undesirable odours.
This makes the Lamp Berger an essential ally for anyone wanting to breathe in purified air, whilst enjoying the continual fragrance diffusion and a wonderful decorative item. The fragrance is diffused quickly, evenly and lastingly, even in a large room.
With an incredible variety of styles, shapes and materials (glass, porcelain, crystal, etc.), the lamp collection will decorate every interior. Scented bouquets: refinement and modernity
Maison Berger Paris scented bouquets range is an invitation to discover another way of perfuming your interior and decorating it with elegance. Thanks to the cold perfuming system by capillarity, the fragrances are diffused for several weeks, intensely or delicately.
Opt for intense diffusion with polymer sticks for a sleek and contemporary result. Or perhaps you prefer the natural look of willow sticks. Or choose ceramic objects in floral shapes, for milder diffusion and a fancy decorative choice.
Candles: natural emotions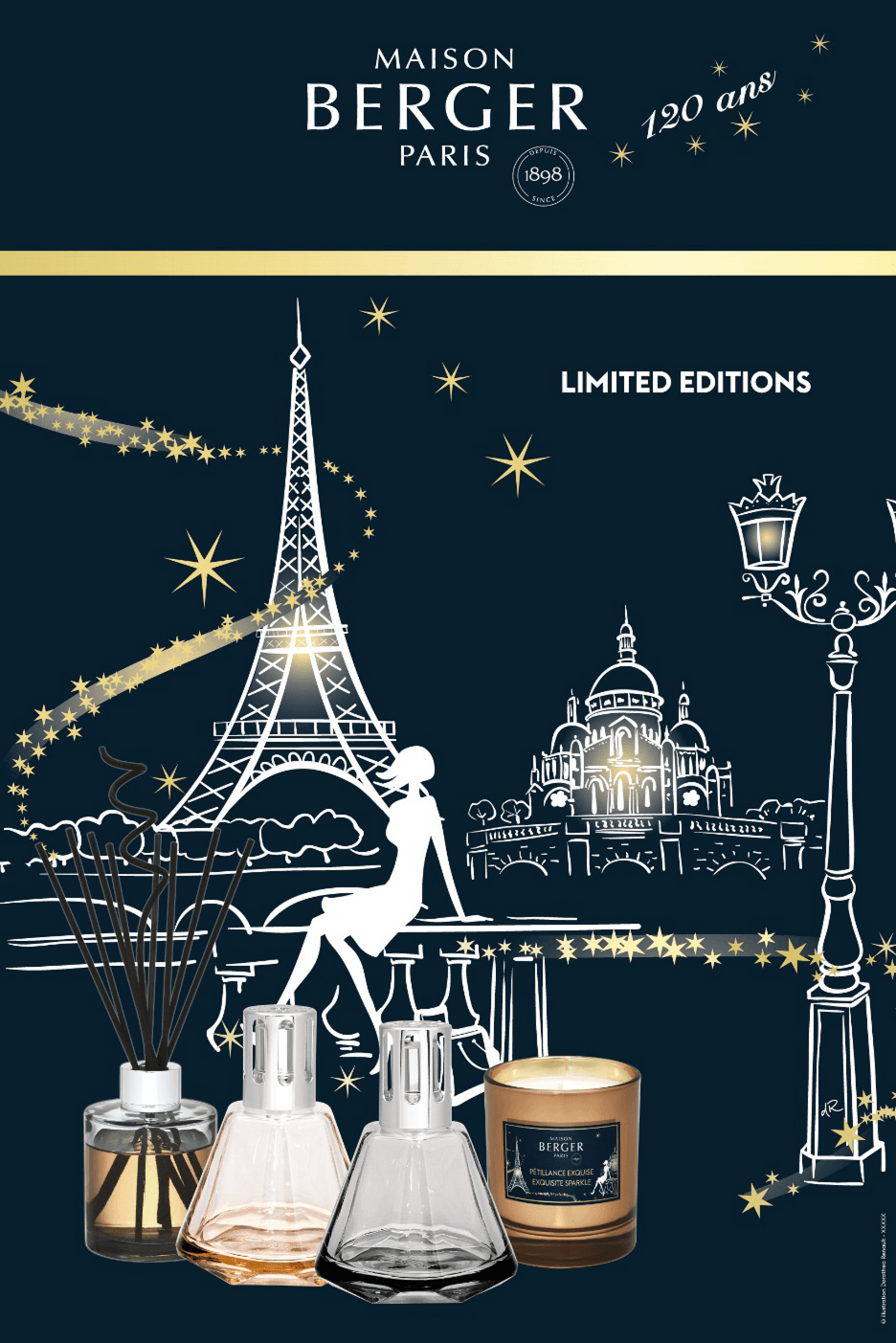 With the warmth of the flame and the conviviality of the ritual, Maison Berger Paris candle range brings our interiors to life and has many stories to tell: the gentle caress of cotton, the freshness of verbena, the exoticism of amber, the nostalgia of soaps from yesteryear, etc.
Caring about the quality and harmlessness of its products, Maison Berger Paris has developed candles made of 100% plant-origin wax, colourant-free, vegan and with cotton wicks for clean burning.
Hand-moulded and scented through the body, they offer uniform and refined diffusion, which swathes our interiors in a veil of magic.
Car diffusers to assert your style at the wheel

Unfolding its universe in other spheres of everyday life, Maison Berger Paris has created a range for the car. Take your favourite fragrance with you as you travel and add a decorative touch to your vehicle's passenger compartment.
A true designer object, the car fragrance diffuser is a metal clip which encloses a scented ceramic element. Thanks to this material, you can enjoy a refined, even and subtle fragrance and make driving more of a pleasure. The car diffuser is rechargeable and provides a lasting scented environment.
Exceptional fragrances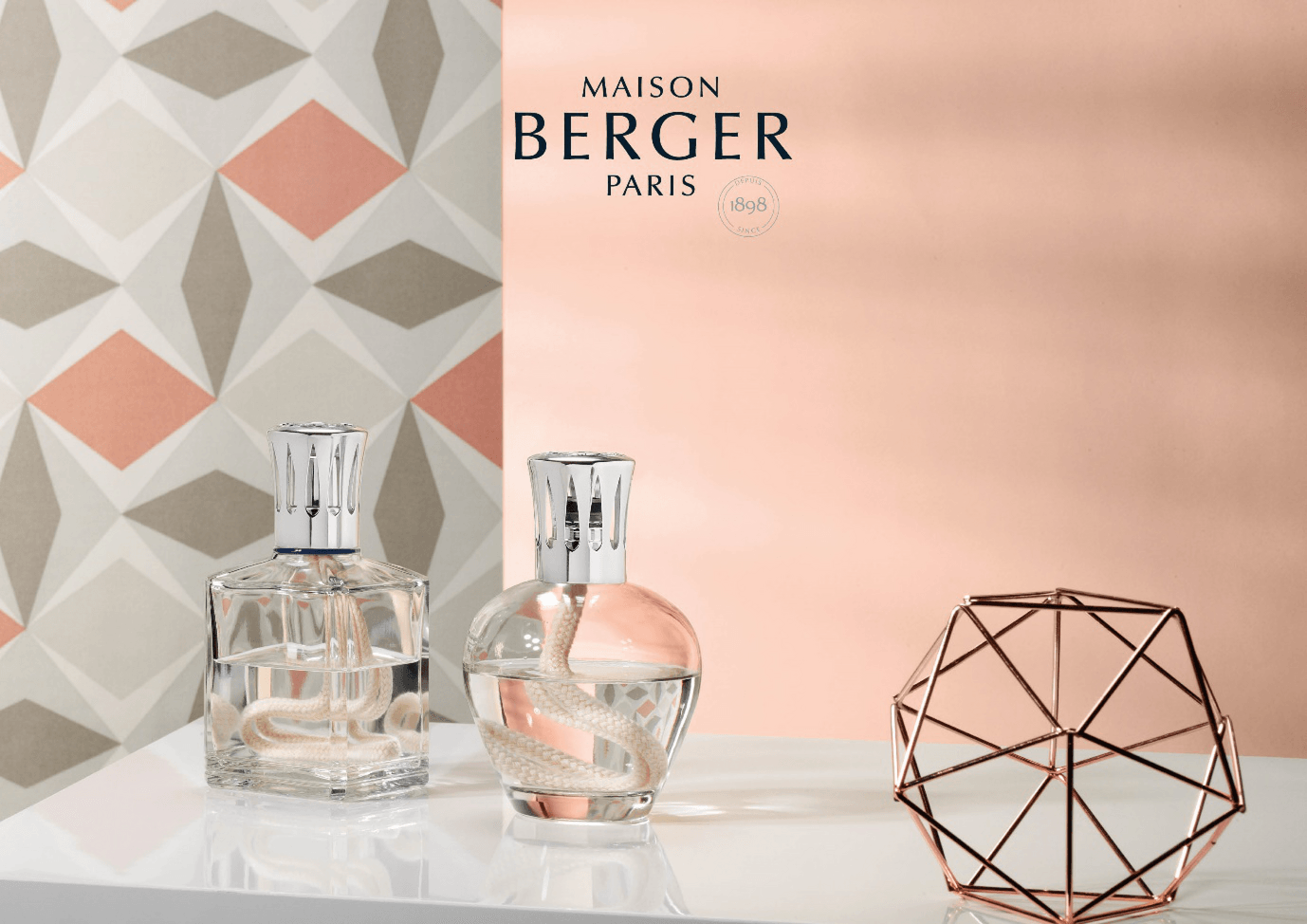 Successfully combining tradition and modernity, Maison Berger Paris is a unique brand in the universe of home fragrances.
Perfume is the heart of our business, the DNA element of all of our ranges, and we focus on rich olfactory creations and on notes composition.
The rich and varied collection, based on exceptional fragrances, is a real tribute to French tradition and know-how.
Our in-house fragrance expert picks out tomorrow's trends; studying and validating Grasse (South of France, fragrance birth place) master perfumers proposal.
Maison Berger Paris pursues its quest for excellence year after year and adds a touch of poetry to home fragrances.
French know-how with international presence

Located in Normandy, Maison Berger Paris has a unique expertise and know-how. The company operates a network of over 7,000 points of sale around 50 countries. With nearly €50 million turnover, 80% of which from exports, the company has 150 employees, producing 800,000 lamps each year and selling over 5 million litres of fragrance each year worldwide. Today, Maison Berger Paris is a 100% French company which embodies the "made in France" label so highly sought-after beyond our French borders.
In 2015, the brand obtained the EPV (Entreprise du Patrimoine Vivant - Living Heritage Company) label and thus confirmed its position as an ambassador for France. This label, created by the French State, distinguishes French companies with exceptional artisanal and industrial know-how.
Adaptability, responsiveness, innovation and a passion for its profession are some of the characteristics which make Maison Berger Paris a deeply rooted French company which is highly appreciated worldwide.
Their commitments

Attentive to the quality of air indoors, Maison Berger Paris commits to only diffuse substances which are perfectly managed and controlled.
The company undertakes to:
- ensure strict selection and rigorous control of all sensitive raw materials;
- comply with standards and specifications which are stricter than those demanded by the profession;
- use cutting-edge technologies and protocols, protected by international patents;
- have the efficacy of its products tested by experts;
- guarantee the quality and safety of the brand's perfumes.
Maison Berger Paris works with the greatest French perfume-makers to develop refined olfactory universes and strives invariably to guarantee the harmlessness of its products.