23 Mar 2022
Meet the new brands confirmed for Glee 2022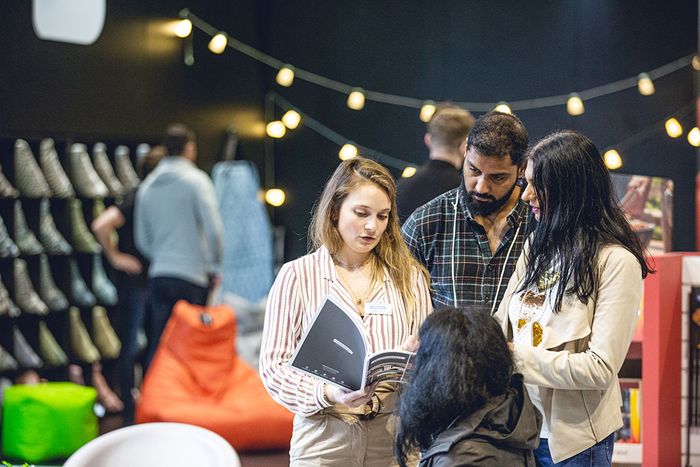 With gardening booming and the value of exhibitions stronger than ever, it will come as no surprise that Glee 2022 – taking place in late June 28th – 30th – at the NEC Birmingham – will be a hotbed of new and emerging brands, all ready and willing to build new retail partnerships with buyers from across the UK garden centre network. Here, these new names at Glee introduce themselves and tell us what they'll have in store for the show this summer.
GARDEN CARE
Bioefekts Ltd - offers unique bioeffect microbial products that contain many different plant-friendly microorganisms (bacteria and fungi), that, when released in the soil, release growth stimulants and natural antibiotics, improve the supply of minerals to plants and bind atmospheric nitrogen.
Why is Bioefekts Ltd making its debut at Glee in 2022?
"Bioefekts Ltd. company has 29 years' solid experience in production of microbiological products. With our extended production and research results our aim is to expand export markets and support Green Deal initiatives with our natural products for horticulture and agriculture sustainability. We would be delighted to cooperate with you in the future."
Greenman Garden Tools - a fourth generation family business, with a proud heritage in supplying artisanal garden tools to the trade. Creating tools designed to be functional and beautiful is Greeman Garden Tools' passion.
Why is Greenman Garden Tools making its debut at Glee in 2022?
"Having the opportunity to bring our tools to a wide market is exciting and key to our ambitious growth plans. As keen visitors in the past, we're looking forward to being on the other side of the fence this year."
Kingston Tools - give your seedlings the best start in life with Kingston Tools fibre pots. Discover the full range of nursery pots, wood fuel, pots and planters at Glee.
Why is Kingston Tools making its debut at Glee in 2022?
"If there is a place to launch our gardening range, it is definitely at Glee."
Kink Out ltd - remove those annoying kinks/creases from your hosepipes with Kink Out Ltd offering, whilst also saving hosepipes from landfill. The full offering is supported with plantable plant your packaging, making it a highly sustainable product offering.
Why is Kink Out making its debut at Glee in 2022?
"I have decided to debut at Glee because the networking is second to none. The Kink Out product deals with four separate issues and I look forward to sharing it."
Oregon - specialises in a wide range of products for the forestry, lawn, and garden industries.
Why is Oregon making its debut at Glee in 2022?
"Over 75 years Oregon has carved out a reputation as a leader in saw chains, bars, outdoor equipment and accessories, and we are excited to be sharing our range at Glee."
TGW Distribution - offers British Organic Bio, an organic nutrient range for organic growers which harnesses a suite of key technologies and high-quality organic ingredients, not used anywhere else in organic farming.
Why is TGW Distribution making its debut at Glee in 2022?
"We are debuting at Glee to help organic growers get the best results with our organic nutrients, while spreading the importance of using natural/organic products to keep our planet healthy."
The Magic Molecule Co - offers a range of biostimulants for garden lovers and enthusiasts; natural products helping plants grow to their fullest potential. The Magic Molecule Co's natural supplements work wonders, improving plant health within your garden.
Why is The Magic Molecule Co making its debut at Glee in 2022?
"Glee 2022 offers us the ideal opportunity to showcase our unique biostimulant products to the ideal retailers working within the garden centre and retail marketplaces."
LANDSCAPING & GARDEN DECORATION
Dyofix - offers colours for garden ponds as well as Water Clarity Treatments.
Why is Dyofix making its debut at Glee in 2022?
"We have decided to debut at Glee this year as it provides a great platform to showcase our company and products."
fenceBUDDY UK Ltd - offers quality, reimagined garden accessories, full of colour and offering multi-purposes uses. No tools required and all fenceBUDDY products are fully recyclable. Designed for every level of gardener and enthusiasts, no matter their mobility or dexterity.
Why is fenceBUDDY UK Ltd making its debut at Glee in 2022?
"We've had a lot of interest, and we wanted to showcase the brand, our new products and designs at the UK's largest garden trade fair – Glee 2022."
Patterson & Rothwell - offers a comprehensive range of planters, available in a variety of different designs, styles and colours. All Patterson & Rothwell indoor and outdoor planters are proudly manufactured in the UK from recycled polypropylene.
Why is Patterson & Rothwell making its debut at Glee in 2022?
"Glee 2022 is the perfect opportunity to showcase our range of stylish planters, ready to enhance any garden. Our pots are weather-resistant, lightweight, extremely durable and manufactured from recycled polypropylene."
RUBI UK - offers a range of manual and electric tile cutters, as well as products for cutting, drilling, handling and laying external tiles, with a particular focus on porcelain paving.
Why is RUBI UK making its debut at Glee in 2022?
"With the change in paving materials, porcelain paving has become a larger part of the construction industry; making our debut at glee 2022 was the natural progression in our growth."
The Garden Village Limited - is a UK manufacturer of FSC® certified timber garden products handmade in Lancashire, including the original wheelie bin and recycle box store.
Why is The Garden Village Limited making its debut at Glee in 2022?
"Our goal is to introduce our brand to key buyers across the garden sector within the UK and abroad. What better platform to do this than Glee!"
UK Bamboo Supplies Ltd - is the UK's leading supplier of bamboo poles, fencing and plyboards. From gardeners to interior designers and architects, the company supplies a range of industries.
Why is UK Bamboo Supplies Ltd making its debut at Glee in 2022?
"Our bamboo poles, fencing, and planters are very popular and the demand for bamboo is increasing as people become more environmentally conscious. It is our dream to supply UK garden centres."
UK Garden Buildings Ltd - manufacture, deliver and install garden buildings, including insulated garden rooms, sheds, summerhouses and playhouses. The company sells its buildings through a range of independent garden centres and building suppliers, as well as operating two show sites of in Burton on Trent and Chester.
Why is UK Garden Buildings Ltd making its debut at Glee in 2022?
"We have been working on improving our product range by offering different types of garden rooms – timber, cedar and composite – and want to showcase this to Glee's engaged visitor audience."
OUTDOOR ENTERTAINING
Firedragon - Green & Clean, Eco-Friendly Fire Lighters - FireDragon Fuel is made from rotten vegetable matter rather than being wood or petrol based, resulting in products that do not produce any harmful smoke or fumes when burning, so it doesn't taint your food, BBQ or Fire Pit. It also means you are releasing harming chemicals into the atmosphere and contributing to global warming. All FireDragon products can be used with multi-fuel cooking stoves, indoor ethanol fireplaces and is excellent for kick starting your barbecues, fire pits or bonfires.
Why is Firedragon making its debut at Glee in 2022?
"Because we want to spread the eco-friendly message to as many people as we can, and Glee is the perfect place to do that!"
Firmans Direct Ltd - offers over 40 years' experience in the design, creation, and delivery of outdoor furniture to the commercial sector, including the ever-popular maintenance free Miami Collection.
Why is Firmans Direct Ltd making its debut at Glee in 2022?
"Firmans is excited to exhibit at Glee 2022, being held in June for the first time. Glee's prestige reaches a diverse range of businesses, which we believe will help Firmans attain greater brand awareness."
Smartwares - offers camping equipment and garden lighting, from gas stoves and cool boxes, to solar and rechargeable lights. The company aims to make the outdoor fun and affordable.
Why is Smartwares making its debut at Glee in 2022?
"We want to engage with the correct retailers in the correct markets, and Glee will offer us the best opportunity to showcase our array of outdoor products."
Thermapen - is the UK's number one selling food and BBQ thermometer. Used by hundreds of thousands of discerning cooks worldwide, it offers a combination of speed, accuracy and convenience.
Why is Thermapen making its debut at Glee in 2022?
"Thermapen will be joining the most exciting brands and innovative products at Glee and look forward to connecting with visitors to explore new opportunities and grow new industry relationships."
HOME GIFT & CLOTHING
ART WOW® - is a gifts and homeware wholesaler that supports independent artists by selling their beautiful designs on a variety of homeware, gifts, and art. The team partner with talented artists and print their designs on a range of products. Each product sold pays a commission to the artist.
Why is ART WOW® making its debut at Glee in 2022?
"We want to continue to promote and support our independent artists and designers by giving them the opportunity to showcase their artwork to garden retailers."
ELSATEX - the home of quality and affordable textiles - offers household textiles including kitchen, bathroom, bedding, blankets, baby, dust sheets and Christmas.
Why is ELSATEX making its debut at Glee in 2022?
"We feel that home textiles within the garden centre sector have boomed over the Covid years, and it seemed like an ideal time to expand into a new market."
Henry & Co Home Fragrance - produces luxury wax melts, scented candles, reed diffusers and aroma oils, all put together and poured by hand in its Yorkshire workshop.
Why is Henry & Co Home Fragrance making its debut at Glee in 2022?
"With the success Henry & Co Home Fragrance is having at garden centres we couldn't miss taking part in Glee and introducing Henry & Co to more potential suppliers."
PAW
PARK LiFE Pet Limited - make great tasting, junk-free canine treats, with more benefits than you can shake a stick at! Including Fris-Bix, "Frisbee" shaped biscuits, for throwing, catching, and playful snacking.
Why is PARK LiFE Pet Limited making its debut at Glee in 2022?
"PARK LiFE has a product offering and bold branding that is unlike anything else on the market, so it's important for us to get the physical product in front of potential customers. Glee comes highly recommended as the best place in the UK for any innovative pet start-up who wants to drive their availability in the garden centre sector."
RETAIL EXPERIENCES & SERVICES
Caliq Software Ltd - provides software solutions for mobile sales, CRM and sales analytics equipping sales teams and management with the tools to monitor performance gaps and trends, enhance productivity, optimise opportunities, drive profits, and maximise sales.
Why is Caliq Software Ltd making its debut at Glee in 2022?
"With two well-known brands exhibiting at Glee that already use our software applications, we have decided to formally introduce our solutions to this sector in 2022."
TagShopUK.com - is the UK's leading web supplier of retail tagging consumables and systems, which prides itself on its market leading prices and stock levels.
Why is TagShop.com making its debut at Glee in 2022?
"We are exhibiting at the show for the first time as we believe that our philosophy will resonate with the shows visitors and that we can offer real added value to their operations."
Toucan Mobile Sales and Analytics - provides two sales enablement solutions: a sales order taking app, and an intuitive sales analytics platform. Both solutions are designed to help retailers work more efficiently and increase sales revenue.
Why is Toucan Mobile Sales and Analytics making its debut at Glee in 2022?
"We believe we can add real value to businesses in the garden and outdoor living sector and aim to build some strong relationships at Glee."