29 Jan 2021
The biggest gardening trends of 2021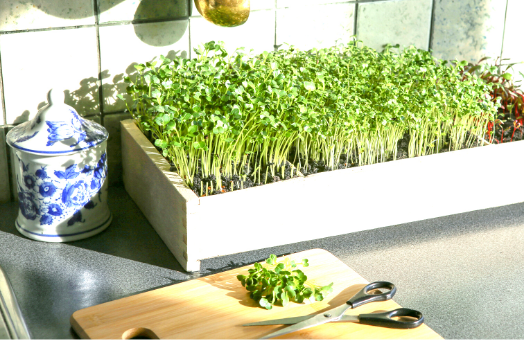 2020 was a year to remember for all the wrong reasons, but one of the silver linings of a tough 12 months was the fact that many of us reconnected with nature. With gyms, pubs and cinemas shut, people were forced into the outdoors and - importantly - into their gardens. 
The well-documented trend towards gardening was reaffirmed recently by figures from Homebase. The retail giant saw searches for garden furniture skyrocketing by 308% - demonstrating that Brits are more eager than ever to spend time outdoors and invest in their plots. 
So, the biggest change we're likely to see in gardening in 2021 is simply that it will be a more mainstream pursuit. Those of us who sometimes felt like hobbyists in the garden before, may suddenly find more and more friends with a mutual interest in growing. 
Broadcaster and garden guru, Alan Titchmarsh, said in a recent interview: "One good thing that did come out of 2020 was the realisation that gardens had an enormous part to play in not only preserving the sanity of the nation, but also in providing food.
"More folk than ever decided to grow their own fruit and veg. I do hope that the legacy of this year - and the solace and stimulation that has been provided by gardens and gardening - will have a lasting effect on our attitude to growing things." 
Related: Gardening to boost your wellbeing
He was also keen to point out too that the nation's return to gardening could be fantastic for the environment. He explained: "Future generations will see gardening for what it is - the sharp end of caring for the environment, albeit on a small scale at local level."
But, beyond a trend towards gardening itself, what can we expect to see more of in 2021? 
One common prediction among experts currently is the rise of micro gardens. As more and more of us live in urban areas, with little or no outside space of our own, gardeners are forced to improvise and grow on balconies, windowsills and walls. Expect to see more innovative small-scale gardens in 2021. 
Wildflower planting could be another key trend for 2021. Awareness is growing around the decline of bees in the UK and planting wildflower mixes is a fantastic way to help these pollinators out. Even for those of us who are more veg-orientated in our growing, it's worth setting aside a small corner to help out pollinators, if you have space. 
Sustainable alternatives to common plastic gardening products could be another central trend of 2021. Grow Your Own contributor and garden sustainability expert, Sally Nex, reminded us: "UK gardeners buy about 500 million new plastic pots every single year and the vast majority end up in landfill/incinerated". With Britons more environmentally aware than ever, we expect to see them cutting down this year and our favourite garden retailers will be keen to offer sustainable alternatives. 
Related: Easy growing guides to get started
---
Read more from Grow Your Own: