04 Sep 2021
Working with influencers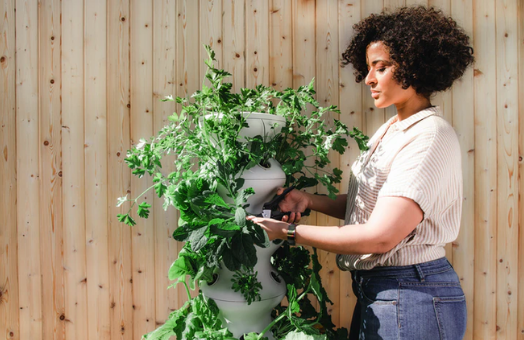 At first sight, influencers and the gardening industry seem totally unrelated. As an industry that can be considered more traditional and less digitally-focused, social media doesn't often get much of a look in when it comes to brands' and retailers' marketing strategies. However, we all know that the past year has changed everything, including the role that digital marketing plays in our industry. And, with a new wave of consumers coming through, including many in that millennial generation, social media and influencer marketing could just give you the edge. We've put together a few top tips to help you find and work with the right influencers for your business.
What is an influencer?
Let's start at the very beginning; who actually are influencers, and what could they bring to your strategy? Put simply, an influencer is someone who has the power to affect consumers' purchasing decisions, either because they have a relationship with their own audience or because they have authority in a distinct field - like home and garden. For the purposes of today's article, we will be talking about influencers in the digital sense; those individuals who have built loyal and engaged followings on social media who have the knowledge and relationships to guide their audience in a specific direction.
Social media influencers largely fall into two categories; the micro influencer and the macro influencers. Micro influencers tend to have smaller but much more engaged followings, usually of between 1,000 and 4,000 people. They are ordinary people who usually have a distinct niche and greater knowledge of a certain area. The macro influencer category tends to be made of those with between 40,000 and 1 million followers. These individuals could be local or small-time celebrities or social media experts who know the tricks of the trade when it comes to building an engaged following. Many brands are leaning their strategies to work with micro influencers who are able to provide more authentic engagement with their audiences, however it is only natural that greater reach comes from those with larger followings. Before choosing your influencer, think about what it is you'd like to achieve; engagement (micro influencers) or brand awareness (macro influencers).
Align your values
If you're considering an influencer campaign or collaboration, the first thing you need to do is consider your own brand values. Authenticity is key to success where influencer marketing is concerned, so you need to make sure your brand values align with the persona that your influencer has created.
When researching influencers, think about your own customer; would this particular blogger/ Instagrammer/ influencer resonate well with your audience? Are they an accurate representation of the demographic who already buys your product?
For example, if you are a sustainable brand, consider partnering with an eco-lifestyle influencer. Or if you provide outdoor furniture, houseplants or garden care products, perhaps a home influencer would best suit your needs.
The idea is to make the content they create for you look as native and authentic as possible, so the person or people you choose to work with should be a natural fit for the kind of product you're selling.
Consider your platforms
For most of us, the natural reaction upon hearing the word "influencer" is to immediately think of Instagram. However, whilst Instagram has seen its fair share of influencers, this isn't the only domain of online ambassadors. Of course, if you're audience is predominantly on Instagram, it's OK to stick to that platform. However, if your target market is elsewhere online, Instagram probably isn't going to provide the ROI you're after. Instead, consider the platforms your current customers are most active on. If you have your own social media channels, it can be useful to see where you're getting the best engagement before you embark on your hunt for the perfect influencer.
If you're seeing great reactions from your website or blog content, consider searching for a blogger to create a written piece with more of a "lookbook" style of content. Similarly, if your audience is on Pinterest, have a look at some popular boards and accounts and reach out to the owners.
Give a clear brief
Once you've secured your influencer you need to make sure everyone's on the same page when it comes to expectations.
Let your influencer(s) know what kind of content you want them to post (an Instagram grid post, a social media story, a blog article etc…), how many separate pieces of content you expect from them, and when you'd like this to go out. You'll also need to be clear with them when it comes to specific messaging. If there's an event or certain product feature you'd like to push, let them know!
Don't be afraid to discuss this with your influencer and be open to their suggestions. Just like you, they'll know their own following best and will be able to guide you as to what will work, what times their followers are most engaged and what will be most authentic when appearing on their feed.
Sign an agreement
Yes, admin can seem like a boring job when you're excited about the creative output of a collaboration, but ensuring you have a solid written agreement is really important to ensure everyone's clear about what's expected and when.
Whilst the value of the trade might be low – it could be a simple gifted product in return for an Instagram post – it's always advisable to have a thorough written agreement signed and approved by both parties before the deliverables are seriously discussed.
Follow up
In order to truly understand the value of any marketing activity, measuring is key. Set a benchmark for the sales and/ or engagement you're expecting to see from this particular activity. If you're not sure, you can always ask the person you're working with to give you some guidance on the engagement they've received for similar content.
As you expand your influencer strategy, you'll start to get a better idea of what you can expect from your marketing activity moving forward to make influencer marketing work even harder for your business.
Keep up with all of the latest garden industry news and retail advice right here on the Glee blog! Don't forget, Glee will be returning to the NEC Birmingham on 14th - 16th September 2021. Register your interest to visit and we'll let you know when it's time to book your ticket.
REGISTER INTEREST APPLY FOR A STAND
---
More from Glee...