22 Apr 2022
Amazing stock options and point of sale from Somerset's Family Business of the Year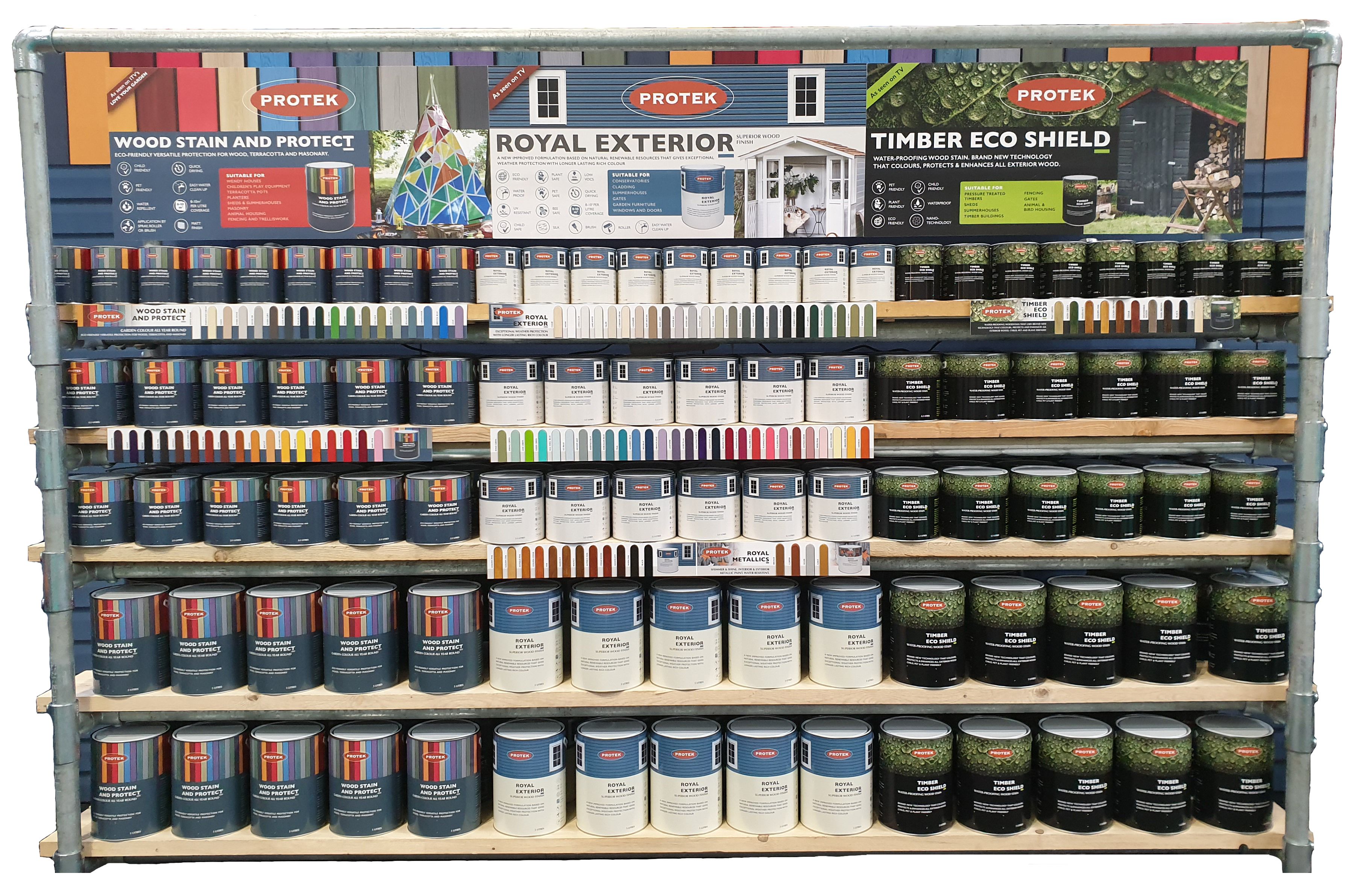 Customer favourites Protek Wood Stain have just won The Family Business of the Year at the 2022 Somerset Business Awards sponsored by Albert Goodman.
Customer favourites Protek Wood Stain have just won The Family Business of the Year at the 2022 Somerset Business Awards sponsored by Albert Goodman. The glittering black tie event was held at the Winter Gardens Pavilion in Weston-Super-Mare, where nearly 400 businesspeople from across Somerset attended the gala evening. Organised by Somerset Chamber of Commerce, the award recognises sound family businesses across all sizes and sectors who have a clear vision for the long-term future of their business.
Protek have a clear vision with a longstanding reputation on delivering excellence through their products and service. The comprehensive Wood Care retail range offers products for all tastes and budgets, so is suitable for all sizes of retailers, from the smallest to the largest and anyone in between. There is sure to be a product in their range that would complement your existing product lines, and so potentially increase the value and profit of each sale made.
Protek offer their retailers a full support package when they stock their products, attractive point of sale, brochures, digital lifestyle imagery and full technical backup. Something that is proving hugely popular with current stockists and improves instore sales, is the product training seminars run by Darren Stanley, Protek's National Sales Manager. The great advantage of this is that Protek will come to you and tailor the training to your individual store needs. They can also advise on what products and colours would best suit your business to increase revenue by bringing in those extra sales. Darren says "We have a wonderful choice of retail products which will really stand out and increase your treatment sales. We also have a complete range of point of sale and modern looking stands that will catch the eye in any sales area."
Fun competitions are regularly run that are open to all Protek retail customers. Last year one lucky family won a week's holiday in a beautiful Somerset barn conversion by entering the competition "Your Garden, Your Style". This celebrated homeowners' garden makeovers large and small by showcasing the best use of Protek's paints and stains. You can see daily inspiration on @protekwoodstain Instagram stories where the garden and DIY community share their painting progress. If you catch an episode of ITV's Love your Garden with Alan Titchmarsh, you will be able to see even more spectacular garden makeovers, using Protek, of course. Protek have also collaborated with several influencers to produce bespoke colours such as Miami Vibes and Nude Taupe, ensuring they are always on-trend. This has all helped to make Protek the known brand for outdoor paint projects.
The Protek Woodcare range is an attractive and effective solution to looking after all types of outdoor timber. Each product is expertly made to minimise any risk to human safety and its effect on the environment, so all the wood stains are child, animal, and plant friendly. The packaging for each range has been redesigned and reflects the importance of wood to Protek. Using wood images to distinguish between the designs, the individual products now have a fresh new identity that is clean and clear. All packaging used is 100% recyclable and the water-based paints are minimal in VOCs.
Everything is manufactured in Somerset, so there are no production delays or stock shortages. Protek have been busy manufacturing over the slower winter period to ensure their customers will continue to be supplied in increasingly uncertain times.
For the 2022 season Protek are launching eight new colours, available in the versatile Royal Exterior range, these colours are right on trend and further complement the existing collection. Using the latest technology these colours have high levels of strong pigments that give great colour depth, and are VOC free, APE free and Formaldehyde-free.
Contact Darren on 07715 232316 to get more information on Protek's industrial and/or retail ranges.