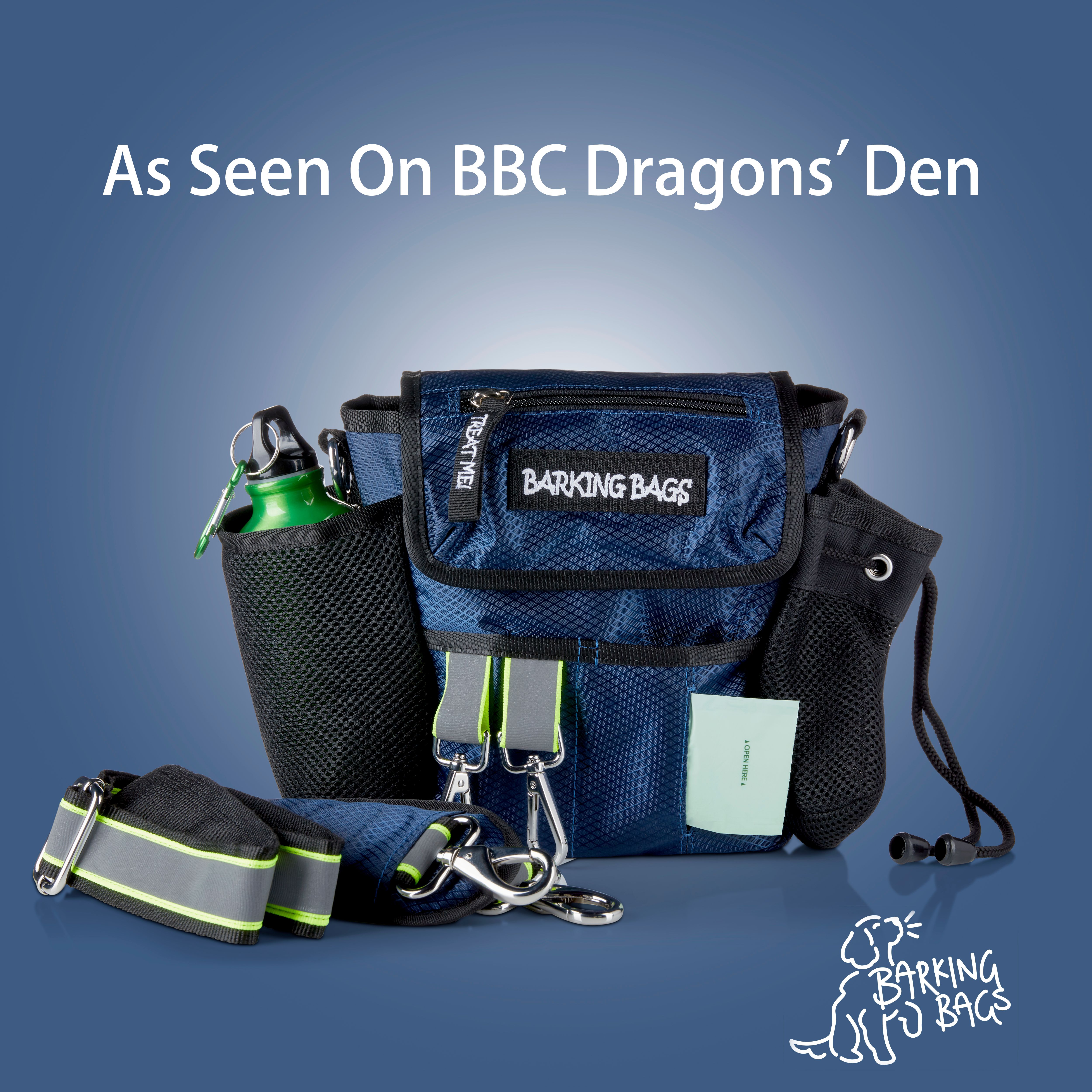 Barking Bags are set to attract buyers with their exciting range of bags which are specially designed for dog walkers but can also be adapted for a number of other uses such as carrying grooming equipment, garden tools for pottering around the garden and even carrying your pack lunch and other essentials whilst out on country walks or horse-riding.
Barking Bags was awarded the Business Start-Up of the Year at the prestigious Pet Industry Federation awards in 2021 and recently appeared on the popular BBC One TV show, Dragon's Den securing an offer of investment from Dragon, Sara Davies. Their appearance on Dragon's Den led to a six month sell-out of stock in one night and a massive demand since for their bags from dog owners. They are now looking to expand the business by increasing their manufacturing capability and introducing new fabrics and designs to their range.
Barking Bags is the brainchild of Debbie Greaves and her partner Rob Angell, who were inspired by the need to find a bag that would carry all the paraphernalia that they needed when they were training and out on a walk with their dog, Maisie.
Barking Bags are fast becoming an essential companion for dog walkers. Their fashionable and multifunctional unisex design allows the wearer the flexibility to use them cross body or as a bum bag, helping dog walkers to carry everything they need without compromising on style. They are weatherproof and suitable for any climate or environment as Debbie explains,.
"We have a range of high quality, water resistant, unisex fabrics and also high end luxury leather bags to choose from, but in response to customer demand, we also produce a vegan friendly range as well."
Inspired by young British designers, Barking Bags make walking the dog easier, safer and more convenient. Their ingenious designs have mesh pockets for water bottles and soggy toys, a poo bag dispenser, a safe place for keys and mobile and much more. Some models have reflective strips for added safety when walking in the dark and Barking Bags sell police approved panic alarms that can be clipped onto the bags. Barking Bags come with breathable side pockets with the option of a draw string side pocket – large enough to carry the dog waste once it is bagged up which means no more walking around carrying the unmentionable stuff. As well as being practical, the bags make great gift items and would be great sellers in any garden centre.
Barking Bags operates with strong ethical credentials as the bags are currently made by artisans in India. The artisans are mainly skilled leather workers who are paid a living wage and have good holiday entitlements and training and work in a monitored and airy environment. The bags are packaged in the UK at MK SNAP - a local charity working with adults with learning difficulties. Barking Bags also work in partnership with other brands with environmental and ethical credentials and hope to become involved with more charities down the line.
Debbie is rapidly becoming an entrepreneurial expert and guest speaker and is regularly asked to do talks for organisations such as the Woman's Institute and local business groups.
Barking Bag's stand at GLEE is number 7C33