21 Jun 2022
New Greenworks 24V Cordless Stick Vacuum is a Clean Winner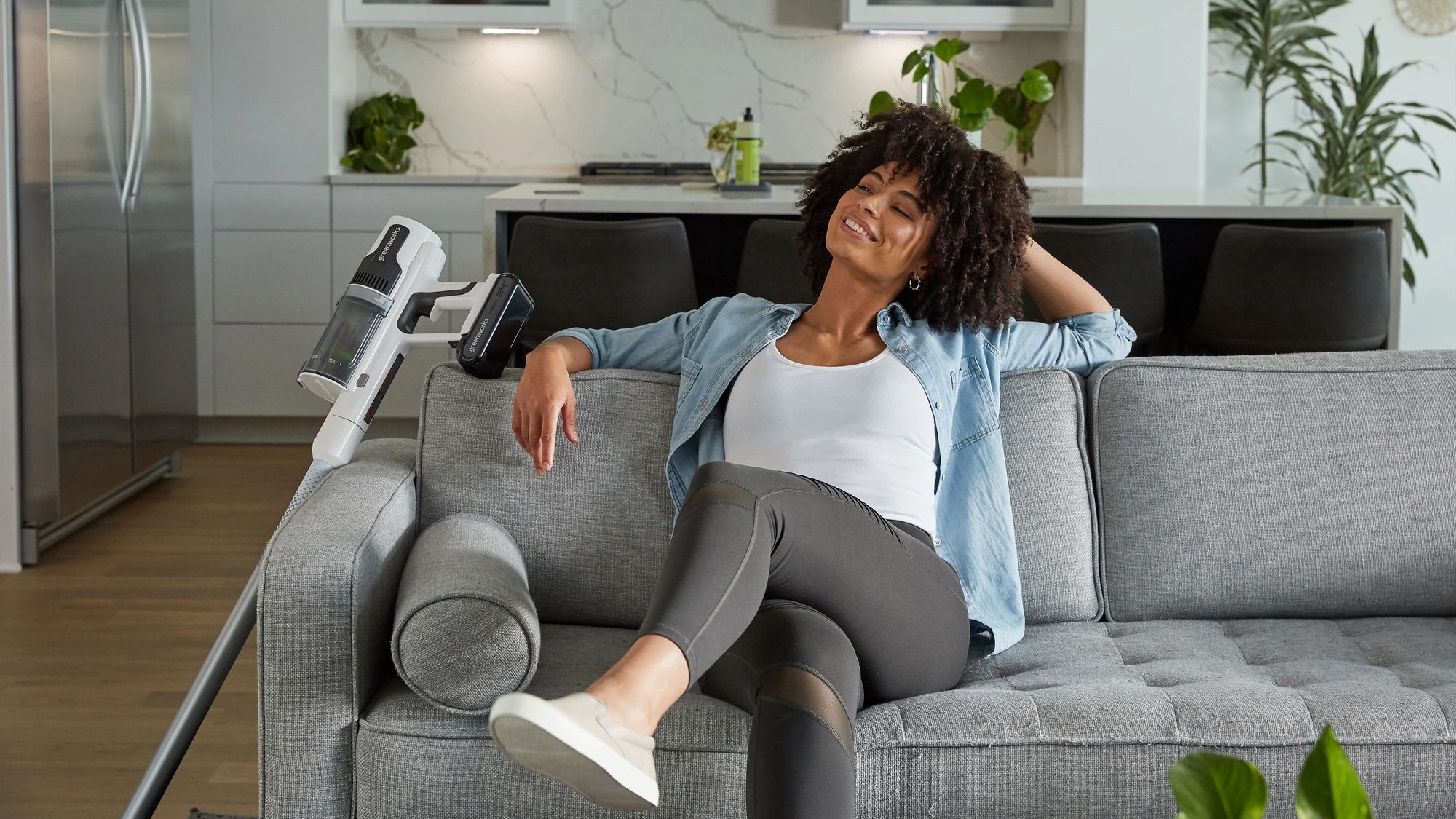 Now available is the new 24V Cordless Stick Vacuum from Greenworks, one of the UK's leading brands of cordless gardening and power tools.
Cordless in design, the new Greenworks Stick Vacuum offers complete freedom with no power cables to get in the way or hold you up. Boasting an advanced, high-powered 24V Lithium-ion battery that can tackle anything from pet hair to DIY debris, the new vacuum model offers complete ease of use.
Featuring a clear digital display and an impressive run time of 45 minutes (with eco mode), the new Greenworks Stick can be charged and ready for use in as little as 30 minutes. For added convenience, other 24V batteries from the Greenworks gardening and general tools series can be interchanged to extend run time.
Designed to remove unwanted dust and dirt quickly and easily, the new Greenworks Cordless Stick Vacuum features three variable speed levels to choose from. Activated by one simple touch, there's no need to change heads between hard and soft surfaces, simply adjust the setting to achieve the best cleaning performance for the job at hand. Plus, for those hard-to-see areas such as underneath sofas and stairways, integrated LED lights will help shed some light on the job at hand.
Durable and effective, the Greenworks Stick Vacuum is constructed with a HEPA filter system that can capture up to 99.95% of microscopic particles. This means not only is visible dirt removed but also invisible germs, viruses, and bacteria that can't be seen by the human eye.
Lightweight and ergonomically designed for comfort, the Greenworks Stick comes equipped with a range of versatile attachments which can be used to tackle upholstered and delicate items, such as curtains and car interiors with ease.
Available in the standard 24V Stick Vacuum with four Brush Accessories with 1 x 4Ah Battery and Standard Charger, or the Premium 24V Stick Vacuum with five Brush Accessories with 1 x 4Ah Battery and Charging Station, the new Greenworks Stick Vacuum can be conveniently stored on an optional stand whilst on a charge, making it a welcome and versatile addition to any home.
The Greenworks 24V Cordless Stick Vacuum can be ordered directly from www.greenworkstools.co.uk/product-category/vacuums/, with free delivery within the UK and a 30 day return promise.
ENDS
About Handy
Since the company's creation in 1938, Handy has grown to become one of the UK's largest independent garden machinery wholesaler distributors, supplying over 200 specialist dealers, large national retailers, garden centres and mail order companies, from its purpose built 57,000 ft² Swindon site which is home to more than 70 full time staff. More recently, Handy has launches its own branded products under the Webb, Handy and Q Garden brands, all of which are designed and manufactured by the company.
Handy is the UK's sole distributor of Greenworks Tools.
To this day, Handy remains a family-owned British business. Its experience, expert knowledge and dedicated customer service – which includes carrying over 80,000 spare part lines – has enabled it to build a team driven by high performance and family values.
webbgardenpower.co.uk
thehandy.co.uk
qgardenrange.co.uk
www.greenworkstools.co.uk
Media contact
Julie Richards, Publicity Overload, +44 (0) 20 8952 6400, julie@publicityoverload.co.uk