30 Aug 2022
Secret Garden Distillery launches new festive look for Christmas Gin and gifting range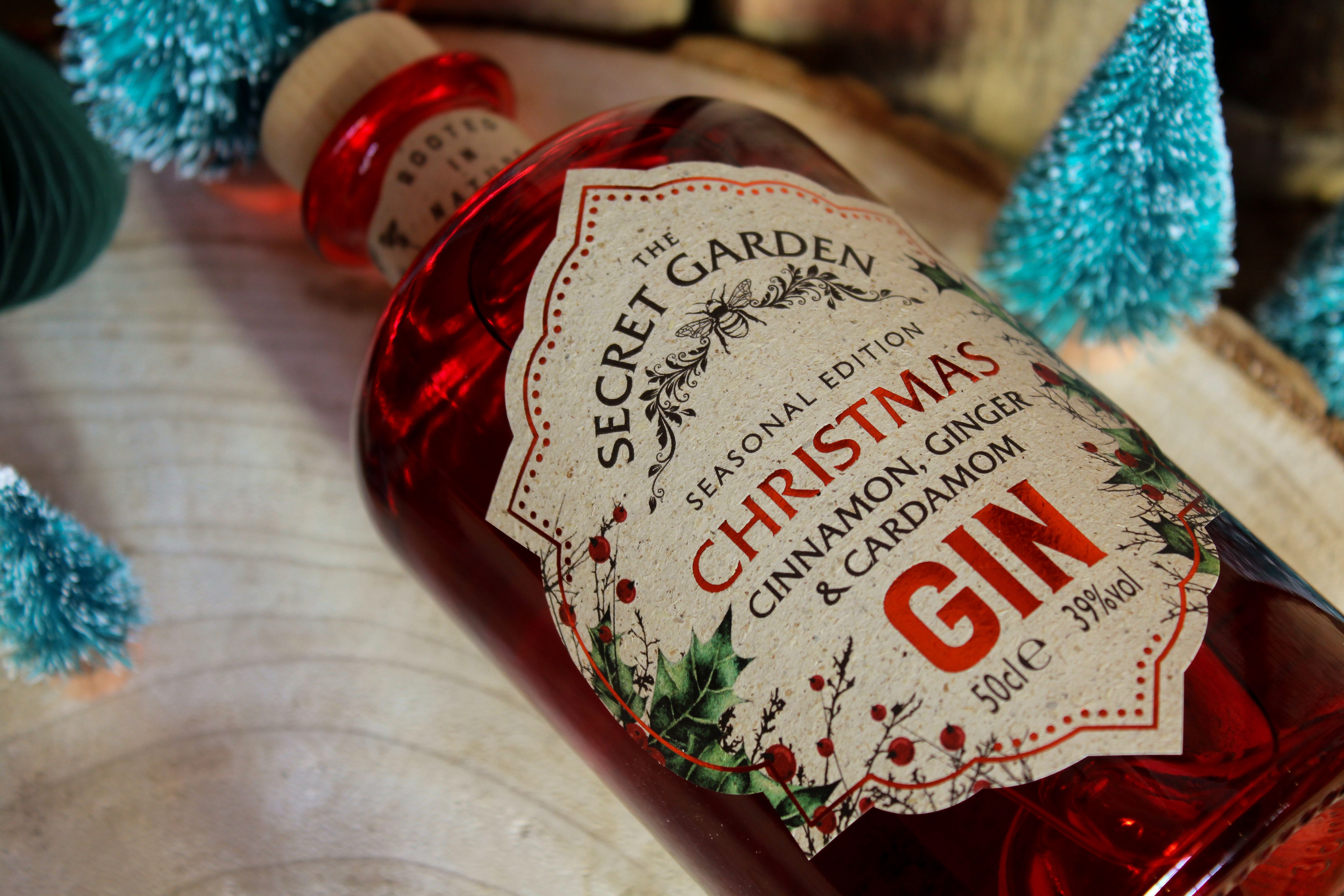 The Secret Garden Distillery celebrates the festive season with new look Christmas Gin and gifting range
The Secret Garden Distillery celebrates the festive season with new look Christmas Gin and gifting range
The Secret Garden Distillery are unveiling a new look for their Seasonal Edition Christmas Gin and gifting range. The new Secret Garden Christmas Gin features a standout red tinted bottle and distinctive label made from 30% grass. This is the first product to feature from their Seasonal Edition range and is available now in a 50cl (RRP £36.95), 20cl (£16.95) and seasonal 2x20cl gift pack (£29.95) for a limited time period only.
The Secret Garden's Rooted in Nature ethos has inspired the creation of the new Seasonal Edition range. Each variant will capture the essence of the season, exploring flavours, scents and seasonal plants. The first of the seasonal releases celebrates the festive season, The Secret Garden Christmas Gin is rich and spicy with notes of Christmas cake which guarantee to make you feel festive. The gin is made with freshly distilled Cinnamon, Ginger and Cardamom making it the perfect gift for Christmas.
The Distillery suggests a simple yet delicious serving of Christmas Gin poured over ice, topped with light tonic and an orange garnish. Alternatively, for a true winter warmer, why not try the Christmas Gin Punch: just add Christmas Gin, cloudy apple juice, orange juice, lemon juice, honey and an allspice teabag into a pan and place on a low heat. Fine strain into a Secret Garden enamel mug and garnish with orange peel and star anise.
Hamish Martin, The Secret Garden Distillery Founder and Head Gardener said "Our new seasonal range is inspired by nature, just as the seasons change, so do the scents and flavours. Christmas Gin is a delight to make, it fills the senses with all the flavours you associate with Christmas and balances so well with our base botanicals of Juniper, Coriander, Angelica Root and Winter Savory. It really is Christmas in a glass."
A new seasonal 2x20cl gift pack featuring The Secret Garden Christmas Gin and Wild Gin made with Organic spirit is also being launched today. Gifting is one of the main reasons to purchase and a key consumer trend, whether gifting others or to yourself. In fact, treating yourself was the fastest growing motivation for Spirits occasions in the off trade last year* (Source Kantar Alcovision Panel | 12m/e 31/12/2020)
This new seasonal pack features alongside the new gifting range which includes a 2x20cl Floral Gin gift pack containing The Secret Garden Apothecary Rose Gin and Elderflower & Jasmine Gin, a 2x20cl Traditional Gin gift pack containing The Secret Garden Lemon Verbena Gin and Wild Gin made with Organic spirit Gin, and lastly a 3x5cl gift pack containing The Secret Garden Lemon Verbena Gin, Apothecary Rose Gin, Elderflower & Jasmine Gin and a rose petal garnish. The full gift range is available to order now.
Andre de Almeida, The Secret Garden Distillery Managing Director said "I am excited to unveil the new look for our Christmas Gin and our full gifting range from The Secret Garden Distillery. We know that consumers like to experiment across the gin category and share new products with friends. Our gifting range has been tailored to offer the perfect gift solution for any occasion. We look forward to working with existing partners and new customers to bring the new Christmas Gin to consumers in the UK and abroad during the festive season."
In line with the recent rebranding, the new Christmas Gin and gift pack products feature labels made from 30% grass. This means that during the paper production process, energy consumption is reduced by 97%, water consumption by 99% and 20% less CO2 is produced. The security seal is also made from polylactic acid and completely biodegradable. All shipping materials consist of paper which is FSCS approved and recyclable. This demonstrates The Secret Garden Distillery ongoing commitment to reducing their carbon footprint.
The Secret Garden Distillery is home to a 7.5-acre, all-natural Garden with over 600 naturally and sustainably grown plants. They use no chemicals whatsoever and heal plants with plants. Founded in 2017, Herbologist Hamish Martin successfully created an acclaimed range of 100% natural flavour gins and natural products, using the botanics he has grown on his own sacred space. Hamish's dream was to create a green space that allowed people to wander freely in the gardens and take in all the essence that the gardens have to offer. But what sets Secret Garden Distillery apart is their philosophy in celebrating all that Mother Nature has to offer. The Seasonal range is the latest development in showcasing the diverse range of natural flavours available, no added sugars, artificial colourings, flavourings or additives….just nature distilled.
The Secret Garden Gins are available online through secretgardendistillery.co.uk and via select UK retailers.