15 Sep 2020
Spring Trends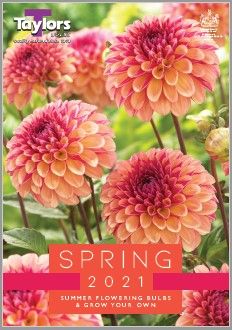 Despite the exceptionally busy peak-weeks with spring flowering bulb retailing, it is the pre-season order for Spring 2021 of Summer flowering bulbs, seed potatoes and other Grow-Your-Own products that the Taylors sales team are now working on. The traditional delivery window for this range has crept forward from the end of January to now seeing deliveries starting in December.
John Taylor, Commercial Director says; "It doesn't seem that long ago that we would not deliver any dahlia, gladioli, etc. until the end of January and even early February, but as the retail landscape as well as the seasons have changed, we have seen those delivery times move forward. Now, we are delivering more than ever in December, and although this is a little early for a full display of summer flowering bulbs, the grow-your-own offer of seed potatoes, onion sets, shallots, etc. is able to be pretty much complete by this time and starts selling straightaway."
Richard Carrick, Sales Manager, added; "The pre-season orders for Spring 2021 are looking strong with significant increases in seed potatoes, onion sets and vegetables, and there is a bullish attitude toward the summer flowering bulbs as well. We are all hoping that any widespread lockdowns are unlikely but we now have an understanding about the knock-on effects for the potential gardening market and so there is confidence, even if it often comes with caveats attached!"
Taylors offer an extensive range of 70 seed potatoes in 2kg Carripacks as well as their market-leading "Taster Packs" and 25kg sacks for loose sale. The Taylors Bulbs summer flowering Bulb of the Year is Dahlia Kelvin Floodlight and the Spring 2021 catalogue has over 40 new products including Dwarf Pot Cannas.