06 Jan 2022
Get summer ready with EASYLINE roofing sheets for garden sheds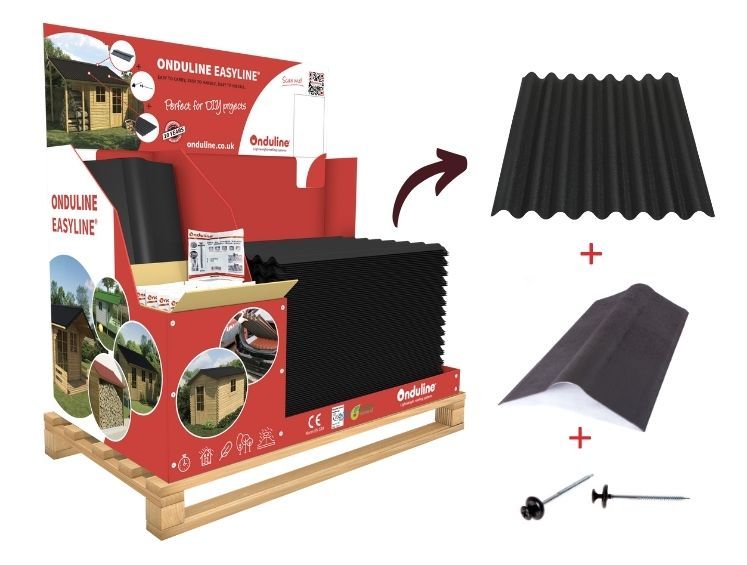 Feedback on the PoS pallet has been really positive, and comments have been that it's the first time a manufacturer has actually made something retail friendly
As summer brings with it warmer weather and lighter nights, more and more people tend to spend the evenings outdoors and this is when thoughts turn to cultivating a new look for that tired old garden shed or outbuilding.
After a spruce up with paint or preservative, top of the list for home improvers is a new roof.
The award-winning EASYLINE lightweight roofing sheet from Onduline Building Products is the DIY-solution that is ideal for sheds and other types of garden building.
Available on its own attractive point-of-sale display, it is easy to stock in store and presents an on-trend opportunity for nurseries and garden centre retailers to grow their product offering.
Eco-friendly EASYLINE was judged the winner of the Garden Landscaping category in the 40th anniversary GIMA awards.
Described by the panel of industry experts as 'a versatile product, ideal for small projects', the corrugated roofing sheets (100cm by 76cm), are easy to handle and transport, and will fit into the boot of an average family-sized car.
Great for the DIY enthusiast, the sheets can be cut with a standard cutter or roofer knife.
Waterproof and safe
Nisha Kumar, Onduline's head of marketing, said: "All over the UK, homeowners are taking advantage of the lighter nights and warmer evenings by spending time in the garden. But while the flowers will look lovely, the garden may be let down by an ageing shed.
"It's quick and simple to put on a couple of coats of stain, and now with EASYLINE it's just as easy to replace that roof, and it will be watertight and won't need looking at again for years."
As well as sheds, the EASYLINE roofing system is also great for providing weatherproof protection to garden studios and offices, pet shelters, wood shelters, annexes, orangeries and car ports.
Each EASYLINE sheet is made of 50% to 60% recycled fibres and contains no hazardous substances, making it completely safe for people and family pets.
Nisha added: "EASYLINE compares very favourably to traditional shed felt thanks to its 10-year waterproofing guarantee and ease of installation."
Attractive bright colours
EASYLINE is available in several bright colours and, along with the roofing sheets, the attractive PoS display showcases all the accessories and fittings that are needed. The display also includes a QR code that guides DIY customers to simple-to-follow installation instructions.
Nisha concluded: "Since we introduced EASYLINE into the garden retailing sector, the interest from independent nurseries and others has grown and grown. They have recognised it as a prime new opportunity to attract value-conscious customers who are keen to upgrade their existing garden buildings, and to do it sustainably.
"Feedback on the PoS pallet has been really positive, and comments have been that it's the first time a manufacturer has actually made something retail friendly."
For more information on Onduline's lightweight, eco-friendly and durable roofing solutions please visit www.onduline.co.uk.