Super Ninja - Fly Catcher - XL Rol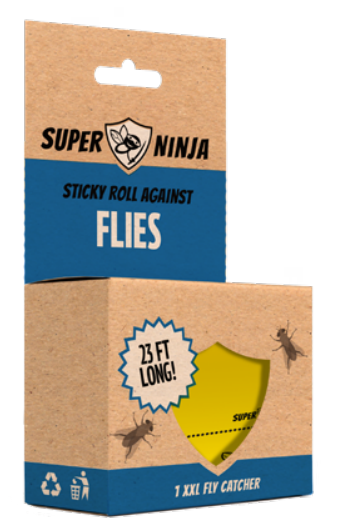 WHAT MAKES THIS PRODUCT UNIQUE?
• XXL is an incredible 23 feet long.
• No more visible dead flies: easy to clean by tearing off any stretch containing caught flies.
• Flies are naturally attracted to the vibrant yellow paper.
• No nasty toxins.
• Packaging is made of 100% recycled, fully recyclable material.
WHY LIST THIS PRODUCT?
• Offer consumers more convenience than traditional fly paper.
• Re-energize a low-value segment of the market by increasing spend per purchase.
Season: Summer through to early Autumn.
Shelf life: 2 years.
Repeat cycle: Replace when full length is used.
Categories
Pest Control
Garden Care
Plants
Home, Gift & Clothing