28 Feb 2022
10 Reasons not to miss Glee 2022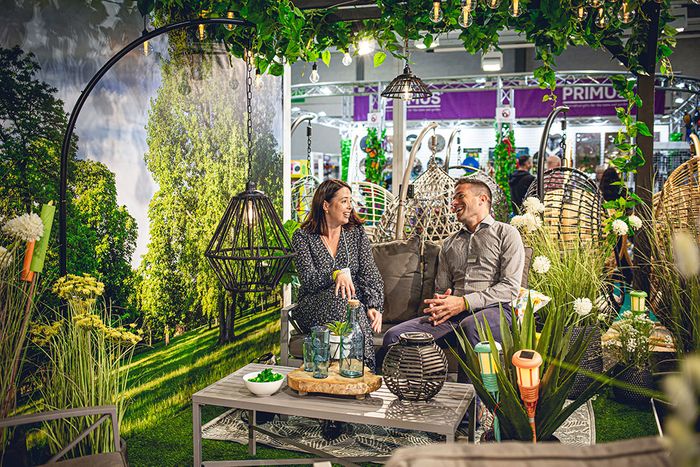 Home to the biggest brands in gardening, plus a host of exciting new innovators, Glee 2022 is set to be THE place to boost your retail offering for the year ahead. Last year the show welcomed highly transactional and quality buyers from a host of multiple and independent garden centres, high street and department stores, builder's merchants, and online retailers, and this year is set to be no different as the popularity of gardening continues to soar. With so much to see, there has never been a better reason to ensure that Glee 2022 is firmly in your diary but, if you still need persuading to get out of the office, here's ten reasons not to miss what is set to be the biggest Glee for many years!
No substitute for face-to-face - After several years of communicating and showcasing new products virtually, the reopening of events in 2021 proved that there is no substitute for face-to-face interaction. Whilst normality has largely resumed, exhibitions are continuing to ride this wave of popularity, as reflected in the high levels of bookings that are taking place. To-date Glee 2022 is over 80% booked and, when full, will represent the largest gathering of new and existing garden and outdoor living brands under one roof anywhere in the UK. Can you afford to miss out?
A new dateline to suit your buying needs - In 2021 the Glee team undertook an in-depth consultation with key stakeholders, representing suppliers, retailers and trade associations. The outcome of these discussions was that moving Glee to a different time of year would better reflect and support the ongoing development of the garden retail supply chain and associated buying cycles. As a result, Glee will now take place in late June 28th – 30th, helping retailers to place orders at a time to suit extended lead times.
Eight product sectors to choose from - Glee 2022 will be home to hundreds of exciting brands, together covering eight core product sectors – Garden Care, Landscaping & Garden Decoration, Outdoor Entertaining, Plants, Home, Gift & Clothing, PAW (Pet & Animal Wellbeing), Retail Services & Experiences, and Food & Catering. With so many brands under one roof, retailers can expect to see the biggest profile of new products and innovation as thousands of new range additions are earmarked to exclusively launch ahead of the 2023 season at this year's Glee event.
The importance of newness - Differentiating yourself from the competition is an important part of retailing. Stocking new and unique brands is an easy way to ensure you are offering something different, which is why a trip to Glee will always pay dividends. From the dedicated Innovators Zone - home to inventors and entrepreneurs offering exciting grass-roots product development and one-off design ideas - to the 100 plus new brands that will be making their Glee debut in 2022, every step around the show will be sure to uncover something exciting.
The return of big brands - Glee 2022 will also be welcoming back several brands that have not exhibited for a number of years. These brands will include UK Garden Buildings, Smart Garden, G Plants, Scheurich, Kadai, Panacea, STV and long-term Spring Fair exhibitor, PMS International.
Network, network, network - Whether it's a working lunch, joining a GIMA Buyer Connect speed networking session, or meeting with new and existing suppliers, a few hours at Glee will deliver much more value than hours spent on the road. No other opportunity within the year delivers so much value under one roof.
Get connected - Let the Glee Connect app help guide you to new products and personalised exhibitor recommendations. This pocket-sized interactive guide to the show uses intelligent AI- functionality to help visiting retailers to better measure – and even increase - their 'Return on Time' spent at the show.
Education & celebration - As always, Glee will offer visitors a free three-day seminar programme which will provide an enriched programme of expert business and garden retail advice to help grow your business through challenging trading conditions. This content will be derived from extensive industry research and is set to tackle key talking points, struggles and successes. In addition, the Glee New Product Awards and Buyers Power List will celebrate the best our industry has to offer.
Get ahead of the curve - With hundreds of brands together launching thousands of new product launches, PLUS an unrivalled seminar programme, and leading trade association support, Glee is the place to come to see exactly what trends are shaping consumer demand. A day spent at Glee will provide detailed insight into the trends, colours and issues that are shaping garden retail and that will keep the tills ringing the year ahead.
Access trade association support - As the central networking hub for the garden retail industry, Glee will once again play host to vital trade associations including GIMA, HTA, Gardenex, GCA, PetQuip and Pet Industry Federation, all of which will be welcoming existing and potential new members for the duration of the show, offering invaluable advice and expertise to those who need it.
Glee 2022 will take place on June 28th – 30th. Exhibiting floorspace is filling up fast with over 80% now sold. Brands and manufacturers interested in exhibiting are being urged to do so now to avoid missing out.