06 Dec 2018
Embracing the outdoor entertaining trend
As sales of outdoor entertainment and living products continue to witness an upward trend, a visit to the forthcoming Glee exhibition (10th -13th September, NEC Birmingham) will be the perfect place to discover new suppliers and the latest trend info to help maximise further growth in this sector throughout 2019 and beyond.
 
HTA (Horticultural Trades Association) research has found that the overall outdoor living market is worth an estimated £1 billion.*  They have broken this down even further with yearly figures showing that outdoor furniture sales make up £698 million, with BBQs sales worth £297 million in 2016. This makes for a lucrative market with outdoor furniture, BBQs and lifestyle products such as hot tubs, swimming pools, lighting, conservatories now making up nearly a quarter (23%) of the garden retail sales market. **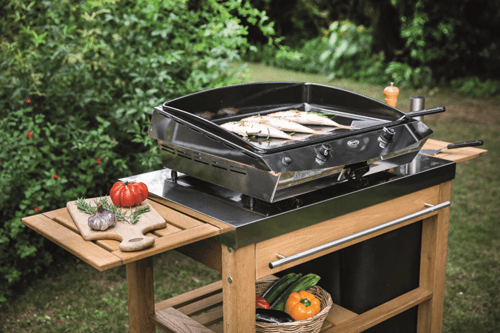 The garden industry is currently worth an estimated £5.7 billion but Mintel expect this to increase by 22% to reach £7 billion in 2021***, partly due to the growing trend to use the garden for leisure and entertaining and outdoor living.  Having space to entertain friends and family is deemed the second most appealing garden feature for consumers in the UK, regardless of what size plot they've got, with both balconies and vast lawns proving sought-after spots for hosting and socialising. Rather than just an empty yard or lawn, the garden is now viewed as an outdoor room or an extension to an existing living space.  With more choice available from suppliers and budget-friendly options provided by retailers, outdoor entertaining is now becoming more affordable and therefore more accessible to today's consumers.
This was highlighted at last year's Retail Lab @ Glee which was designed to inspire garden centres and their suppliers on how to adapt to these needs.  Family was a key focus and showcased how gardens are no longer just places to work in and look at. They now form part of everyday living. Patios, play areas, outdoor seating, entertaining in the garden all form part of our everyday lives. Re-wilding has been highlighted as a key trend at Glee, with 85% of people living in an urban environment, relaxing and connecting with nature is now important in our everyday lives.
According to research from the HTA, 'Garden Proud' consumers (affluent home owners in their late 40s and 50s) now spend over twice the amount on their gardens as 'Backyard Barbecues' (young couples in small, often rented accommodation).  However, there has been a growth in the purchase of garden leisure products by millennials, younger couples and families which reflects the use and enjoyment of the garden as an entertaining space rather than a working project.  Mintel identified that, while the older generations enjoy gardening as a pastime, younger people (aged between 25-34) use their outdoor spaces for eating and entertaining. You only have to look on social media to see there is currently more than 14 billion outdoor living looks on Pinterest alone.
Sales of festival-style furniture and bohemian products have soared by over 100% according to data from Alfresia.   Sales of firepits increased by 74% over the past 12 months, 31% of respondents had bought garden furniture including sofa seating, swinging chairs and sun beds, whilst 27% of respondents had decorated their outdoor space with lanterns.  For those that have a balcony or little outside space, small bistro sets and foldable or stackable furniture are on the rise.
Bold colours are also now moving from inside the home and into the garden.  Homeowners now have more options than ever before to make their outdoor space fit their personalities.  Gone are the white plastic chairs, in are neutral frame colours with cushions and blankets in bright accent shades such as reds, blues and greens and patterns such as stripes, floral, polka dots and geometrics as consumers create fun and atmosphere within their gardens.
There has also been a move away from weave and Rattan products, instead there has been a shift towards contemporary printed aluminium and wood. Linked to this desire to entertain is the need for lighting to enable people to use their gardens for much longer in spring and autumn. LED and solar lighting is now becoming very popular because it is both energy and cost efficient and can be used all year round for decorative effect.
Following on from furniture and lighting comes garden coverings which have seen an increase in popularity due to the temperamental British climate. Pergolas, arbours, canopies, awnings and marquees are proving to be popular buys to compliment decking and patios in to provide comfort, shade and shelter and add the extra wow factor when entertaining, or simply an ambient feature when relaxing.   
Outdoor kitchens and al-fresco dining is also on the up as it's perfect for those that lack space in their kitchens or dining rooms, as we can move entertaining friends and family outside.  Ceramic BBQs, pizza ovens, even whole outdoor kitchens are becoming popular as consumers embrace the summer months by entertaining, eating and enjoying the garden, which also gives them inspiration and confidence to enjoy and improve their outside space.  A survey by Shoppercentric showed that the biggest trend is for wood-fired pizza ovens, with sales up 50% in 2017.
In order for a garden to be used as an entertaining space, it has to look good too.  Container gardening is on the rise amongst the younger generation and families who want a low maintenance instant look without any hassle. This simple and effective style of gardening can add drama to any outdoor area and add personality to any space.  And as container gardening is temporary, the mood or look of a garden can be changed with the colours of your containers and plants to suit different social gatherings.
Having features such as a patio, shed, outdoor kitchen, barbecue or hot tub, homeowners can add £10,000 to a home's value. The halls at Glee will once again be home to exhibitors showcasing the top of the range BBQs, the latest furniture styles, material and outdoor lifestyle influences.  Key brands such as La Hacienda, Muztag, Weber, Kadai Firebowls, Besp-Oak Furniture, Fallen Fruits, Smart Garden Products, Keter, Zest 4 Leisure, Deco-Pak and Woodlodge be on hand at Glee to talk to retailers and advise how they can make the most of the outdoor entertaining trend.
Matthew Mein, Glee Event Director, said: "With Glee now 85% full, there never has been a better time to visit the show to gain ideas and source new products for next year.  The show will offer buyers a terrific opportunity to see all that's new in the world of outdoor living and give manufacturers the chance to present their furniture, lighting, barbecues and other products that encompass the al-fresco and outdoor entertaining trends.  By visiting Glee in September, buyers can have far more influence over the ranges of outdoor products that will be stocked in garden centres for the following season."