09 Jul 2020
Getting to know Grow Your Own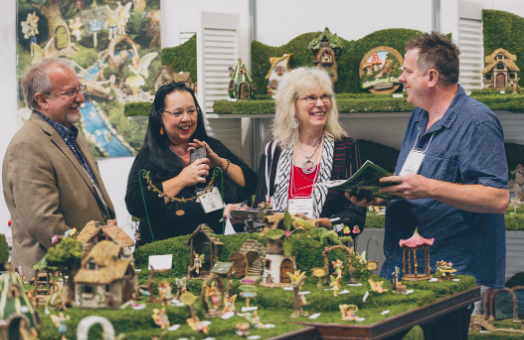 As one of our key partners, we always love catching up with Laura Hillier and her team at Grow Your Own to find out a bit more about them and what they've been up to. In the lead up to Glee Gathering, we sat down with Laura to find out what she's most looking forward to. 
Tell us a bit more about the Grow Your Own story
Grow Your Own is a kitchen garden magazine focusing on growing fruit, veg and herbs – whatever space you have! We cover core crops, more unusual types, as well as looking at community projects, wildlife and biodiversity, gardening for wellbeing, smallholding and much more. We want to show that growing your own is possible for everyone on different scales – whatever experience, time, space and finance you have, you can always grow something, even if it is just a pot of herbs on a kitchen windowsill.
Over the last couple of years, the brand has grown and expanded – we have active social media platforms, a thriving forum, awards – and as of the last 12 months, a podcast and a digital show, too.                                                      
Can you introduce us to your readers? Who are they and what are they looking for?
Our readers are a fairly even split between male and female – slightly more female, with 77% being over 50. These are gardeners who predominantly grow in their own gardens, although a fair portion have allotments, too. They do like to spend money on their gardens, and also enjoy cooking, and are interested in working with nature and more natural ways to garden, so are looking for features that reflect this. As well as practical growing guides, DIY garden makes, and interesting stories from the gardening community.
What have you learned through working at GYO?
I have learned a lot since working on GYO – both professionally in an editing capacity, and about the horticulture industry in general. One of the stand-out things has been the sharing of experiences and skills – there are so many different ways to grow a tomato (for example) and by and large, gardeners are keen to share their experiences and tips. This year has also showed us how resilient gardeners and gardening brands are. A lot of people have turned to their gardens for comfort and stress relief, and I think that perhaps the biggest lesson for everyone has been learning the therapeutic nature of gardening, and how much it can help you get out of your head for a while, and the real benefits of reconnecting with nature, and switching off from technology, news and social media for a while.
Do you have a favourite feature or a story you're most proud of?
I think this year, the things we are most proud have probably not been specific stories or features (although there have been plenty of those we have really enjoyed working on and are really proud of) – but it has probably been the expansions and development of the brand. We launched The Dirt podcast, which has been really successful, and held our first online show, The Grow Show, both of which werenew territory for us, but have taken Grow Your Own to new audiences and offered new mediums and experiences.
What has 2020 taught you and, as a print magazine, how have you adapted?
We have been extremely fortunate that over the main part of this year, lots of people have been taking up gardening, and that our magazine has been able to help them on that journey. As well as this, though, I believe that we have seen the importance of staying connected with our audience – be that via social media platforms, our podcast, or The Grow Show. On a human level, these interactions have been very important, and it is great to know that we have offered some entertainment and comfort to people over the challenging months.
As one of our key partners, what are you most looking forward to about Glee Gathering?
We are really looking forward to seeing what new and innovative things horticulture brands have been working on over the past year. It is always exciting to see new products, hear new ideas and see everyone coming together to celebrate what a wonderful industry we are all lucky enough to work in!
Get more of the latest insights, expert opinions and exclusive product previews at Glee Gathering on 15th and 16th September 2020.