20 Sep 2021
Glee Buyers Power List 2021: the winners!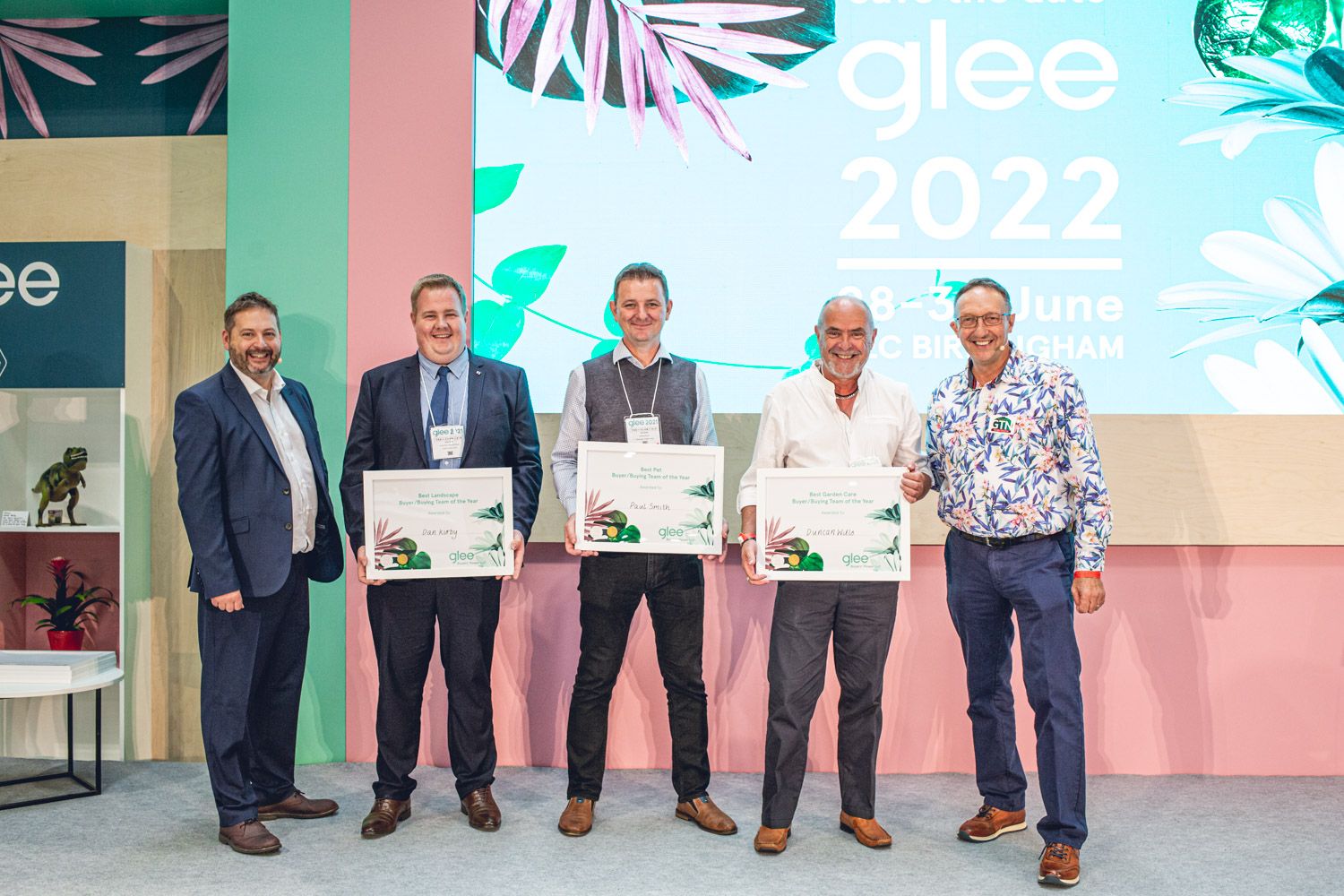 The winners of the prestigious Glee Buyers Power List for 2021 were announced this afternoon (Wednesday September 15th) from The Stage content theatre at the show, which is still running at the NEC, Birmingham until Thursday September 16th.
The Glee Buyers Power List is designed to recognise the individual buyers and buying teams who have gone above and beyond to make a difference within the garden retail industry over the year – two years, in fact, as this is the first in-person edition of Glee to have been held since 2019.
Voting has been open since early summer, with over 1,000 nominations flooding in from all corners of the market from those who were eager to recognise the extraordinary efforts made by retail professionals throughout an unprecedented period for the garden centre trade and country as a whole.
Speaking at the Glee Buyers Power List awards ceremony, which was well attended by retailers and suppliers alike, Glee's Event Director Matthew Mein said: "The Glee Buyers Power List was set up to recognise some of the most essential of our industry employees - garden retail buyers. After the most challenging of times for retail in general we are particularly proud to announce this year's winners, who've done so much to keep trade buoyant and in good shape as we carve out a new normal.  The biggest possible congratulations are due to all the very worthy winners and the many excellent shortlisted nominees."
The full list of winners is as follows:
Landscape Buyer/Buying Team of the Year
Winner: Dan Kirby – British Garden Centres
Shortlist:
John Birch – Baytree Garden Centre
David Danning - Blue Diamond
Paul Smith - Chessington Garden Centre
Scott Provan – Klondyke
Mick Bruniges – Oaktree Garden Centre
Jack Slater – Summerseat Garden Centre
Michelle Thompson – Thompsons Garden Centres
Plant Buyer/Buying Team of the Year
Winner: Marcus Cousin – Aylett Nurseries
Shortlist:
Andy Bunker – Alton Garden Centre
Will Clark – Barton Grange
Tom Cook, Rod Austin & Julian Palphramand - British Garden Centres
Mel Livingstone - Fron Goch
Jessica Logan – RBG Kew
Garden Care Buyer/Buying Team of the Year
Winner: Duncan Wills – Stewarts Garden Centre
Shortlist:
Derek Bunker – Alton Garden Centre
Andy Matthews & Paul Williams – British Garden Centres
Ian Underwood – B&Q
Keith Wilbin – Downtown Garden Centre
Matt Shorter - Longacres
Ross Allen – Milestone Garden Centre
Outdoor Leisure Buyer/Buying Team of the Year
Winner: Darran Oakley – Squire's Garden Centre
Shortlist:
Ian Richardson - Garsons
Keith Laird – Hayes Garden World
Matt Shorter – Longacres
Peter Self – Whitehall Garden Centres
Home & Gift Buyer/Buying Team of the Year
Winner: Emma Davis – British Garden Centres
Shortlist:
Sarah Cooksley – Dobbies
Claire Jenner - Frosts
Geoff Stapleton – Gates Garden Centre
Pet Buyer/Buying Team of the Year
Winner: Paul Smith – Chessington Garden Centres
Shortlist:
Sue Shaw - B&M
Zack Sargent – Bents Garden & Home
Chessington Garden Centre
Dan Reep – Squires Garden Centres
Retail Food & Drinks Buyer/Buying Team of the Year
Joint winners: Claire Bryce – Barton Grange Garden Centre / Longacres Garden Centre
Shortlist:
Melanie Sykes - Bents
Phil Hales – Gates Garden Centre
Christmas Buyer/Buying Team of the Year
Winner: Chris Slack – Frosts Garden Centre
Shortlist:
David Danning - Blue Diamond
Michelle Martin – Haskins
Stuart Whalley – Rosebourne
Overall Multiple Garden Retailer Buying Team of the Year – six stores or more
Winner: British Garden Centres
Shortlist:
Blue Diamond
British Garden Centres
Caulders
Dobbies
Hillier Garden Centres
Klondyke
Notcutts
Squires Garden Centres
Overall Independent Garden Centre Buying Team of the Year – up to five stores
Winner: Aylett Nurseries – winners for the second year running
Shortlist:
Alton Garden Centre
Gates Garden Centre
Haskins
Longacres
Rosebourne Garden Centres
Thompsons Garden Centres
Webbs
Matthew Mein added: "I would also like to thank all those who took time to vote for their retail superstar, every one of whom deserved to be recognised. Hard-working retail staff are the lifeblood of our industry and I'm delighted so many people also felt they deserved to be recognised at the Glee Buyers Power List Awards."