15 Apr 2021
GLEE TO RETURN SEPTEMBER 2021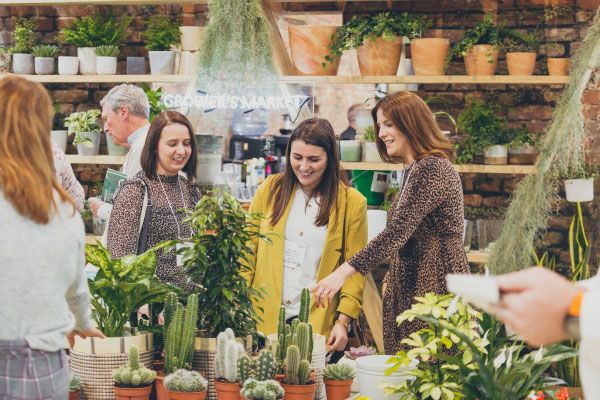 After over a year away from in-person events, Hyve Group are delighted to announce that Glee will return to the NEC Birmingham from 14th – 16th September 2021. Following their Time To Grow manifesto, Glee will be designed to support the industry, helping garden retailers and brands to build on the momentum the industry has gathered over the past year.  
Working in line with Hyve Group's Safe and Secure guidelines, Glee will provide a space for Covid-safe trading, networking, inspiration and more, enabling the garden industry to gather once again.
Glee promises to provide a compelling line-up of exhibitors. Already signed up are such names as Hozelock, Ivyline, Beefeater Barbecues, Capi Europe, Woodlodge, Evergreen, Kamado Joe, Westland, Creekwood, Traeger Grills, Kaemingk, Primo Grills and many more.
Matthew Mein, Event Director for Glee commented, "We are delighted to be returning to the NEC Birmingham, doing what we do best; bringing the garden industry together at the UK's leading garden and outdoor living trade show, facilitating trade, collaboration and creativity. We're working hard to make our in-person shows Covid-safe, in line with our Safe & Secure guidelines. On behalf of the whole Glee team, we can't wait to welcome the industry back to Glee after such a long time apart."
The news of Glee's return has been welcomed by brands within the horticultural community. Mark Portman, Managing Director at Evergreen Garden Care told Glee, "Last year was a year of phenomenal change for the country and the gardening category, so it was more important than ever for us to get together for GLEE in September.  Although the event was virtual for the first time in its history, it was a huge success for Evergreen Garden Care – allowing us to meet with over 250 customers, showcase our NPD for the 2021 season and catch up with the rest of the gardening industry.  More than 2.7 million new households entered the gardening category last year and the industry itself went through such transformation.  When garden centres were forced to close, we saw some fantastic entrepreneurial spirit allowing business' to meet consumer needs whatever the lockdown situation.  As the 2021 season begins, we are focusing on how we can encourage people to continue gardening, while supporting our customers as much as we can. We are already looking forward to GLEE 2021, where it will be exciting to once again have the opportunity to meet and engage with our customers face to face as we prepare for the 2022 season."
Similarly, Sarah Dixon, UK and International Marketing Manager for Hozelock said, "Hozelock are delighted to be attending Glee in 2021, after a turbulent year of unprecedented circumstances, it will be exciting to return to the NEC for some long overdue face to face meetings with our customers and new contacts alike. The gardening industry has been extremely resilient over this challenging period and we look forward to celebrating this at Glee."
Continuing this sentiment, Vicky Nuttall, Director at GIMA told Hyve Group, "GIMA will be delighted to see the return of Glee to the NEC this September. The show is absolutely essential for facilitating trade and networking within the garden industry, as well as offering a key point of inspiration and discovery every buying season. We look forward to reconnecting with the industry this year as we all continue to rebuild and adapt following the pandemic."
For the UK's garden centres and retailers, the show's return is a welcome relief, reinstating the ability to touch and feel products and discover the most exciting new brands as well as reconnect with their existing suppliers. John Bottomley at Newbank Garden Centres said, "We cannot wait to get trade shows up and running again. The return of Glee is massive for us, our business model is different to a lot of groups as between my mother Frances, my uncle Chris and myself, we do the majority of the buying for the business and we simply cannot afford to be out of the company travelling to the individual suppliers for days on end."
Justin Williams of Fron Goch added, "I am very much looking forward to the safe return of trade shows. I believe trade shows are a crucial part in the sourcing of new suppliers and new products and with such a buoyant market at the moment, hopefully our sector is ripe for product development and investment to deliver new products."
Derek Bunker of Alton Garden Centre also told Glee, "We definitely will be going to Glee in September. I'm looking forward to seeing the trade there and all the people that we have missed swapping stories about the amazing business that we've all done in the last 12 to 18 months, bragging about what we sold the most of and as usual looking for hopefully a lot of new products which have been missed out for a year and a half now."
It is with great anticipation that Hyve Group prepares for the return of Glee. Reconnecting and supporting the horticultural community is the show's top priority moving forward, with collaboration at its heart.
Glee will return to the NEC Birmingham on 14th – 16th September 2021. Visitors and exhibitors can visit the Glee website to find out how to register their interest or apply for a stand.
For further press information or images contact:
Sarah Waterfall
Head of Marketing
Notes to Editors
About Glee
Glee is the most important event for the gardening community and the UK's leading garden and outdoor living trade show. Home to 8 carefully edited show sectors, plus the co-located Pawexpo, Glee offers essential and unmissable opportunities for brands and retailers to connect, collaborate and trade face-to-face. It's the perfect platform for brands to launch and showcase product collections and for business to nurture existing relationships as well as grow new ones.
About Hyve Group plc
Hyve Group plc is a next generation global events business whose purpose is to create unmissable events, where customers from all corners of the globe share extraordinary moments and shape industry innovation. Hyve Group plc was announced as the new brand name of ITE Group plc in September 2019, following its significant transformation under the Transformation and Growth (TAG) programme. Our vision is to create the world's leading portfolio of content-driven, must-attend events delivering an outstanding experience and ROI for our customers. Where business is personal, where meetings move markets and where today's leaders inspire tomorrow's.