09 Sep 2020
In the garden with… Sarah McLafferty, Primeur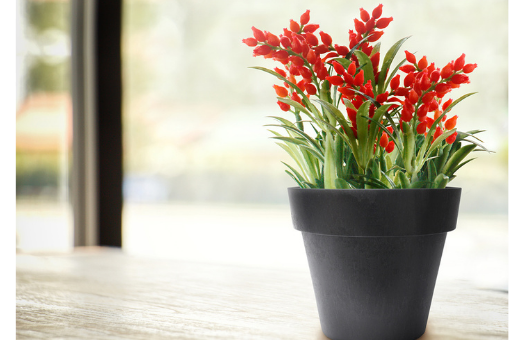 Ahead of Glee Gathering, we sat down with Sarah Mclafferty of Primeur, to find out all about the brand's ECO Garden range and what they're looking forward to at Glee Gathering. 
Tell us a bit more about Primeur – what do you do and what's your brand story?
Whilst garden centre buyers will be familiar with Primeur's award winning recycled rubber ECO Garden range, they may not know that the business' is also "The Home of Doormats". Doormats is actually where the business began 50 years ago, originally trading under the name of Clayton Strutt Ltd.  Since then we have grown to become the market leader in domestic doormats, adding our garden ranges back in 2016, and from there it's been all systems go! Our Eco Garden collection of products made exclusively from recycled rubber tyres has won multiple industry awards and is now stocked in over 250 garden centres across the country, making it our bestselling range, whilst sales of our doormat ranges continue to grow as we add more lines to meet consumer trend demands.
Primeur current occupies a 50,000sq ft warehouse and 668sq ft showroom in Bingley, West Yorkshire. Our team continues to grow, and now includes trend forecasters and in-house designers.
My role is National Account Manager, which means it is my responsibility to manage our existing retail relationships across the garden retail sector. As our customer base continues to expand my role has become increasingly busy, but thankfully the garden retail sector is an incredibly friendly and open industry to work within. This means we are able to have open and frank conversations with our customers, something that benefits all parties.
Your focus this year is on your Eco Garden range – can you tell us a little more about this?
The current Eco Garden line-up includes our multi-award-winning Tierra Verde self-watering planters, as well as Recycled Rubber Stepping-Stones, Deck Tiles and flexible Recycled Rubber Border Collection.
The USPs of recycled rubber offer a host of benefits which we believe has driven brand loyalty among consumers. Recycled rubber does not fade, stain, rot or crack – even in the most severe weather extremes, while the material is proven to be mold and mildew-resistant. The material also provides a much lighter weight alternative to traditional planters, meaning they can adapt to changing garden design trends, and are also a great option for generation rent.
Plus, the recycled rubber is plant safe so it's perfect for use around gardens and on allotments, widening the range's sales appeal, while all products are lawnmower and nylon cord strimmer-safe.
Additionally, the virtually indestructible characteristics of recycled rubber holds real benefits for retailers, as products are unlikely to be broken in transit, in warehouses or on the shop floor, slashing wastage bills for stockists.
Looking ahead we remain confident that demand for the Eco Garden range will continue to grow. Lockdown has generated a whole new 'army' of gardeners who will be looking for products that make their journey into gardening as easy as possible, whilst elsewhere we expect to see consumer buying habits shift towards more sustainable and environmentally friendly products as the Covid-19 outbreak has demonstrated just how fragile our world is and how important it is to protect its future.
How important do you think sustainability is for the gardening industry? Is it something that is here to stay?
Succeeding within garden retail nowadays relies on so much more than just providing pretty products. Consumer influence is being increasingly driven by the eco-friendly choices across the board, and how they garden is just another factor within this, and this will become even more prevalent as we navigate our new normal post-Covid. Traditional plastic or heavy concrete materials don't fit with the consumer's 'need for green' but our Eco Garden ranges do, as they divert tyres from landfill where they'd take up to 80 years to decompose. It's this understanding of their impact upon the world and making more considered choices that is driving longevity for brands such as ourselves, and helping retailers to capture long-term customer loyalty.
How has the lockdown affected you and what lessons have you learned from this period?
Despite the challenges that 2020 has thrown at us, the Eco Garden range has performed phenomenally well, with sales witnessing a 62% increase year-on-year. To further put this into context, during 2019 Primeur sold 66,161 units, but this year, despite the unprecedented challenges of the Covid-19 pandemic, we have already sold a staggering 106,974 units; an amazing achievement despite the springtime lockdown which forced garden centres nationwide to remain closed during their usual peak trading season. We've also delivered over 190 of our large wooden merchandising displays to retailers across the country to help them drive further sales instore.
We do believe that despite one of the toughest environments that the garden retail sector has ever experienced, the exceptional performance of the Eco Garden range is not a coincidence. Long before the pandemic reshaped the retail environment in a way that no-one could ever have predicted, consumers were actively seeking products with true green credentials, and lockdown only served to reinforce the nation's desire to protect the planet for future generations.
Outside of product there is no doubt that online was the 'king' of lockdown. With the entire country confined to their homes, online was the only option for securing product. Without online, many new gardeners would not have been able to engage with this glorious pastime, which is why we hope our garden centre customers will now be looking at their long-term vision for building multi-channel retail that will make gardening accessible to so many more.
How important has your garden been to you during this time?
The garden has been hugely important during lockdown. It's been a playground for my children, and a quiet place to relax and try to forget about everything that was happening in the world. The garden was also the first place I was able to spend quality time with friends and family once lockdown restrictions were relaxed. More than this it was also a constant daily reminder and source of inspiration for the work that the team and I do at Primeur. On our busiest days when we could have done with another 24 hours to get everything fulfilled, the garden reminded me of why we were working so tirelessly, and the importance of gardening on the nation's physical and mental health during what were some incredibly dark days.
Do you have a favourite plant or flower?
I love any flower which adds colour to my garden but my favourites are definitely hydrangeas, peonies and dahlias.  I love their impressive blooms and bright colours and am always grateful that they come back year after year to decorate my outside space – my kitchen sink looks right out to my main garden border so it is a real treat when everything is in flower.  Lockdown also gave me a bit extra time to perfect my planters – it will come as no surprise that I have a lot of Tierra Verde planters, and they are all currently overflowing with mixtures of ivy, begonia, dahlias and hydrangeas – I like to spread these around the edges of the garden and in amongst my patio furniture to add some colour.  The kids have even gotten in on the act this year and have both made fairy gardens in the Tierra Verde Allegria planter – they look fab and have been very well looked after!
Finally, what are you most looking forward to about the Glee Gathering in a few weeks' time?
Whether it's keeping in touch and networking, showcasing new product development or helping our retail customers better understand the successes of the season through sales and trend data, Glee is an incredibly important part of our annual strategy. So, whilst we can't meet at the NEC this September, we will be optimising all the opportunities the Glee Gathering has to offer. We're especially looking forward to sharing with the market our latest product introductions and range expansions, as well as participating in the many networking opportunities that will enable us to further develop our relationships with UK garden retailers.
Discover Primeur and more exciting brands at Glee Gathering on 15th and 16th September 2020. 
If you enjoyed this article, you might also like: